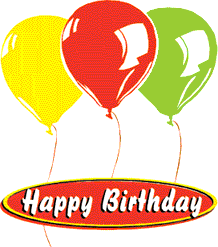 2001 Greg Lake Birthday Greetings
Happy Birthday, Greg! Here are some well wishes from your fans all over the world:
Eileen
ladiesofthelake dot net
Oct 28, 2001 18:45
valseven at about dot com
Ohio, USA
A very happy birthday to Mr. Greg Lake, without whom the musical world would be sadly lacking. Your wonderful voice and your excellent guitar and bass playing have made the world a better place. Thank you!
---
Kate McClure
http://homepages.about dot com/katesplace/katesplace
Oct 28, 2001 20:19
mkmunltd at flash dot net
Texas, USA
Dear Greg, On your birthday, I wish you joy and peace. Your music holds a very special place in my heart, and I wish you many more birthdays to come so that there will be more music to share :) Best wishes, Kate McClure
---
Terry
Oct 28, 2001 22:45
diamonddog at home dot com
Alabama, USA
Happy Birthday Greg! Hope it will be your best ever :) Thanks for all the great music, looking forward to lots more!
---
Bjørn Are Davidsen
Oct 30, 2001 09:10
bjorn-are.davidsen at telenor dot com
Oslo/Norway
All the best wishes for Your Birthday, Greg! And may all the great performances with the All Starr Band be of real inspiration in Your continued work!
---
Gudrun Friederich
Oct 30, 2001 16:54
family.friederich at main-rheiner.de
Germany
All the best to your birthday Greg.
---
Even Gaarder
Oct 30, 2001 18:38
even.gaarder at sensewave dot com
Oslo/Norway
Hi Greg All the best on your birthday! I wish you all possible success in the future, and hope to hear new stuff from you yesterday, or preferably sooner:-) Save me a piece of cake will ya? Best wishes Even G Norway
---
K.M. Beck
Oct 30, 2001 22:20
kmbeck at nlamerica dot com
Eastman, Georgia
Thanks for the years of great music.
---
Claudia
Oct 31, 2001 14:32
BlkWidowJeep at AOL dot com
Cuyahoga Falls, Ohio USA!!!
Greg: Your music has given me many years of joy and happiness. I would like to take this opportunity to wish you a VERY HAPPY BIRTHDAY! Claudia :-)
---
Randall Moore
Oct 31, 2001 21:39
Rbm513 at aol dot com
Cincinnati, OH
Have a wonderful "21st century" birthday, greg!!!!!!! Love you and the guys! Saw you here first at the Gardens on Thanksgiving, Nov. 22nd, 1973. Blown away! Also, saw "Works" tour, EL & Powell, 3, and ELP '96 - the latter here at Riverbend with some old buddies.
---
Nick Welman
Nov 1, 2001 02:37
dhulqarnain at hotmail dot com
Happy birthday, Greg. The 1997 European ELP Tour still makes me remember the summer of that year as a very happy and exciting time. Regards - Nick
---
Mark "Mad Dog" Manning
Nov 1, 2001 13:16
maddog6string at aol dot com
Oklahoma City, OK
Happy Birthday Greg, We really enjoyed your show at the Ringo concert. Thanks for coming to OKC, come back soon.
---
Sandi
Nov 1, 2001 14:17
sotte at iasp.org
Indianapolis
Happy birthday, Greg. I was right in front of you in the third row at the Fox Theater in St. Louis. Have some great photos of you which I will share with your "ladies!" I hope you continue to enjoy professional success and personal joy. Remember in the 70s when all your tour equipment fell from the ceiling at one venue? Still a great tour to me! I think Closer to Believing is one of the most beautiful songs ever. Sandi
---
Kiva
Nov 2, 2001 23:27
Reiki1212 at aol dot com
Fayetteville, North Carolina USA
Happy Birthday from a soul who thanks you for opening hearts around the world with your voice and music.
---
Mike Masterton
Nov 3, 2001 03:51
mike.masterton at btinternet.co dot uk
London
HAPPY BIRTHDAY GREG REMEMBER, NOT TOO MUCH CAKE VERY BEST WISHES Mike Masterton London
---
Frank
Nov 3, 2001 03:55
Frank.Hubig at eds dot com
Germany
Happy birthday, dear Greg! I wish you many years full of phantastic music! Regards, Frank Can't wait for your solo album :-)
---
EMERLISTDAVJACK
Nov 3, 2001 04:17
mmwestie47 at yahoo.co dot uk
London
HAPPY BIRTHDAY GREG THANKYOU FOR E L P & I BELIEVE IN FATHER CHRISTMAS ON OF MY ALL TIME FAVORITE CHRISTMAS SONGS I AM A KEYBOARD FAN BUT, I DO LIKE YOU'R GUITAR WORK WITH ELP. HOPE YOU HAVE A GREAT DAY.
---
Jeff Marx
http://www.geocities dot com/SunsetStrip/Frontrow/7806/
Nov 3, 2001 22:13
karnevilj at mediaone dot net
USA
Have a great birthday Greg, they start to get precious after a certain number of them. ELP lives forever as #1 band all-time :)
---
Ian McIlroy
Nov 4, 2001 03:24
mcilroy at logos.cy dot net
Cyprus
Happy Birthday Greg! With all best wishes from British Forces Cyprus fans Ian, Wendy and Fiona McIlroy xx
---
Galina
none
Nov 4, 2001 10:08
manticore19 at yandex.ru
Moscow, Russia
---
Ann Harris
Nov 4, 2001 10:37
aharris014 at aol dot com
California
Hey Greg, Wishing you the happiest birthday ever... Ann
---
Tom McHale
Nov 4, 2001 11:57
tommymac51 at home dot com
Middlesex Cty. NJ
Greg, Best wishes for a great birthday. But after that get on with your album & tour. Then back with Kieth & Carl! Tom McHale
---
Geoff
Nov 4, 2001 12:09
geoffharman at psion dot net
Peterborough, England.
Hi Greg, how's it hanging??
---
Kozik Gábor
Nov 4, 2001 15:09
kgx at freemail dot com
Budapest, Hungary
Happy birthday, and many happy returns Greg!
---
Josh Leibowitz
Nov 4, 2001 18:22
jlebo75 at adelphia dot net
Boca Raton, FL
Hey Greg, Happy Birthday. I hope you get cool presents. The Ringo show was great. Keep on rocking. Sincerely, Josh Leibowitz Boca Raton, FL
---
Liz Coward
Nov 5, 2001 07:56
gstockan at msn dot com
Scotland, UK
Happy Birthday Greg!
---
anne knorr
Nov 5, 2001 11:26
totallyinsane00 at yahoo dot com
ontario ; new york usa
happy birthday greg! i'm one of your biggest fans. your the greatest!hope you have a great birthday! lots of love; anne knorr
---
Jane McIlwraith
Nov 5, 2001 11:43
jane_mcilwraith at hotmail dot com
Ferring, England
Happy birthday Greg - have a great day and hope to see you soon!
---
Heather Tasca
Nov 5, 2001 13:50
he_tasca at yahoo dot com
Denver, Colorado
Best wishes for a wonderful birthday, Greg... and my deepest hopes that the next year will be a musically fruitful one! It was great to see you in concert this year with Ringo, et. al., but I'm still holding out hope for a show of another sort (the kind that never ends). In other words, get back on that phone to Carl and Emo! :) Sincerely, Heather
---
Marcel Weisink
http://home.planet.nl/~weisi000/home.html
Nov 5, 2001 14:22
mweisink at planet.nl
Netherlands
Hi Greg, From Holland this greeting for your birthday. Birthdays are moments or looking forward but also for loocking back. For a part we share the same memory from the wonderful repertoire of ELP. Thanks for that mate !!! Chers, Marcel
---
markyd
http://www.angelfire dot com/rock/MarkyDee
Nov 5, 2001 16:59
markyd_sod at webtv dot net
New Jersey
My most sincere "Happy Birthday" wishes to you Greg. Thank you for all the wonderful musical moments. Keep those birthdays and the music coming. And, stop by ELP-DISC to sneak a peek at what your fans have to say... markyd
---
Tim
http://members.aol dot com/ladiesofthelake7/greet_form.html
Nov 5, 2001 19:55
TBNA1 at aol dot com
Home
Happy Birthday Greg. Have a good one. Enjoyed seeing you with Ringo this year, hope to see you again soon. My birthday is the 13th. If you want to stop by and perform at my party, that's cool with me. I would offer to perform at yours, but I don't think you want to hear me sing. Tim
---
Terry
Nov 5, 2001 21:33
diamonddog at home dot com
Alabama USA
I feel pretty confident that NOBODY wants to hear Tim sing.
---
Anthony Rubbo
Nov 6, 2001 00:33
s0undchaser at aol dot com
staten Island NY
Happy Birthday Greg Wishing you happiness always. And thanking you for the happiness you give me each and everytime I hear any one of the many great musical moments you have give to me and all of us fans. Be well Anthony
---
andres soto
Nov 6, 2001 06:41
andresh69 at hotmail dot com
puerto rico
long live you.youre the greatest rock singer.TARKUS
---
Tom "Noddy" Szakaly.
www.noddyspuncture.co dot uk
Nov 6, 2001 07:15
noddyspuncture at hotmail dot com
Rochdale, England.
Very Many Happy Returns Of The Day, Greg, from 'sunny' Rochdale. By the way, how do you fancy a 'Birthday Gig?' We're lacking a Bassist at the mo, and you ARE familiar with the set!!
---
Janie
http://www.janie dot com
Nov 6, 2001 08:58
janie at janie dot com
Brooklyn, New York
Here's to wishing you a wonderful birthday. May it be the continuance of a long and healthy life filled with good luck, joy, prosperity, music, and laughter. And may the most that you wish for be the least that you receive.
---
Amy Wilson
Nov 6, 2001 19:06
WALLYJAKE at aol dot com
Prairieville, LA
HAPPY BIRTHDAY HANDSOME!! You're getting better every year! Meeoow! Have a great day, Love & kisses - Amy
---
Patt Christiansen
Nov 6, 2001 21:29
PattCC7 at AOL dot com
Dear Greg: I'm glad we got to see each other in Atlantic City (I have to remind you where, because I know you won't remember!) I'm also glad that you had so much fun on the Ringo tour...what a great group you all were! Suzi had a nice time talking to Ian, he's very down to earth. Can you believe these women created a web site just for you? Yeah I know, a dream come true...girls, girls, girls! Have a wonderful B.day..and give Natasha a big hug! Love, Patt Christiansen
---
Susan
Nov 7, 2001 01:06
RayondaNadene at aol dot com
Antioch, Tennessee
Happy Happy Birthday ! ! ! So when are you going on tour again and would you be coming through Tennessee. Have a great birthday!
---
Odd Arnestad
Nov 7, 2001 04:47
odd.arnestad at sas.no
Oslo/Norway
As I also have birthday on the same day, Happy birthday to us, Greg !!!
---
Ron Araujo
Nov 7, 2001 07:51
r.araujo at snet dot net
Harwinton, CT
Happy Birthday! Glad to see you were having fun on the Ringo tour! Best wishes to you and your family.
---
John
http://www.brain-salad dot com
Nov 7, 2001 10:58
elp-digest at reluctant dot com
USA
Happy Birthday, Greg! From your friends and fans at the ELP Digest.
---
Todd Benson
Nov 8, 2001 11:37
soniq95 at aol dot com
San Diego
All the best to you
---
mike west
Nov 8, 2001 18:15
michaelwest.5aol dot com
england
greg thanks for the wonderful music over the years , heres to the next 53 years regards mike west
---
Sara Canfield
Nov 8, 2001 20:47
slcanfield at earthlink dot net
St. Louis, MO
Happy Birthday Greg. I saw you at the St. Louis All Starr concert. You looked and sounded terrific! The only disappointment is that Ringo let you sing only three songs. Look forward to seeing you when you tour the States again. Happy birthday and many more!
---
dave schmidt
Nov 9, 2001 14:07
duffus at aol dot com
---
Steven Lawless
Nov 9, 2001 14:20
slawlesss at yahoo dot com
New York City
Dear Greg; Happy Birthday and thanks for the memories and the music, both of which will last many a lifetime. Regards, Steven
---
Rick Weggen
Nov 9, 2001 15:32
r.weggen at chello.nl
The Netherlands
Happy Birthday!!
---
bob k
Nov 9, 2001 22:58
bkwvac at yahoo dot com
westwood n.j.
hope you enjoy you birthday can not wait you your new music best wishes
---
©2001 Ladies of the Lake.