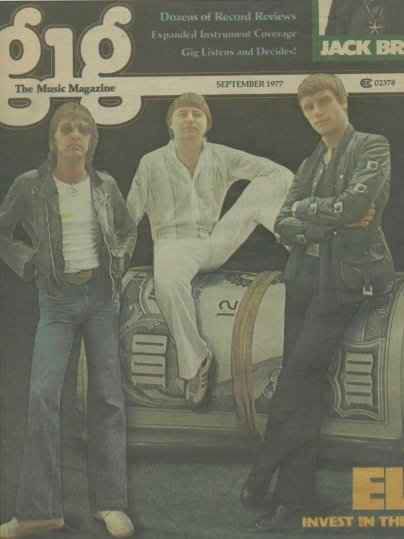 Ladies and Gentlemen...
Emerson, Lake & Palmer
Part One by Barbara Charone (Gig Magazine, Sept. 1977)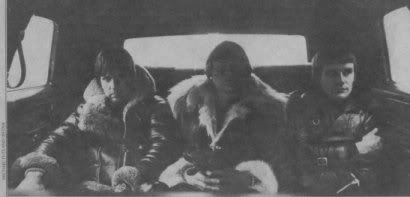 "Can't you say something derogatory?" Keith Emerson asks a dressing room full of well-wishers after the first of three successful, sold out nights at Madison Square Garden. "I'm tired of all the praise."
Relief is finally provided by six-year-old Aron Emerson when he tells his father that he prefers Walt Disney movies. Undaunted by this cinematic comparison, the keyboard virtuoso is finally consoled. Despite an egotistical group image, ELP are actually shy, almost modest.
Occasionally Greg Lake will unleash a flamboyant display of cocky self-assurance, seemingly justified by his intuitive ability to write hit singles. Nightly, Carl Palmer will stand like a little boy surrounded by his battery of drums as the crowds show their boisterous appreciation. But applause embarrasses Keith Emerson.
An overly-long standing ovation follows an excellent rendition of "Tarkus." "It wasn't that good," Emerson, red-faced and blushing, tells the ecstatic audience.
Back on the road for the first time in almost three years, ELP have returned with a refreshing degree of levity and good humor, contrasting sharply with the austere behavior they've come to be known for. After the instrumental "Enemy God," Emerson introduces "Pictures At An Exhibition" as "another number you can all sing along to."
"I'm sure if someone screamed 'boogie' in the middle of the piano concerto, Keith would probably break into a quick 12-bar to keep them amused, cast a sly glance in their direction and continue," Greg Lake predicts. "We're not beyond a sense of humor.
"Just the other night, as I watched Carl disappear down the piano chute, I thought to myself just how humorous this band is," he laughs. "Which tragedy do you want to know about?"
Always concerned with spearheading a bold musical path towards total "futurism," ELP have now unfortunately run into a concrete financial barrier which cannot be breached. While critics invariably scream 'pretentious' at the band's attempt to break with tradition, recently the accountants have also been screaming something about bankruptcy.
''It's like this,'' Greg Lake states with authority. "Everyone criticizes ELP. They say the band has too much fuckin' money. What we do is reinvest it back into ourselves as entertainment. Anyone who had anything to do with the financing of this project thought we were crazy.
"Look," he spits out, growing increasingly passionate, "our heads are on the block. It's not the first time and probably won't be the last. I'm glad. It's not just a question of another rock show hitting Pittsburgh. It's a question of presenting a show again, one magic night."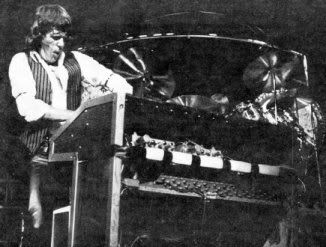 With a 58-piece orchestra, a choir and a JBL PA originally designed for the 1976 Montreal Olympics, ELP is presenting one magic night after another. Although the band has had a tendency to veer towards musical and visual excess, the new show with orchestra puts integrity back into ELP music. The effect is overwhelming.
And the financial cost is astronomical. Although the orchestra has added a majestic grandeur to the music that was always there but never quite so prominent, the project has sadly had to be abandoned for financial reasons.
Three weeks after dropping the orchestra, Keith Emerson sits sipping Pouilly Fuisse in his New York City dressing room, nostalgically discussing the situation. Although the orchestra and band were reunited for the three Madison Square Garden concerts, the remainder of the ELP tour will be completed as a three-piece.
"Musically it was like the bottom dropping out of my world when we had to drop the orchestra," Emerson muses quietly. "I was very worried when we did the first gig without the orchestra because I thought the audience would feel cheated. In fact, they loved it.
"I was quite surprised because all the time I'd been thinking we've got to hit our audiences with something bigger and better. It came as a very encouraging shock when we discovered we really don't have to do all that; they'll love us anyway," he grins sheepishly. "That made me feel better."
More importantly, ELP proved to even their most dubious critics that an orchestra/rock band alliance actually could work. In Detroit, where Alice Cooper, Iggy and Kiss are given keys to the city, audiences thrilled to ELP and orchestra. Emerson's classical piano concerto received a standing ovation. While in Chicago, the band headlined an outdoor bill featuring such boogie exponents as Foghat, J. Geils and the Climax Band. After five hours of three chords and two riffs, "Abandon's Bolero" sliced majestically through the crisp night air, driving 65,000 fans into ecstasy.
The band have always taken chances both onstage and on record. Their recent release, Works Volume 1, was decidedly a bold move. After a three year absence, they returned with an expensive double album containing only one group side and solo endeavors steeped in the classics.
As Carl Palmer is quick to admit, "Absence does not make the heart grow fonder." The album is not selling as well as expected, although a single taken from Lake's side, "C'est La Vie," could well put ELP back on top of the charts.
"Our record sales haven't been as big as they should be," Palmer reflects honestly. "We figured when we came back we'd be bigger than when we left. In actual fact the double album price is expensive, ticket prices are high and our overheads are astronomical. We've got everything against us. After seven years of being together we really don't want to end up broke," he muses "I'd like to be a pioneer as much as my pocket will let me."
Musically motivated once again, ELP eventually hope to recoup their own investment in this costly production. Yet their priorities aren't totally financial in nature.
And all, is not lost. The orchestra remains on permanent standby, ready for action whenever finances will allow it. Emerson hopes to use them for an outdoor date in Montreal.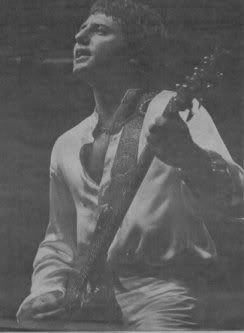 "There was a piece in Time that said something like it was early days yet and difficult to know if we were going to take a bath," Emerson says quietly. "They were right. We did. But that doesn't worry me. The main fact is we tried it and showed people that it did work. We made our point."
With and without orchestra, this new tour works because the magic is back in the music. They haven't played with such dynamics and power since their inception.
"Our first album was as cheeky as the new one," Palmer says. "Unless someone makes the first move you're gonna end up having all these Ted Nugents. One year you've got your Peter Framptons and the next year you've got your Ted Nugents. Before that it was Marc Bolan.
"And things don't get better," he says, slowing down long enough to catch his breath. "We're kinda guinea pigs helping to move things along.
If ELP had forged ahead with the orchestra, the band would have undoubtedly broken up. After seven years together, they were not about to return to the standard smoke bombs, dry ice and flashy visuals. After all, ELP started all that back in 1970.
"The emphasis now is on the music," Lake says proudly. "I'm aware of the appeal of what we've done in the past in terms of theatrics, but it doesn't dominate us as a group and I don't think it dominates our presence in the audience's mind.
"In the past we've been so involved with electronic music. Why shouldn't I work with an orchestra?" he demands passionately. "Do you have to be a certain age? Frank Sinatra works with an orchestra and nobody questions it.
"The future of ELP would have been very limited if it had been only an electronic future. We've exploited that to its fullest extent. The future had to become broader, there had to be something more to achieve. The stunt now is the music."
And the "stunt" works, with or without the orchestra. "Pictures At An Exhibition" sounds better than ever, given greater dramatic shading by the orchestra, while "Nutrocker" still proves just how well ELP can genuinely rock and roll. In fact, they rocked so hard in New York that Emerson got carried away with the excitement and played the piece again. The audience did not complain.
"We didn't want to come zipping back with the same old show," says Palmer. "An orchestra seemed like a natural progression. It all works, but ELP would work without the orchestra. The orchestra is just the cream on top of the cake. Actually just the cherry in the middle," he grins. "It's time for people to invest in the music. What goes on the record is most important. You can't see smoke bombs and revolving drum kits on the record."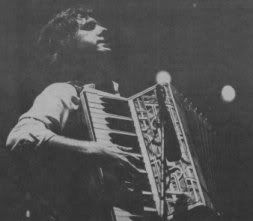 The orchestra has also given ELP an additional shot at longevity while preserving group unity. Individual egos are no longer frustrated, backstage volcanic eruptions are now less frequent. They still have private dressing rooms and rarely see each other offstage, but onstage ELP have developed a nouveau camaraderie. They actually smile at each other. And you can hear it in the music.
"The band policy is like this," Palmer says with authority. "If I was in a band and didn't get on off-stage with the guys it wouldn't bother me. If when we played together there was something musically wrong, then I'd knock it on the head. Musically it's got to work 99%. If it's only 80%, then forget it.
"Sure there are evenings it doesn't work. I'd be a liar to tell you different. But that's the only way we can keep our identity. When we come back together we're prepared to fight. But individuality is still in the band."
Just what makes ELP tick has always revolved around contradictions and personality differences, readily apparent in their musical abilities and preferences. Still adamant about perfection, their music has become more personal and less sterile. Although critics still write about "aural over-kill," "mojo Mantovanis," and "rococco ridiculousness," ELP are actually a lot less pretentious than many of their contemporaries.
"The critics will always find something," Lake predicts, more amused than irritated. "Rococco ridiculousness! It's all healthy shit. Knockin' us proves that there's longevity there."
Naturally, Keith Emerson was the most insistent on taking the orchestra out on tour. Like Greg Lake, he admits that there would be no ELP if the orchestra experiment had not at least been attempted. One gets the impression that this is the last group Keith Emerson will ever be involved in. His next career move could easily be as a guest soloist with a serious orchestra, and he plans to continue writing in a classical vein.
"I certainly wouldn't form any other band," Emerson admits. "I couldn't go through all that shit again. That's just too much of a drag.
"I'd have definitely gone with an orchestra on my own if the group hadn't. I didn't want to go back on the road unless there was an orchestra," he says adamantly. "I needed a change, a challenge. It was either strip everything down to the basics, like, no thirteen keyboards, just possibly bass, piano and drums. Go that route, or one step further than what we'd ever done before. I chose the one step further. Everybody laughed when I mentioned it. They said, 'you're crazy, it'll never pay.' They've been proved right," he laughs. "But it's working."
Experimentation has never been cheap. Although there's probably more artistic credibility in spending money on an orchestra than on an inflatable flying pig, it's still expensive. The show with orchestra was costing at least $2 million to keep on the road. ELP definitely aren't laughing all the way to the bank.
"I'm actually broke," Palmer admits, none too perturbed. "This is purely an artistic thing. After six years on the road we figured it was time to rethink our musical policy. We had to leave England for artistic reasons, which is unusual. Most groups leave England for financial gain."
"I've never been one to check on how much it would cost or how long it would last," Emerson continues. "Obviously I had a feeling that we couldn't afford to last out the tour with the orchestra. But it came as a bit of a shock when our manager walked in the dressing room one night before the show and said we had to stop the orchestra.
"We had to go out as a three piece, there was no other choice," he rationalizes with an air of desperation. "We had our manager with a shotgun behind us saying, 'Look, if you don't play as a three piece, forget it, you'll be bankrupt.'"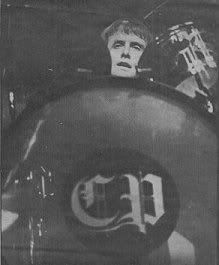 Much of the drama and spectacle normally associated with ELP has been channelled into the music. "Pirates," a complex piece from their new album, works successfully with and without the orchestra, using a minimal amount of decorative effects.
"This show is more sober than past shows," Emerson says seriously, pleased with the balance. "A few people have been disappointed that I don't move around as much but we don't really need the effects now because we're concentrating on the music. Some ask what I'm doing taking a back seat. But I am doing a hell of a lot up there. It's only because I'm not going up in the air on the piano and spinning round into the audience or using flamethrowers."
Emerson was hesitant to put the piano concerto on an ELP album, fearing the lengthy work would get lost amid commercially-oriented ELP music. Yet the piece succeeds, complimenting the distinctly three dimensional group character.
Lake has always represented the "chart" side of the band, penning the majority of their hits with lyricist Pete Sinfield. When he performs "C'est La Vie" and "Still You Turn Me On" back to back, the audience response is overwhelming, a good many women are sent reeling by the romantic ballads.
"I know what I like," chuckles Greg, a man of wealth and taste who enjoys the sophisticated high life even if he professes a taste for mild porno films like The Hungry Hypnotist. "Any artist knows their taste. We play rock 'n roll really well. But we were at a stage in our career where just to play rock 'n roll would have been very enjoyable but not serious enough.
"We enjoy rock 'n roll. We could quite easily make a rock 'n roll album at any time and enjoy it and get artistic rewards from it. Real ones," Lake says convincingly. "But when we stopped touring three years ago that wasn't a possible alternative. We could now."
Because this tour with the orchestra has worked, I suggest that now anything is possible.
"That's right," says Lake with a sly, confident grin. "That's right."
After a lengthy period of hibernation, ELP are definitely back for good. Works, Volume Two will be released in the fall, a single album that contains shorter, more rock-oriented compositions easier to adapt for stage shows. And they will tour to promote the album using the same stage because, as Emerson laughingly admits, "We've already paid for it."
Part Two: "We'll Do Anything To Get It Right"
Okay. You're one of the top five groups in the world. The critics hate you but every one of your albums rings in as solid platinum for a broad-based group of adoring fans who've enshrined you in the rock pantheon as the pioneering force of Orchestra Rock. Your well-known "largesse" for big-time visuals on a stage has inevitably reached the "freak-vector" point (credit Rob Stoner for that one) and here you are at the "California Jam," playing for zillions of parched-out rock bozos massed in an endless swell of zonked humanity, stretching, sweating and straining through another hot and turgid southern California evening. Supersonic Moussorgsky [sic] booms out over the rolling hills and Keith is up there doing 360s on the Flying Steinway and Carl is over there bashing the hell out of his gong collection while Greg calmly croons his way through another set of significant lyrics. You've taken all of this 'bout as far as it'll travel and, short of bringing the entire city of Paris (arbitrary choice) on tour with you, how do you expect to top this latest fantasmagoria?
We had an expression back in high school: When in doubt, drop back fifteen and punt. That's what Emerson, Lake & Palmer did. They went off the road for three years. "We quit. Take it way Zeppelin, you can have 'em. We're flushed." Majorca, the Bahamas, lolling around the continent attending the odd wine festival or concert recital. Solo recording projects begin to evolve and the rumors fly about "the final break-up of ELP." Keith writes a Piano Concerto (No. 1), Greg pens some moody ballads and Carl hob-nobs with Bach and Joe Walsh. Slowly, through the music - final balm and salvation - the group comes back together. We are presented with an austere triple gate-fold affair that documents these solo experiments while confirming (on Copland's "Fanfare for the Common Man" and "Pirates") that, yes indeedy, they can still sound like the complex powerhouse of old.
So far, the plan is working to perfection. But, when the album fails to zoom up the charts - practically unthinkable with ELP's strong sales history - the upper-level cold sweats begin to creep in and the impending World tour takes on crisis dimensions. The live performance would once again have to be the final piece-de-resistance. All of the vast musical and technological resources at their command would now be turned to this tour. Or, as Greg succinctly put it to the technical crew during tour preparations in Montreal: "It's in your hands. The three of us have a million bucks tied up in this so don't be inhibited. If you need something, ask us directly. We'll do anything to get it right."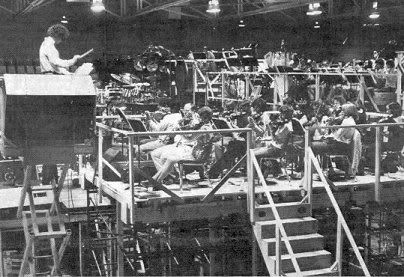 And so they did. The two major problems involved the logistics of carting around a 58-piece classical orchestra and amplifying their fragile acoustic instruments to rock auditorium levels without distortion while simultaneously creating an ultra-sophisticated, state-of-the-art visual stage presentation without getting too flashy.
Sound
For the touring sound system, they contracted Audio Analysts of Montreal who had done the sound for the Winter Olympics a year earlier. The ELP system took three months and approximately a million dollars to put together. The basic aim was for a very "clean," living room sound with the least distortion possible and, for those techno-freaks who want all the relevant data, here goes: We're talkin' about 72,000 watts total RMS here gang, courtesy of several Phase Linear 700B and SAE 2600 amplifiers. The main P.A. consists of 40 custom-built "S4" cabinets, based on a design by Clair Bros. Audio. Each unit is a full-range enclosure containing 10 JBL speakers (bass, midrange, high) that measures 4'x4'x20" and weighs in at 450 lbs.
Most of this gear is tucked away from view. Stage monitor speakers are sunk under the stage, Keith and Greg standing on grids rather than solid flooring while the sound is projected to them from down under. Monitor mixing consoles are also located under the stage, the one feeding ELP their "stage sound" is center stage in a quasi "prompter's box" affair where the sound man is hidden from view - just like legit Opera! The system contains 24 inputs, with 8 "feeds" out so that different combinations of instruments coming through the system may be heard at different locations onstage. The orchestra is independently "sub-mixed" (60 in-puts and 8 outputs) before going into the main sound board which also has 60 input channels. All of the mixing consoles are manufactured by either Trident or Midas.
As for matching the orchestral output to ELP's electronic instruments, yet preserving the orchestra's "acoustic" sound, we recently spoke with Arnie Lazarus of FRAP (Flat Response Audio Pickup), the company responsible for solving this dizzying technological problem. Arriving in Montreal from San Francisco, FRAP's home base, Lazarus started working with Greg Lake, the one who's always been responsible for overseeing - or overhearing, for you literalists - the group's sound on record and in live performance. Even though ELP's 58-piece touring orchestra, culled from the northeast and Canada, was made up of mostly young classical musicians, there were still grave misgivings about attaching pickups onto priceless, century-old axes. Evidently, Lazarus's classical background and low-key technical expertise combined to save the day as each instrument's "acoustic, personality problem" was seemingly overcome with the greatest of ease.
The strings (violins, violas, bass, cellos) presented the greatest problem since the pickup had to be affixed to the surface in some manner without disturbing the finish. Using the FRAP 3-D transducer, a compression method for mounting was devised: Excess wax on the transducer was scraped off and sanded before being replaced by a silicone rubber adhesive like Dow Corning 3145 or G.E. Auto Seal. A piece of cellophane was placed over the rubber and the transducer pressed onto the back of the instrument with the active part of the pickup situated directly over the sound post. A contoured mold was made and subsequently affixed to the instrument with rubber bands hooked on corners provided by the shoulder rests.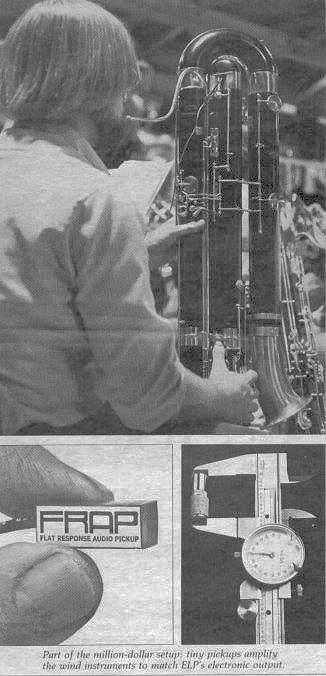 Without lapsing into stultifying technicalese, suffice to say that amplifying wind instruments involved hooking pickups onto the mouth piece (saxophones), the barrel (clarinets) or using slide-in devices (flutes). These pickups were fed directly into a FRAP dual channel pre-amp (with built-in mixers for two inputs) with one unit for every two musicians. And there you have it! A scaled-down symphony orchestra projecting rich, warm colorations into the overall sound at a level that is entirely audible, even to die-hard ELP fans stuck out in row ZZZ, hundreds of feet from the stage.
Needless to say, Keith, Carl and Greg's instruments are top-of-the-line all the way. Emerson is using a brand new Yamaha GX-1 synthesizer (first one on the road), Hammond C-3 and C-100 organs, a custom Moog Console, a MiniMoog, a nine-foot Steinway grand piano and an accordion! Meanwhile, Carl is content to wrestle with his custom-made drum kit (hand-engraved, with eleven drums, five cymbals and a hi-hat), xylophone, glockenspiel, congas, tympani, gongs, castanets, crotales and other assorted percussion phenomena. For that extra, snazzy effect, his custom-built (this expression is truly redundant when discussing ELP equipment since they don't use anything readily available to mere mortals) drum platform is ringed by built-in lights and turns completely around. The gongs are also built onto turning stands so they can be brought in and out at will. Greg Lake is using Alembic bass guitars, (including an 8-string bass with lighted fret indicators), a Travis Bean electric six-string, a Tony Zemaitis 12-string acoustic and several vintage Martin guitars.
To properly amplify the acoustic guitars, always a hassle, a special FRAP pre-amp was built to fit inside the guitar with the wire running out of a one-of-a-kind, machine-tooled brass end pin.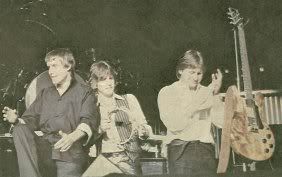 Visuals
Once again, the key concept when staging was cleanliness. Nothing but the musicians and their instruments is visible to the audience; all monitoring equipment and cables are sunk into the stage or flown. The stage itself, designed for ELP by TFA/Electrasound of Boston, is 60 ft. wide by 46 ft. deep. There are six separate sections and the orchestra is located on modular risers on three sides of the stage. The conductor, Godfrey Salmon - who managed to keep an eye on Keith (for cues), the orchestra and the music at the same time - is downstage left, positioned on a platform variable in height by hydraulic lift. All of the stage is carpeted in black and hung with velour. The stage, although sophisticated, is fairly light since it's made out of aluminum and Keith's Grand Piano and Moog set up can be lowered below the stage.
The lighting, billed as "dramatic" and "elegant," was designed by Nicholas Cernovitch, who has worked with the Royal Ballet of Canada, Alvin Ailey and the New York City Ballet among others. A lighting grid - which broke just before the first show in Louisville and had to be discarded - with special pods to hide the lights from the crowd's watchful eyes was designed to handle 311 lamps and 60 dimmers. All of this, plus the P.A., is hanging, with the weight of the ceiling coming in at 4 tons.
To carry all of these goodies along the highways and byways of this great land ELP is using eight 45 ft. vans, with four more added for outdoor engagements. The road crew - total - comes to more than 115 people. Set-up time for the show is approximately eight hours, with four hours needed to break down.
So that's how they did it. Aren't you glad you found out? By the way, the orchestra, which rapidly became one of Keith, Carl and Greg's greatest joys, unforunately had to be dropped midway through the tour. Money was the major bugaboo here (hotels and transportation mainly), so, in a final act of grand style generosity, they paid the orchestra members for all of the remaining dates and very reluctantly let them go. (The companion ELP piece in this issue details all of their misgivings.) And after all the press has come and gone, with the usual measure of critical overreaction to their music - perhaps best epitomized by a particularly hysterical piece in the Village Voice which accused them of being fascists and neo-classicists in the same breath - the simple fact that Emerson, Lake & Palmer were indeed able to "put up" instead of "shut up" will be the single most telling aspect of this crucial '77 tour.
~ J.C.C.