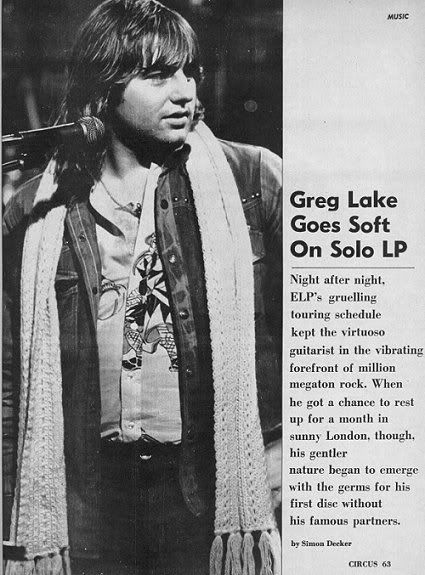 "A lot of bands go into the solo venture to avoid the monotony of playing the same style music," ELP's Greg Lake told an English paper half a year ago, but he didn't see that as the case for his own supersuccessful band. "Although we'll get into solo albums ourselves one day, the real answer for us is to work harder and longer within the band, so when we do make solo albums it won't be through frustration."
Work hard they did. Since last November the English power trio has played 84 dates around the world and readied tapes from those concerts for their quadraphonic live LP. Greg didn't even get to take a honeymoon with his brand-new German bride following their spring wedding, so intense were ELP's commitments to stagework. Then, as spring stretched out into the long sultry days of summer, the band finally took a five week break to holiday during June and July. "We have to feel times are right in order to create something," Greg had said, "and until that happens, we use the time touring and performing." Now the times are right, and Emerson, Lake and Palmer are all readying their own solo efforts for the end of 1974. Relaxing in his sunny little house smack in the middle of London, Greg chatted with Circus Magazine about his upcoming venture and its relation to the future of ELP.
Unextravagant success: Greg likes simple things, really, and there are few ornaments in his unextravagant living room. Judging from the reception the group got during their spring tour of England and the whole of Europe, though, the famous guitarist could be living in a castle if he wished. Their two concerts at Wembley, for instance, sold out so quickly that a third and then a fourth show had to be added. The English press was not so kind to the group, just as much of the American press had not been. In fact, Manticore Records will no longer place advertising or grant interviews to some journals such as Detroit's leading underground music paper. But as long as the audience is there, ELP themselves remain largely unaffected by the slaggings. Noted Greg, "We never get good press. I don't read reviews much anymore." Instead, Greg was continuing to produce music - music not particularly suited to ELP. "I had so many ideas on the acoustic guitar," the fret-slider observed, "too many to go into ELP's music without making ELP unbalanced. I wrote them down all over the place, mainly while I was on tour, of course, because we spent so much time on the road. I usually compose on guitar, though some things I did on piano.
"And some things I did do here at home, but I can't record them here. I really need the more professional equipment of the studio."
Catching sparks: In June and July, therefore, Lake started refining his rough compositions as quickly as possible so as not to lose the sparks of inspiration. As he noted to Circus, "I wanted to do them soon after I'd written them or else they'd become stale."
Some of the songs are being co-written with Greg's ace buddy, Pete Sinfield, who also co-wrote some of the songs on Brain Salad Surgery such as "Benny the Bouncer." "It's more predominantly acoustic things, more song-writing music," Greg said, indicating he may be looking for tunes others can record as well as himself, songs which he can leave as his legacy as a writer as well as a musician. "It's going to be more similar to things like 'Lucky Man,' or the acoustic parts from ELP albums. Possibly some of the songs will be with orchestration."
New mates: Besides Sinfield, though, Greg doesn't plan to use old cronies on his solo venture. "The aim is to meet, mix with, and play with new musicians, so I doubt Keith and Carl and I will play on each others' discs. We all have solo ventures going and encourage each other's efforts, but we always play with each other so this will be a break from that. I think Keith's will be just him playing piano, pieces he doesn't play with ELP but happens to like. I don't exactly know what Carl's doing."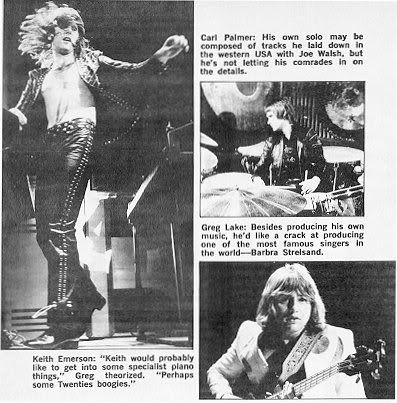 Greg hopes to record his polished product in the fall, right after ELP tours America's giant outdoor stadiums and secondary cities in late summer. The solo album has competition from the group's career, though, since another ELP album has to be conceived at that time as well, and a completely new stage show rehearsed. As Greg acknowledges, "The solo is a secondary thing, kind of like a hobby."
As long as ELP are functioning together, Greg Lake is most basically a master musician in a master band. Not until the unlooked-for demise of the English trio sometime in the future will he have to prove himself as a sustaining talent in his own right. A solo album in late 1974 would go a long way toward establishing his composing credentials, and as long as there is available time to create, he uses it well. But there are more important things to Lake. As the man, himself, admits, "Basically I don't attach so much importance to solo LPs right now. What communicates for me is a band who have been together for a long time, and they're like a family communicating. It's very important that a family should stay together."