LUCKY MAN
Singer/Bassist/Guitarist Greg Lake Looks Back on 20 Years With Progressive Power Trio Emerson Lake, & Palmer
By Andy Aledort (GUITAR WORLD, July '93)
Emerson, Lake and Palmer have sold over 25 million albums since 1970 using a simple, yet effective formula: Mix Keith Emerson's rampaging synthesizer instrumentals with Greg Lake's ethereal, acoustic guitar-driven ballads and stir. This winning combination has made ELP one of rock's quintessential progressive bands.
Although the fleet-fingered Emerson is clearly the star of the band, winning acclaim for his wild-eyed stage performances and controversial interpretations of such classical compositions as Mussorgsky's Pictures At An Exhibition, and Aaron Copland's Fanfare for the Common Man, bassist Lake's contributions have been of equal significance. He also sings and plays guitar, and has composed some of ELP's most popular songs, including "Lucky Man," "From The Beginning," and "Still…You Turn Me On."
In 1978 ELP called it quits so each member could pursue solo albums. Two years ago the band reunited to work on a film soundtrack, and the enthusiasm generated by that project led to 1992's Black Moon (Victory), their first recording together in 15 years. ELP is currently in the middle of a world tour, during which they've released a 75-minute home video, Welcome Back (Strand Home Video), and a live album, Live At The Royal Albert Hall (Victory).
The gregarious Lake seemed very pleased to recall some of the highlights of his lengthy career.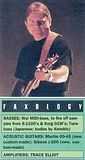 "The Barbarian"
Emerson, Lake & Palmer
(Atlantic, 1970)
"This one opens with the bass - a Fender Jazz - through the fuzz box. But it's not just the sound - it's the sound applied to the right music at the right time. The piece originated when I heard Keith playing something by (Hungarian composer Bela) Bartok on piano. I came into the rehearsal room and said, 'I can put a great, powerful bass line behind that, you can do it on organ, and we'd have a fantastic sound.' So we played it, and of course everyone was excited about it. Those were very naïve days, and we just cut the thing. Once it was recorded in the studio, I asked Keith what he'd call it, and he said, 'I don't know…it sounds fairly barbarish…we'll call it, "The Barbarian."' And of course that sounded like the name Bartok.
"A few weeks later the record came out, and there was a call at the office. I pick up the phone and there was this lady on the other end who said, 'I just wanted to talk to you about the track you have on your record, "The Barbarian."' I said, 'Oh yes.' She said, 'Actually, this was written by my husband.' It was Mrs. Bartok. It never occurred to us - 'Oh sorry about that!' We had to get permission and take care of the royalties, but she was very nice and in the end it all got worked out. But it was like Mrs. Beethoven calling you up! [laughs] I had this image that he'd been dead for 500 years!"
"Lucky Man"
Emerson, Lake & Palmer
(Atlantic, 1970)
"I actually wrote that when I was 12 years old. During the making of the first album, we ran out of material; it came to the end of the record and we were one song short. There were vacant looks across the studio - 'Does anyone have any more ideas?' - and terribly glum faces everywhere. I said, 'I've got this folk tune that I wrote on acoustic guitar when I was a kid.' Everyone said, 'Oh, go on then, let's hear it.' I strummed it out and the reaction was, 'Yeah, well, cup of tea…' Total disinterest. But we had to have something, so we decided to try and record it. Carl and I went out into the room with just a Gibson J-200 acoustic guitar, drums and voice. I sang it and he played along - and it sounded like shit! [laughs] Then I put the bass guitar on it, and as soon as I did that, it sounded more like a complete thing.
"Keith said, 'Let's see what I can do with it,' and he started fooling around with a Moog synthesizer, rehearsing away, playing along with the whole track. Halfway through, I kind of liked what he was playing, so I put the machine into record. I caught the end of his try-out, and thought, 'That's not bad. I think we could use that.' He said, 'No, no. Let me do a real one.' I said, 'No, let's keep the one we've got!' He came in and heard it, and that ended up as the solo at the end of 'Lucky Man.' That's why he was using all that extreme low end - [sings] 'buhhhhh,' and then 'weeeeee' [laughs]. He was just fucking about, really. Then I put on some vocal harmonies and it sounded like a record. But we still felt it was just filler for the album. It wasn't until much later, when the thing became very popular, that we were glad we'd put it on. That's my favorite song from the record."
"Tarkus"
Tarkus (Atlantic, 1970)
"'Tarkus' is original - I can say that about it. It's colorful, and it's stood the test of time. I still get pleasure when we play that on stage, and the young kids are impressed with it. I think it just sounds so different from the music they're used to hearing. It hasn't got power chords and it's not made up of 'the riff.' There's a lot more to it. For some reason, that Tarkus stuff was sort of futurist in a way, unusual harmonically, rhythmically. It's more intense than it is heavy, and I think that is where ELP scored. Most people heard Zeppelin and it was, 'How heavy can you be?' It was our intensity, rather than the sheer weight of the thing."
"Closer to the Leaving" [sic]
Works, Volume 1 (Atlantic, 1977)
"From a songwriter's point of view, this is one of my favorites. I co-wrote it with Pete Sinfield, and we spent so long doing the lyrics; it was one of those things where we crafted and refined them forever. I used my Zemaitis 12-string on this one."
"Fanfare for the Common Man"
Works, Volume 1 (Atlantic, 1977)
"I always love to play this song. It's wonderful harmonically, and I love the title. It was just wonderful how it came about: We were recording in Montreaux, Switzerland, in 1976, and Keith was playing it as a piece of classical music. I played this shuffle bass line behind him and all of a sudden it started to connect. Then Carl [Palmer, drummer] came in and we three started to play it. Luckily, the engineer had a two-track running, and that is what's on the record - the first time we played through the piece. It was just one of those flukey things. The original is a great piece of music, and I think our arrangement is an interesting one. Certainly [Aaron] Copland thought it was fascinating; he liked it. It's nice when the composer himself can turn around and say that he likes what you've done with his work."