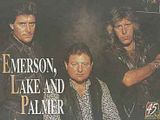 Critically speaking, few bands in the history of rock music have risen to such heights and fallen to such lows as Emerson, Lake & Palmer. Between 1970 and 1975, one would have been hard-pressed to find an album-sales chart that didn't include at least one ELP release near the top. Blending relatively straightforward pop fare, such as Greg Lake's 'Lucky Man,' with Keith Emerson's classical aspirations, the band was hailed for its innovation. Not since the Beatles released Sgt. Pepper's, perhaps, had a rock band so blatantly striven to bring high-brow respect to what essentially was still regarded as kid's music. Publications such as Melody Maker and Circus documented the group's every move, and endless tours of America garnered ELP the type of fan adoration other British groups of the day could only dream about.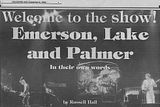 In retrospect, it's not difficult to understand why ELP was such a smash in the early '70s. They were the first band in which the keyboard was the central instrument. Synthesizers were relatively new - and relatively primitive - and no one could wrestle sounds from the instrument like Keith Emerson. Combined with Greg Lake's exquisite melodies and choirboy vocals, and Carl Palmer's complex, jazz-derived drum patterns, ELP's sound was something entirely new under the sun. Moreover, FM radio was in its infancy, and the new format took to the band's sidelong epic compositions as if they were manna from the heavens. It's also worth noting that few bands at the time attempted to duplicate ELP's approach. Even other "progressive" groups of the day - Genesis, Yes, Pink Floyd, et al - sported sounds utterly different from ELP, and of course none of those bands was a trio.
Then, in the middle to late '70s, everything began to change. Critics who initially had embraced ELP's professionalism and musicianship turned on them with a vengeance. Punk became the order of the day; and ELP became a favorite target of the movement's spit-froth ferocity. Fueling the punk notion that ELP were pompous and pretentious, the band began saddling its albums with bombastic titles, such as Works Volumes 1 and 2. Internal differences took a toll as well, and, by the end of the decade, the group had disbanded. Since then, occasional reunions and half-hearted attempts to capture their early magic have, for the most part, failed.
In conjunction with Rhino Records' reissue of the ELP catalogue and a lengthy fall and winter tour, Keith Emerson, Greg Lake and Carl Palmer agreed to talk with Goldmine about their past, their present, and their hopes for the future. In a series of conversations, each member of the band offered his perspective on the group's history; including its successes and failures, and each was surprisingly candid in his assessment of the group's body of work. In the end, their comments shed much light on the triumphs and tribulations, which have characterized the career of an important and often misunderstood band.
Emerson: I started playing piano when I was 8. I remember this piece of furniture being loaded into our house. Before that, my father was always playing an accordion, but it was far too big for me to pick up. It weighed more than what I could handle. Sometimes he would hold it for me and squeeze the bellows while I played the keyboard. But having a real upright piano in the house [meant] I could go up to it any time of day, and make an instant sound. I was still pretty small, so my father put blocks on the pedals so I could reach them.
Eventually I began taking lessons. I was already about eight months into learning to play by ear. My father taught me a few things, and we would play duets together. Finally he said, "Look, you're learning very quickly. It's time you learned to play properly; learned to read music." So this little old lady who was about 80 years old turned up, and she gave me lessons every Saturday morning. I didn't really like the discipline of having to learn scales and arpeggios and all the exercises, and I didn't like some of the pieces that she required me to play. They were a little bit immature. So whenever I had the opportunity; I would diverge and pick up some piece from the radio. She frowned upon my doing that.
I had about eight years of piano lessons in all, with three different teachers. The last one was slightly younger than the other two, and she was a bit of an inspiration. I wouldn't say she encouraged me to play modern music, or even jazz, for that matter. Instead, she sort of said, "Look. You've got a gift here, and you should use it whichever way you think necessary." She wanted me to go to the London College of Music and study there. And I just thought, "Well, London's too far away and I'm happy getting on with doing things the way I like to do them myself."
Palmer: I started playing drums when I was eleven. My grandfather was a drummer, and my father played a little bit. My other grandfather was a professor of music at the Royal Academy, so music was kind of in the family. And I had local teachers where I lived, which was in Birmingham, in the middle of England. At the age of 13, I would travel 120 miles once a week to London to take lessons from an American chap named Bruce Gala. I was with him for a couple of years, and by the time I was 15 I had left school.
I got an audition in London to join a soul group called Chris Farlowe and the Thunderbirds. Chris Farlowe had had a number one single in England, a cover of a Jagger-Richards song called "Out Of Time." I had met him when he was playing in Birmingham, when we did a show together. So when the group I was with [the King Bees] broke up, I called up Farlowe and said, "Look, I'm 15 and I've left school. Can I come and have an audition to play in your band?" And he said "Yes." So I went to London, and I got the job.
Emerson: My first gig was for a rifle club dinner and dance, and I think I earned about 15 shillings, which probably equals about a dollar. I believe I was 14 at the time. I was drawn to jazz right about that same time, and I joined a local orchestra when I was 15. The orchestra played mostly Count Basie, Duke Ellington, and Stan Kenton arrangements. That gave me a great opportunity to mix with other musicians, and to share records. It also gave me the chance to improve my knowledge of chord progressions, particularly jazz chord progressions.
The fun really started, however, when I joined a group called Gary Farr and the T-Bones. They played rhythm and blues. The T-Bones were an up-and-coming band, and were regarded as the band most likely to make it after the Yardbirds and the Rolling Stones. I was very much against commercialization, having played with a lot of jazz players who regarded themselves as jazz purists. So I really chose the T-Bones because they stuck to playing the blues. In fact, whenever American blues artists came to England, the T-Bones were normally asked to back them up. These were people such as Muddy Waters, Sonny Boy Williamson and T-Bone Walker himself. I was very fortunate to have been with the band when T-Bone Walker played the Marquee Club. I was on the Hammond organ, playing behind him, and at one point he turned around to me and said, "OK, you, take a solo." That was quite an education.
Lake: Robert Fripp and I took lessons from the same teacher when we were kids. Our guitar styles are similar, although as players, we've got a different sense of musicality. He's also much faster, of course. But the way we play guitar is almost identical. We used to practice together, so naturally we practiced a lot of the same music. We both use a sort of cross-picking style, which came from the fact that our teacher was actually a banjo player.
Through the guitar lessons, Fripp and I became friends, and at that time I was in a band and Robert wasn't. So he used to come around and watch me play, or sometimes he would just be on the road with me. At the end of a show we would sometimes do a guitar duet, just to amuse people.
Palmer: I began doing some sessions in London for the Robert Stigwood organization. Stigwood managed several bands-the Bee Gees, Cream, some others. One of the sessions I did was for The Crazy World of Arthur Brown. Later, when they were on tour, their regular drummer became ill, so they asked me if I would like to join the band. By this time I was 18, and still with Chris Farlowe, but I said, "Yeah, sure." They wanted me to fly to America, but I was a little hesitant to do that, so I told them I'd join the band when they returned to England, if they still wanted me.
So they came back, I joined, and we went back to America. As we landed at the airport we learned that the band's album, and the single "Fire," had reached number one. So they gave me a small percentage on the album. After that, the keyboard player and I formed a band called Atomic Rooster. The Atomic Rooster was sort of an underground cult band, sort of psychedelic. We did very well. And it was during this time, in 1970, that I got a call from Tony Stratten-Smith, who was Keith Emerson's manager.
Emerson: Trends changed in England. It went from the blues to soul music, and then from soul to even more commercial music. And I really sort of lost interest, because the T-Bones were no longer a blues band. There were lots of internal differences about musical direction and the band sort of fell apart. So I moved on and joined another band called the VIP's, and stayed with them for about six months. After that, P.P. Arnold - an ex-Ikette who had just gotten a solo deal with Immediate Records - asked me to form a band that could back her when she toured England. She had a single out called "The First Cut Is The Deepest." And we were an odd combination, really. She allowed my band, The Nice, to play for about 20 minutes before she came out. The Nice would do a complete mishmash of everything from jazz to classical, a really strange mix of stuff. And then when P.P. Arnold would come on stage, we would play stuff like "Hold On, I'm Coming," or "In The Midnight Hour."
Later, when we played the Windsor Jazz and Blues Festival in 1967, we had our own spot, away from the main stage. And the show went down really well. Everybody was screaming for us. Even when we backed up P.P. Arnold later that same day; people were yelling for The Nice. And as a result of that, we were offered a residency at the Marquee Club in London. That was really a turning point.
As Emerson gained a reputation in England, Greg Lake was joining a series of bands as well. He left school at 15, ostensibly to become a draftsman, but in his spare time he continued to play music. In addition to his guitar work, Lake began to show promise as a vocalist. When he turned 17, he decided to give up office work entirely, and concentrate solely on his music. In 1968, after an apprenticeship with long-forgotten bands such as the Shame and the Gods, he got a call from his friend, Robert Fripp. Along with lan McDonald, Michael Giles and Pete Sinfield, Fripp and Lake formed the first incarnation of the progressive band King Crimson.
Lake: First, Robert formed a band called Giles, Giles, and Fripp. This would be 1968. And somehow - to this day I don't know how - his band actually got a record deal with Decca. They were the most bizarre group that you could ever imagine. They would dress up as crippled people - pretend to be crippled - and play the most ridiculous songs. Decca was horrified by this band they had come up with, and said, "Look, you've got to straighten up here. You've got to get a singer and make some music that's at least vaguely presentable."
So Robert called me up and asked me to be the lead singer. I was the only singer he knew, really. Of course, since they had a record deal, I thought it was fantastic. So I said, "Sure." And then he said, "Well, the only thing is, I'm already playing guitar, and we don't need two guitar players. Would you consider playing bass, just for this album?" I decided that if that's what it took to be a singer on an album, then I'd do it. So that's how I began playing bass.
In 1969, we recorded In the Court Of The Crimson King, which I think was an important album. It heralded a change in popular music from formula pop to progressive music. It broke barriers and it opened a floodgate of new thoughts about the way music could be. But some of the guys in the band weren't keen on touring. Eventually they quit, and when they did, it really wasn't King Crimson any more. If it had been just one person leaving, perhaps we could've replaced him, but with several leaving, no. The albums that came after that were really Robert Fripp and his backing band.
Emerson: I wasn't that familiar with King Crimson. I never really made a point of listening to whoever else was on the scene. I would probably check out Jimi Hendrix, or the latest Beatles record, but as far as King Crimson, no. I thought of them as a support band, really, and a bit quirky. I couldn't work out what Robert Fripp was trying to do. It was almost like...in some places he sounded a bit like a jazz guitar player, but he wasn't quite jazz.
I wasn't a great fan of the band at all. The one song I did hear which impressed me was "Cat Food." I think that was the last King Crimson single that Greg actually performed on, and it impressed me enough to want to see what would happen if I worked with Greg.
The Nice existed until '69, when I met Greg backstage at the Fillmore West in San Francisco. We were on the same bill as King Crimson. King Crimson had internal problems, and a lot of the band members didn't want to tour any more. They wanted to get back to their wives and girlfriends, and their hearts weren't in it. I had become sort of disgruntled with the Nice as well, because I wanted to work with a singer who was a little more melodic, who had more vocal dynamics and more range. [Nice vocalist] Lee Jackson's voice was very good and very raw with regard to certain numbers, but it really didn't cover all the music I was writing at the time.
I also wanted a singer who could play bass guitar, and that wasn't easy to find in England. Having gone through a whole series of other bass players, such as Chris Squire and Jack Bruce, the only one who seemed to measure up was Greg Lake. And it just so happened that King Crimson was sort of falling apart at the time. And so, from that meeting in San Francisco, we decided to look for a drummer when we got back to England.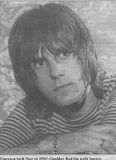 Palmer: I was asked to join a new musical environment that Keith was creating. I think that was the actual terminology that was used. And I wasn't really interested, to be quite honest. This was early in 1970, and the Atomic Rooster were doing well. We had a great following in Europe.
Anyway, about a month later, I got a call from Greg Lake's management asking if I would reconsider. I think they had tried Mitch Mitchell, the drummer for Jimi Hendrix, and things hadn't worked out. So I said maybe I could come along and have a play, since I happened to have some free time. And I was really impressed by Keith Emerson. I didn't know much about King Crimson or about Greg, but I was really impressed with Keith's playing and just his general sense of being. And I got on very well with Greg, also. I thought they were very nice people.
Emerson: We tried Mitch Mitchell and a bunch of other guys, sort of like an open audition. And we had almost given up, but then an old friend of mine, Tony Stratten-Smith, who was the Nice's manager, suggested Carl Palmer. He was our last hope, really, before we looked to America for a drummer. So Carl arrived and set up his drums, and we played a blues shuffle. And it was great. But then he said, "Well, I don't know if I can really join you, because I've got commitments with Atomic Rooster." So there was all this talk going on by telephone, with Greg and myself trying to encourage Carl to join.
Palmer: Their management kept after me, and I finally said, "OK, I'll give it a shot." I told my old group what I was doing, and they were quite content to sit around and see what moves I was going to make. I worked with Greg and Keith for a month, and after that I said to the guys in Atomic Rooster, "Look, you best find someone else. I think I'm gonna carry on with this." And that was it, really.
The band signed with Island Records in England, which had an arrangement with Cotillion for releases in the U.S. The band released its debut, Emerson, Lake, and Palmer, and it promptly went gold, largely on the strength of the single "Lucky Man." Lake had written the song when he was 12 years old, and it had been added to the album at the last moment, almost as an afterthought.
Quickly, the band gained a reputation for spectacular live shows. Emerson's keyboard would whirl and flash with strobe lights; sometimes he would drive daggers into the keys. Palmer's drums were affixed to an elevator platform and included a gong, a timpani, and a xylophone. The percussion set alone was purported to have cost $25,000, an especially sizable sum in 1971.
The live shows reached an early zenith with the band's "rock" version of Mussorgsky's Pictures at an Exhibition. Critics were stunned that the 45-minute extravaganza could hold an audience's attention.
Lake: The first ELP show was at Plymouth. It was a very small gig, kind of a warm-up for the Isle of Wight Festival, which was the next day. The Isle of Wight show was the first time any press saw the band, and the reception was fantastic. It's important to understand that Keith and myself, and Carl, too, to some extent, had come from very popular bands. Both The Nice and King Crimson were really loved, in England, and when we formed ELP, I think people really lamented the loss of our previous bands. They were groups that appealed to English audiences' feelings about what their music was, since neither band's music was blues-based. It was based on European music, which gave audiences a strong feeling of belonging, I think.
We were quite principled from the start, I suppose. We felt we should be true to ourselves. But we didn't want to do what everyone else was doing. We didn't want to make transatlantic music, singing with American accents and trying to be American. We wanted to carry on, really; in the style of music in which we had started, and not deviate too much from the direction of The Nice and King Crimson.
Emerson: The stage presentations weren't a planned thing. They just gradually grew to become the way they were. I think it was probably because, offstage, I was a very shy and retiring individual, and being onstage gave me the opportunity to take on some other persona. Also, I wanted to be heard and to be noticed. And in the early '70s, amplifying a Hammond organ wasn't easy. The guitar player usually drowned out the organ.
We didn't have monitors, in those days. The sound literally went into a PA and out the front. Whatever you had in your amplifier was it. And the guitar player normally had a Vox 80-30 amp, which just bled out everywhere, so you couldn't hear the Hammond. My first Leslie was a homemade affair, with a kind of washing machine effect that would turn around and expand the sound. It wasn't very effective. I remember, particularly with The Nice, consistently yelling at the guitar player to turn down.
Lake: Pictures At An Exhibition was made at Newcastle City Hall, the year before it was released. I think it was made on a two-track recorder, because we hadn't really intended to make a record of it. We just recorded it so we could listen, so we could try to improve upon the piece.
But we played [Pictures] night after night, and it always went down a storm. So we told our American record company - who was Atlantic, at the time - that we would like to release the tape as our next album. And they said, "Well, you can't do that. It's a classical record. It'll never sell, and it will never get on the radio." So they offered to put it out on a subsidiary label called Nonesuch, which was a jazz-oriented, avant-garde label. We said we didn't want to do that, because we figured it would just get buried. And we explained that every time we played the piece in concert, the audience went wild. But the label still refused.
Anyway, the next day, the album was released in Europe on Island Records, and it so happened that Island had just begun importing albums into America. They imported 250,000 copies of Pictures into America, and all of them sold immediately So of course, after that, Atlantic issued the album right away.
But that was one of the freaky things about how an album can catch on. The man who opened the floodgates for Pictures was a guy named Scott Muni, at WNBW in New York. He played the entire album, both sides, back to back.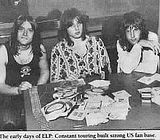 Although in theory the band operated as a democracy, in fact their studio work was plagued by creative friction. Lake quickly assumed the mantle of producer, and though, on the surface, Emerson seemed to harbor no resentment, underneath he was concerned that his ideas would be diluted. A critical period occurred around the time the band recorded Tarkus in 1971. Initially, Emerson's classical compositions were met with outright hostility by Lake. Once those differences were resolved, however, the band seemed to become stronger in the wake of the confrontation, and in the aftermath, ELP created perhaps their finest music.
Palmer: Although Keith was the best known, because The Nice had been such a popular band, he never insisted on having any more say than anyone else. The three of us had very strong personalities, and each was out to prove his point. And if someone was right, then we were all big enough to say, "OK." At the end of the day, we all had about a 33-1/3 say in things.
It also helped that the record company didn't really intervene with our music at all. The musical decisions were ours. Keith would come up with the music, and all three of us would make decisions about arrangements. Then we would play the piece for a couple of days, and determine if it sounded right. If it didn't, after we had given it at least three days, the piece would be discarded. But everything was given a chance. Even if it wasn't satisfactory, we would still see if there was something we could take from it.
Lake: The time we spent in the studio was endless. Sometimes we wouldn't go home; we'd just sleep there, on a couch. The albums were made day by day. We would go in without much material at all, and we would start recording, then get so far, then fall asleep. Then we would get up the next day and start again. Keith was very much writing stuff on the fly, and I'd be writing lyrics after the music was done. The concept of writing songs before the album was made was nonexistent.
And the other funny thing was, we never played the album - or any part of it - for anyone, until it was completely finished. We would spend six months making an album, and spend a very large amount of money, and on the day it was finished, the record company people would sort of nervously come in. They would be waiting, almost in fear, to hear whether the album was wonderful, or whether it would prove to have been a total waste of time. Then we would play it, and there would be tremendous relief - relief that it was at least in one piece, and a good piece of work.
All those early albums were fun to make. There's no way to put this, except to be honest: All the albums on which I was producer were, for me, the most fun. They were also the most successful, and I think they're the ones that have best stood the test of time.
Emerson: At the beginning, I had no grand plan. I was just thankful to be playing with the musicians I was with. It was a complete change of musicianship, which is not to say that The Nice were bad musicians. But I was really getting into writing difficult pieces of music, and it was great to be with two guys who seemed, at first, to be willing to do that. But there wasn't any grand plan, at least for me. The grand plans really came from Greg. So I thought, 'Well, if someone wants to try and take it to that extreme, fine." I found it a little embarrassing, really, to have somebody who I was working with almost running the roost, so to speak. But I also thought, "Well, I'll accept this, to a certain degree. As long as the music is happening, then I'll be happy.
He seemed to take over. It was like, "If we're gonna do this, we want the best. We want this and we want that." And I just went along with it. I was just happy enough that everybody was playing the music I was writing. On the first day in the studio, Greg just kind of automatically sat in the producer's chair. It wasn't discussed, who would be the producer. And I thought, "Well, I don't know. We didn't talk about that, but I guess as long I'm happy with the mix, and with the sound we get, then I don't care who wears the producer's cap."
We did end up having a little chat about that. Carl wanted a say in the matter as well. And Greg was quite diplomatic. I think he said, "Well, we can all be the producer, but someone's got to be here at the end of the day." And I thought, "Well, if it keeps him happy." But normally at the end of every recording session, when it came time to mix the piece, you would find three individual pairs of hands on their own faders, pushing them to the top of the desk. It really wasn't like it is these days, where a producer says, "Look, everybody out of the studio. Now leave it to me." It really wasn't like that at all. We were all producing the albums, really.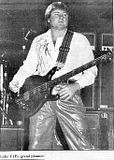 Lake: I think it's an oversimplification to say that Keith brings the classical component to the band, and I bring the pop sensibility. But there's an element of truth in that, as well. I'm really the songwriter, where Keith is more the musician. And Keith isn't a singer. Therefore, his is more of a musical contribution, where mine is more a song contribution.
Keith and I write in a lot of different ways. Sometimes we write totally separately We also write collaboratively, where Keith will write the music, and I might write the melody line and the lyrics. And you'll get a combination effect from that. There's also the situation where I might write a lyric, and Keith might write some music to fit it. And Carl might be in the rehearsal room, working away at an idea as well.
Then, from there, you will have varying degrees of input. And it's very hard - once past the initial stage of someone saying, "Look, here's an idea" - it's very hard to say who affects what, and at what stage. But it tends to be a situation where somebody has the vision of a song and it's essentially that person's idea. And whenever somebody has an idea, I think everyone in the band generally subordinates himself to the idea, and tries to make it the best he can.
Emerson: After we had battled out whether or not to record Tarkus, and it became a successful album, I think a lot more of what I wrote became acceptable to the band. Or more immediately acceptable. Suddenly I had all the confidence of Greg and Carl behind me.
The story went like this: Carl had come up with a 10/4 drum pattern which he really liked. I liked odd time signatures as well, but Greg didn't. He liked everything in its place. At the time, I was working on an ostinato piano figure, to improvise against, and I thought, "Yeah, I think this will work with that rhythm Carl has put down." I came up with a thematic development for it, inasmuch as it was almost like "program" music. It didn't have any real form, and it didn't have a key signature that could be pinned down. And I thought, "If a three-piece band can play this onstage, then we'll kick."
So I called Greg and asked him if he wanted to come over and hear it. He walked in, and I played all the way through the first bit of Tarkus - the "Eruption" part, as it's now called. And when I finished, there was silence. I turned around and said, "Well?" And he said, "Well, if you want my opinion, if that's the type of music you want to play, then I suggest you play it on your solo album." So I said, "What do you mean? This is the music I want to play with ELP. I don't want to play this on my own." And he said he didn't like it, that it was all over the place, and there was no melody.
So I said, "Well, if that's the way you feel, then I don't think we have a band. I have to go forward." And Greg said, "Well, I guess that's the way it is." After that, I called up Carl and explained that I had been working on some music for the rhythm pattern he'd come up with, and he was like, "Yeah, yeah! Great!" And then I explained to him that Greg didn't like it. And Carl said, "Well, what about me? Doesn't my opinion count?" And I said, 'Well, I just can't work like this anymore."
Anyway, the management got involved then, and they became sort of panicky. The first album had gone gold, and now they were seeing this band dissolve in front of their eyes. They called an emergency meeting and we all sat around in this room. They looked at Greg and said, "Why don't you at least try it?" And he said, "I don't want to try it. It's terrible." And they said, "Well, Greg, have you written anything yourself?" And he said no, but he still didn't want to play this material. He said it would be a waste of time to go into the studio.
The settling point came when the management said, "Greg, we're gonna have to pay for the studio time, anyway. And since you haven't written anything, and Keith has, why don't you go in and at least try it?" He kind of huffed about it, but we found ourselves in the studio the next day. He had on his producer's hat again, and it was back to work as usual.
During the early '70s, the British charts were filled with Anglo-artists who were revered by fans in their homeland, but who could not seem to break into the American marketplace. T. Rex, Roxy Music, Slade, Mott the Hoople, and David Bowie, for instance, all inspired varying degrees of hysteria in England, but for the most part each received hardly a yawn in the U.S. Here again, Emerson, Lake and Palmer proved an exception to the rule. Each of the band's first five albums went gold, and, in the wake of a series of arena tours, the band's debut album and Trilogy went platinum. Probably no British artist, with the obvious exception of Elton John, got as much radio play as ELP throughout the early '70s.
Lake: We took America very seriously. We always found American audiences very loyal, and very encouraging, from a musical standpoint. They weren't stiff; they were ready to hear new things. I suppose that was because of their jazz and blues background. Americans were cosmopolitan, in a musical way, and their tastes could accommodate something different. So for ELP, the United States was an obvious place to be.
In regard to why bands like [Roxy Music, Mott the Hoople, and T. Rex] didn't crack America, one would have to talk about them individually. Some bands focused too much on England, or were just happy to keep the success they had there. Some were afraid they would lose that success if they left. Personally, I always felt my musical home was more in America than it was in England. l've got more musician friends in America than in England.
But on an individual basis, I don't know why those bands didn't break the U.S. I will say this: I would bet that none of those artists who achieved a large status in the U.K., but who failed to achieve a large status in America . . . I'll bet that that failure was not due to the fact their music wasn't palatable to American tastes. It was probably for some other reason.
Bear in mind, also, that ELP did about twenty tours of the United States. It seemed like the band played in every town in the U.S. and Canada. We did a lot of leg work.
Palmer: When we came to America, we did something interesting, which was play the college circuit. In those days, you would actually play in a college basketball arena. We did those in '70 and '71, and built up a very early following with young people. And in those days, if the show didn't make money, the band didn't get damaged. There was no promoter involved; it was what we called a "soft ticket."
Anyway, what we found was, when we played at a particular college, the kids might be from someplace else, and they would go home and spread the word. It was sort of like the Internet and became like a cult, basically
And [Americans] liked us because we were keyboard-driven, and because we were one hundred fifty percent English. We didn't play the blues, and we didn't really play rock 'n' roll. We played classical adaptations, and were what I call a "saber-rattling" band. We had a signature sound.
In the early 70's, if there was any band which threatened ELP's status as Kings of Prog-Rock, it was probably their British comrades, the band Yes. Yes had similarly grand musical ambitions and shared ELP's propensity for epic compositions. The band also boasted a keyboard player, Rick Wakeman, whose flash and charisma rivaled Emerson's. The British press, especially, devoted much print to playing up a competition between the musicians. And although the members of ELP downplay any rivalry between the two bands, some of Emerson's comments hint that there might have been tension.
Palmer: People always think there was a big competition, but there really wasn't. Even in England, they had their following, and we had ours. Yes played their first concerts in America with ELP. We've always been friends.
Lake: There wasn't any competition. Music - to me, anyway - is not a competitive thing. It's a sharing thing, which is not to say that I don't like our music to be successful. But I don't look at it like someone is beating someone else on the charts, or something.
In those days, an album wasn't viewed as a marketing concept. It was first a work of art, which was given to a record company, which would then do the best it could to sell it. Few bands were thinking of commerciality in that way. They wanted popularity, but they didn't compromise the music to achieve it.
Emerson: I first became aware of Rick Wakeman when he was on the front page of Melody Maker. The accompanying article said he was the man Keith Emerson had gone to see at the Lyceum on Sunday, or words to that effect. And for the life of me, I couldn't remember seeing anybody like that. Rick was with the Strawbs at the time. And I hadn't seen the Strawbs at the Lyceum, because I had gotten there too late.
The following week, I went to the Lyceum again, and this time Rick was there and he came up to me and introduced himself. He said, "Hi, I'm sorry about the front page of Melody Maker. My publicist thought it might be a good idea." And I said, "I'm sorry, too, because I really didn't get to see you." He seemed fine, and we had a bit of a chat. He invited me to his booth, where he had a crate of beer. I declined the offer, and I really didn't think any more of it.
But then I happened to read a few other interviews - I think it was after he had joined Yes, or maybe just before that - in which the reporter asked him what he thought of me. And he kind of denied any knowledge of me, really, judging by how the articles were worded. So I felt a little put out by that. I was particularly put out after I saw him in concert, and he came onstage wearing a cape and played the organ with both hands sort of spread-eagled. I thought, "Oh, come on." I wasn't too happy with that.
We eventually got to tour together, when Rick was in Yes. Yes was the supporting band for ELP. This was about '72. I remember doing my piano solo, and really putting everything into it, sort of saying, "OK, Wakeman, check this out." (laughs) But l'm really not inclined that way. I think the press tried to make something of it, but I've certainly never said anything disparaging about Rick Wakeman. Except to reiterate that story, which sort of made me feel used.
Taking advantage of their success, ELP decided to form their own record label with an eye toward recruiting artists similar in style to themselves. Manticore was established in 1973, with U.S. distribution rights for the label contracted to Atlantic. Brain Salad Surgery was the first release issued under the new arrangement, but in regard to outside projects, the band quickly discovered they had overextended themselves.
Lake: We were one of the first bands to break away from the traditional role of being controlled by a manager. We effectively employed the manager, or at the least, our arrangement wasn't a dictatorship, in which the band was manipulated by management. Actually, we set up Manticore to run the affairs of ELP. We owned a cinema, a rehearsal facility, and a few other things. And we thought, at the time, that it would be great to give other worthy bands a chance, bands whose music wasn't likely to be picked up by other labels. And it was great, for a while. We had a band from Italy called PFM, who were marvelous musicians and songwriters. But the problem was, we just didn't have time to properly attend to their needs. And when we realized we weren't doing them justice, we stopped.
Emerson: We formed Manticore mainly to help other bands who were struggling, and who were sort of part of the progressive movement, if you want to call it that. But that became too heavy an issue to really deal with. We had enough internal problems of our own, let alone having to deal with other bands' problems.
I was never part of that whole issue, right from day one. I said, "No, I don't want to be part of this. If you guys want to get involved, then do it, but I just want to get on with the music." I wasn't into the business side of things.
Palmer: We recorded PFM, and released their album on Manticore. And we managed to get one of the singles - a song called "Celebration" - into the Top 20 in England. And we took PFM to America, but unfortunately they wanted to go home. They wanted to return to Italy, because they said the food was better there, and they liked Italian girls better than American girls. We couldn't explain to them that they were making career moves and that eating and girls could come later.
Then there was Pete Sinfield. We recorded a solo album for him, and we recorded an Anglo-American band called Stray Dog. And we recorded a guy named Snuffy Walden, who was a great Texas guitarist in the style of Billy Gibbons. He later became Donna Summer's musical director. But it was very hard, trying to run a record label while sustaining our own career.
Of all the internal differences that plagued ELP, the one most resistant to compromise was Emerson's desire to employ orchestration. In a sense, 1977's Works Volumes I and 2 became the ELP equivalent of the Beatles' White Album. Lake was no longer the producer, and the albums proved less a team effort than a vehicle for each member of the band to showcase his solo work. At the time, Lake was particularly dismayed by the new direction, and in fact that period remains a touchy subject. In retrospect, even Emerson tentatively admits that perhaps serious mistakes were made.
Emerson: The happiest period for the band was probably the period from Trilogy to Brain Salad Surgery. And it took Tarkus to get us to those two albums. It took the shouting and all that. And once the shouting was all over and done with and the air was cleared, we were able to get on and play.
But ELP's career has always been fraught with internal differences, which has really set the band back, I think. A lot of bad mistakes have been made. A lot of decisions I made were bad, and that probably includes insisting that the band use an orchestra. I just wasn't willing to go back on the road unless an orchestra was involved. If the band didn't want to use an orchestra, I was going to use one by myself. But I really wasn't blackmailing anyone at all, in that respect. And as it happens, I think Works Volume 1 turned out to be an extremely fine album.
Lake: For me, the orchestral stuff was a fracturing of the direction of ELP. On the Works album, where each of us had one side, the band became a minor issue, and the direction of each individual became the major issue. Everything was turned on its head, and the priorities became wrong. I think [Works Volume 1] became indulgent. That's not to say there aren't some good things on the record. I think Keith's piano concerto is very, very good, and I think some of the songs are very nice. But it wasn't ELP.
The band sort of had to tag along with the orchestra, and in that way, it was a restriction. However well you do it, an orchestra is not that tight, not that together. Whenever you hear rock music done with an orchestra, almost invariably it hangs together very loosely. The bottom line was, I think the public preferred the three-piece band, rather than the three-piece band with an orchestra. At least that's how it felt when we did live concerts.
I think that was the beginning of the end for ELP, in that era. Not long after that the band effectively broke up. There were two more albums: Love Beach, which the band never wanted to do, which was a contractual obligation; and Works Volume 2, which was sort of leftover things from the Works Volume 1 period.
If you gather all that material together, you can see the band going off the rails, and the fumbling, or lack of direction. Soon after that, the band kind of terminated its activities.
As the classical element in ELP overtook nearly all other aspects of the band, critics began flogging the group relentlessly. The advent of punk in the mid and late '70s accentuated ELP's status as a dinosaur band, and made any attempt at professionalism seem pretentious and arcane. ELP's fall from grace was swift and spectacular, particularly in view of how unanimously the band had been embraced just a few years earlier. In 1979, the band split up without any intention of regrouping. The residue of their fall lingers as a mixture of sadness and bitterness when talk of the period surfaces.
Lake: The band's early albums, through Brain Salad Surgery, received hardly any criticism. They were highly praised for being very innovative, and I subscribe to the belief that they were innovative as well. For me, those are the albums which typify the best years of ELP. There was a great deal of cooperation in the band, and it was before the days when everything became fragmented.
In the late '70s, one thing that happened was, there became almost a popular view that synthesized music wasn't real music, and of course that isn't true. In other words, the view was that the instrument was doing everything for you, that you were not doing it yourself. What happened was this: the first synthesizers were monophonic, and then they became polyphonic, and then they became multi-voiced polyphonic. They sounded bigger and bigger until, like today, they can be anything you want them to be. So I think there developed a feeling that synthesizers were a type of con.
And of course it's much easier to criticize than it is to analytically report, or to be objective. To be analytical, and to be objective, you have to know what you're talking about. To criticize, all you need to do, really, is pull out a couple of scathing reviews from the past and sort of jump on the bandwagon. It's very easy to knock something.
Emerson: Somebody probably f***ed a journalist's wife. (laughs) The criticism certainly seemed to have that sort of malice behind it. I don't know. A lot of British journalists, in the '70s, had a reputation for going to concerts and having already made up their minds before watching. They would go to the bar and get pissed, then ask people on the way out what they thought of the show. They had written their reviews way ahead of time anyway, so they could just get drunk.
Lake: There was also a desperate need by the music press, in the late '70s, to find something new and sensational. Punk rock came through, which was fine, but it had no cultural base. It was an invention by the media . The Sex Pistols were garbage. They had no principles, they had no cultural base and they had no talent. They were just basically uncouth, unrefined, untalented people who - to give them credit where credit is due - actually made a living from being that way. But it was in a different way than, say, the Rolling Stones, who were also a fairly anarchistic bunch of guys, but who also had a talent for writing songs. I respect the Stones, whereas I don't respect the Sex Pistols. The Pistols were just jumping on a media bandwagon. They weren't even creating one; they were just jumping on.
Palmer: When the band split up in 1979, we didn't expect to get back together. There wasn't any malice or any bitter feelings. We still met every six months or so, because obviously we still had a business to run, with our records and everything. But we felt we had peaked. The average band is together for seven years. We had been together for nine.
We decided to stop because we figured, after playing the Olympic Stadium in Montreal to 78,000 people, we had completed everything musically we could possibly do. We continued to tour, because we had debts from plowing everything back into the music, but we all wanted time off. We wanted to socialize, I suppose, and to start families and be normal. For nine years, all I remember is carrying four big cases around everywhere.
Emerson: It was kind of a relief to get away [from ELP] and play with musicians who wanted to do different things. I've always been active with my music, in one capacity or another. We had reached this pinnacle, really, which was all I had ever dreamed of. Going out on stage with a huge, hundred-piece orchestra behind us gave me goose bumps every night. It was really quite exhilarating, and I can't begin to explain what effect that had on me. And when we reached a point where we just couldn't afford to do it any more, everything sank out of me. To go back to just three people...I didn't like the sound. I didn't like the sound of the instruments I was playing, and I thought we sounded too thin. I was just a bit despondent, I think.
Palmer: I didn't work during all of 1979. I built a house that year in Spain. I actually bought all the material, and stored it in an aircraft hangar, then built a hacienda-type house, which I had always wanted. Then, in 1980, I got a call from David Geffen, asking if I was interested in being in a band again. So I met with him in Los Angeles, and we talked, and that was the beginning of Asia.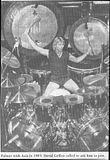 Asia lasted from 1982 till 1985, with the original members. We recorded three albums. The first one sold 6 million copies, the second sold three and a half million and the third sold about half a million. The graph was going the wrong way, is what I'm trying to say.
Emerson: Since 1981, I've done about 10 movie soundtracks. I also did 13 episodes for the Iron Man Saturday-morning cartoon series, for Marvel. That was great fun. I would write about 30 minutes of music each week, orchestrate it, play it and mix it - the whole business. It was a lot of work - work of which I'm very proud, actually.
I found that working on Works Volume 1 with the orchestra, helped feed the film scores. And likewise, the film scores fed ELP, when we got back together in the mid '80s.
While Emerson worked on film scores, and Palmer was helping launch Asia, Lake embarked on a conventional solo career. His single, "I Believe In Father Christmas," became a Top Ten hit in England. In 1981, he released a self-titled solo album on Chrysalis, which was followed by scattered touring in the U.S. In 1983, he released a second solo album, called Manoeuvres.
In the summer of 1984, Lake and Emerson got together at Emerson's home and began working together on new material. Satisfied with the results, they began looking for a drummer. Finally they settled upon Cozy Powell, a friend of Emerson's who had previously backed Jeff Beck, Ritchie Blackmore's Rainbow and Whitesnake. In the summer of 1985, the album Emerson, Lake, and Powell was released on Polydor. Contrary to popular belief, Powell's selection had nothing to do with the fact that he shared Carl Palmer's initials.
The group disbanded in 1986, and remarkably, Emerson soon found himself working again with Palmer. The two recruited an American-born bassist named Robert Berry, and a new trio was formed. The band, called 3, signed with Geffen Records, and released one album, To The Power of Three.
Emerson: I really enjoyed working with Cozy. It gave me a new perception about what pieces like Tarkus and Pictures could sound like. Cozy is more from the heavy metal brigade, whereas Carl comes more from the technical side of things, having come from a kind of jazz background. It was great to play Tarkus again, with Cozy belting it out on the double bass drums. The sound was quite thunderous.
It was weird, the way the whole thing came about. I had written about five tunes, and I took the demos to Polygram. I was approaching them for a solo deal. And a guy there - Jim Lewis - said, "Well, look, I've been speaking with Greg. Why don't you do these with him?" And I said, "Well, I've gotten this far, and I've gone to so much expense doing these demos with other musicians, I think I would prefer to continue this way." But then he came back to me about two weeks later to discuss things, and it turned out he had quite an attractive record deal offer. So I agreed to meet with Greg and talk with him about it. And things went OK.
The idea was to do an Emerson-Lake album, and there was no talk of touring. It was to be a "one-off" record deal. Greg went in and sang over the demos, and Polygram really liked it. They decided to sign us for a two-album deal, and then things started getting a bit bigger. In order to promote the albums, we would have to tour, which, at that time, I was reluctant to do. But Cozy turned out to be a great guy to get on with.
Emerson, Lake, and Powell ended up disbanding mainly due to lack of money. We didn't have the money to make a second album, because we spent it all producing the shows. And then a man named Brian Lane came into the picture, and he managed to get the original band back together. So we tried working on some stuff, and it just wasn't right. That's all I can say. There was no new material happening, and the whole thing kind of dissolved.
Then Carl had an idea. He was of the mind that we should try something different. Asia had managed to do the crossover thing quite well, and he felt that now was the time for us to try it. So Carl knew a singer and bass player named Robert Berry, who he wanted me to meet. Robert had written a bunch of great songs, and Carl thought that, with my arrangements, they could be something really special. So I thought about it a bit, and finally decided, "Hell, why not? Let's have a bit of fun now, and try to tap that market," which seemed to be wide open to us.
So we got together, and we got a couple of girl singers as well, which Carl really enjoyed. He was running down to Frederick's of Hollywood to buy their outfits. And then someone with Geffen came over to England, and he saw the video we had made with these sexy girl singers, and we got a record deal. It became a really enjoyable experience.
I loved working with Robert. He's really talented, and very easy to get along with. And the tour was fun. We toured America on a bus, did it very cheaply and played a lot of tiny clubs. But finally, I thought, "Why are we playing here? Do I really want to be doing this?" I suddenly had doubts about continuing in that direction. And at that point I decided to sort of dig my heels in, and pursue my own direction. The small clubs were a great experience, but I couldn't see myself doing another tour like that. And I couldn't see myself going back into the studio to make another album along those same lines. I didn't have any other ideas, and it all sort of fell through, but under great terms, really. We remained good friends, and still are.
Finally, in 1991, circumstances converged in a way that brought the original members of ELP back together. Asia's activities had dwindled considerably, and Lake's solo career had fizzled. Most importantly, the band found a producer who they felt understood them, and who empathized with what they wanted to accomplish. The reunion resulted in Black Moon, perhaps the band's finest album since 1973's Brain Salad Surgery. Unfortunately, however, the album didn't herald a period of rejuvenation for ELP.
Palmer: Asia went on in various forms after 1985, sort of on and off. And while we were doing a tour in Germany, I got a call from a man named Phil Carson. He wanted to sign ELP, and he asked if I would record some film music with Greg and Keith. Well, there wasn't any film - he just said that - although he did have a script or something. Anyway, the three of us got together and talked, and we started playing together. We worked out some ideas, and in the end, Phil said, "Look, why don't I pay you to make an album." So that's what we did. We made the Black Moon album and then we did Live At The Royal Albert Hall. And then we did In The Hot Seat, which was a complete disaster.
Emerson: Phil Carson was an old friend. He had been involved with ELP when we were at Atlantic. He had some experience managing Led Zeppelin and some experience putting a label together. And he was fortunate enough to have the label financed by JVC. So I agreed to do the project, as long as it could be produced by somebody from outside. I didn't want the three of us to be in the studio fighting over ideas. The idea was to find a producer who had a great overall perception of what the band should sound like in the '90s, while at the same time paying attention to what we had all tried to do in the past. If we could find a producer who could do that, and who could help us keep our integrity as a progressive rock band, I knew I would be a lot happier. And we found the right guy. Mark Mancina was brilliant at it.
Palmer: But we really weren't happy with that whole period at Victory Records, from 1991 to 1995. It was completely untogether. We put a lot of faith in Phil Carson, who is still a very good friend and always will be. But the whole Victory experience left a bad taste in our mouths, and was a big mistake. We had the wrong producer for In The Hot Seat. That sort of California-type attitude should not have been on our record. And to make matters worse, we were recording at a time when Keith couldn't play, after he had just had a serious operation. Soon after we finished recording, I had to have operations on both hands as well, for carpal tunnel syndrome.
Emerson: I had what's called an ulna nerve transposition. The ulna nerve is the funny bone, in your elbow. It was trapped, and all the physical therapy I underwent resulted in no change. So I had surgery to free the nerve. They actually moved it to another part of my arm, so now my funny bone is someplace else. This was two years ago, and I'm about 80 percent recovered. The surgeon said it could take about five years to heal completely. It was very scary. I'm still working very hard to get the dexterity back.
Grim as things had become, the fall of 1995 brought encouraging news on the ELP front. Rhino Records, the most reputable archival label in the industry, acquired almost the entire ELP back catalogue. With its strong reputation for integrity in regard to packaging and distribution, the move promised to offer the best chance yet of a resurrection of sorts. In February 1996, the label reissued all its ELP acquisitions, with the exception of Brain Salad Surgery, which was released later in the year. For Brain Salad Surgery, Rhino included a bonus track interview; and a hologram version of H.R. Giger's striking cover art.
Currently on tour, the band sounds optimistic about its chances of producing new material that's vital and contemporary. Interestingly, in recent months there's been evidence of a "progressive-rock" resurgence, so perhaps the time is right. More importantly, the band seems to be operating in a spirit of cooperation, and seems to be turning a collective eye toward what made their early albums so special.
Lake: If someone says to me, what is your vision of Keith Emerson, I would say, "a great organ player." As a pianist, he is not one alone in the whole world, but as a Hammond organ player, he's extraordinary. He created an unbelievable energy and absolute magic with the instrument. So the music of Keith Emerson that means the most, to me anyway, is the Hammond organ and synthesizer side of what he does. But I'm not sure that's true for him. I think maybe he likes the piano side of things more, and perhaps wants to be recognized for playing "real" music. And that's never the way I thought about it. I've always thought that the real respect for Emerson, Lake & Palmer came from the music we created ourselves and played ourselves, which was, in fact, our music. Those were the days when there seemed to be no criticism from the press, and no vitriolic reviews. It seemed just a good time.
Palmer: Being in ELP has always been a pressure, and it's always been a problem. Most of the music has been great, the live concerts have always been enjoyable, and in many respects, it's been a great experience over the last 26 years. But, like anything that involves people's personalities, and the creative side of people, you're always going to have friction somewhere. It's inevitable. And obviously; the older you get, the more impatient you become.
When we were most successful, I didn't even notice it. I couldn't appreciate it, because it was all going very fast. When you're in the middle of it, you've got so many things going on, you don't just sit and wallow in it.
I think what we want to do now is go out on this tour and just kind of wait and see. We would like to record, and I don't see any reason why we can't. But first, we want to go out and play things naturally, before we get back into any kind of heavy writing mode.
Lake: There have been various stabs at putting back together what obviously was a fantastic band. Listening to albums like Trilogy, Tarkus and Brain Salad Surgery, it just seemed a shame, to a lot of people, that the band couldn't get back to making albums like those. For one reason or another, the time has never really been right. The closest we've come since then was probably Black Moon, and I put that down to the talent of Mark Mancina. Funnily enough, the band has reached another plateau now. It's almost the same as it was in the pre-orchestral years. Spiritually, the band is in the right place.
(The author would like to thank Keith Emerson, Greg Lake, Carl Palmer, Bruce Pilato and John Arnold. He would also like to send Cindy Laudati of Rhino Records a bouquet of roses, but since he doesn't know her address, this extra-special thanks will have to do.)