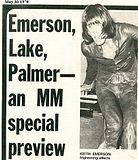 BEING witness to the birth of a band is always an exciting experience, and especially pleasing when the talents consist of three superb musicians like Keith Emerson, Greg Lake, and Carl Palmer.
It was a priviledge to hear the first tentative steps together of those who quit the security of three established bands - the Nice, King Crimson and Atomic Rooster - at a special preview at a London recording studio.
The band had only played four times when I heard them at Island's half-built main studio in an old church in Notting Hill. Their representatives took pains to point out that they had only just started and were not entirely together.
But the sounds that emerged were immediately startling and auger well for the future.
Surprisingly, when one considers that they are already tipped as a major new force and have been under pressure to appear at this year's galaxy of festivals, the group have been having serious problems, the main one being a place to rehearse.
There were several complaints about the noise as they thundered away - Carl "The Basher" Palmer contributing one of his phenomenal drum solos, Greg buzzing his bass until the floor began to vibrate, and Keith tipping his organ around to obtain the frightening effects he made famous with the Nice.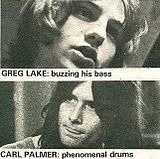 On bearding them in their lair, they were grappling with a piece of comtemporary music by Bela Bartok, which sounded quite remarkable in their dextrous hands. They paused for deep conversation about the placing of accents, Keith peering across his grand piano to Carl concentrating furiously on drum patterns.
"I've been working really hard," said Carl, the ever cheerful demon of the high speed roll. "Doing rehearsals during the day and gigs with the other band at night. I said 'no' to Keith and Greg at first. I wanted to stay with Vincent in Rooster."
"It was panic stations for a while," said Greg, "Carl was the only drummer we could work with and we had to have him."
Eventually Carl was convinced and says Greg: "We've even got him using brushes!"
"Yeah, they're about seven years old. I haven't used them since I played with a Palais band!"
"We've only had about four plays together and we are still getting down to the numbers. The Bartok number came from a piece of sheet music which I found knocking around at home and it's called 'Allegro Barbaro'.
"We'll also be doing 'Rondo', but that will be changed.
"This is very much the beginning, and it will take time for us to get together and to know each other. Obviously we shall have to bend a little towards each in styles. It's difficult to explain what the music band will be like at this stage. But it will be a three man band - not just a one man band."
"That wasn't very nice!" said Carl. "People often say musicians sound better in the bands they came from - when this kind of merger happens. We've got to prove them wrong. I know I said I would never leave Rooster and I feel guilty about that."
What about appearances? "The plan is to make a concert tour at about the end of July and then work on an album which will give us a chance to get the numbers played in on the road.
"We'll be using a Moog synthesizer and a special stereo PA system - we'll have about $20,000 worth of equipment. Incidentally, Triton was a suggestion for a name that was buzzing around, but we decided on being just Emerson, Lake, and Palmer. We're not just going to be a blowing band. At the moment we are being almost super-critical about our music. We want to live up to whatever is expected out of us.
"We could all have stayed in our groups and continued to earn a lot of money. But I think about three years is the normal life-span of a group before you get stale."
It was time for the band to have a blow. "What shall we play?" asked Keith.
"Well, there's not a lot to choose from," laughed Greg. They played a beautiful number called "Pebbles" which sounded like a rock-MJQ, with Carl on the brushes, Keith on piano and Greg singing in a rich, warm style.
Then they treated me to a fast and furious version of "Rondo" with Carl disappearing in a blur of hair and drum sticks as he attacked his snare, bass and tom toms with brutal strength. "And there's more where that came from," he gasped later.
A version of "21st Century Schizoid Man" set my teeth on edge, aggravated by the vibration of the flooring, which in turn caused a stream of complaints from the studio below.
They have to work a lot on material and arrangements. But the raw resources are there and when they are ready to explode upon us - BAZONKA! Hey, that's not a bad name for a group...
CHRIS WELCH