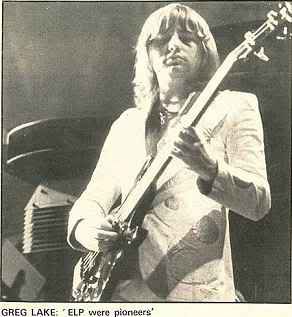 Lake - rock will return to its roots
by Chris Welch
Greg Lake's London home is a rare and impressive sight. A light glows outside a town house in a quiet street that takes you back to 19th century. And there is no doubt that Greg enjoys the life that success with Emerson, Lake & Palmer has opened up to the one-time impoverished bass player from the West Country.
But even when the subject for discussion over dinner sometimes comes down to money and the problems of taxation, music is still the guiding force, for the amiable, slow speaking third force in one of rock music's most power-packed ensembles.
Greg's own music veers more toward the pretty ballad and meaningful song, usually written in collaboration with poet Peter Sinfield, and it is a cause for regret that perhaps more of this kind of material has not been forthcoming in ELP.
But they are the kind of band with so much to play and choose from, where not everything can be made to fit. When there is a keyboard player like Keith Emerson around and a percussionist of the status of Carl Palmer, then it's no small wonder that Greg sometimes gets a mite overshadowed.
But Lake's contributions should not be minimized. He plays a singularly attractive brand of acoustic guitar, while his vocal style often reminds me of a schooled John Lennon, the notes pitched spot-on but given just a shade of that nasal, cutting edge, to original ballads like "C'est La Vie."
Will it affect his writing if ELP move to the States?
"Yeah, I think it must do. Good or bad, you can't tell. You can see the difference between the American bands' approach to music and everything in general.
"English bands tend to be more theatrical and maybe the move will defuse a lot of the energy going into the theatrical side. I like to see a more all round thing, more than just musicians playing, although I think the extreme theatrics of the rock business, of which we have certainly been a part, has reached a pinnacle. Everybody is carrying their own light show now!"
ELP really pioneered the big road show?
"Yeah, they were a lot of the things we tried to get into. I think everybody does it so much now, it will count for very little.
"It will go back to the roots. We are going to carry on with the same show for this tour, but in places that haven't seen it yet. The show we did at the Empire Pool was the best show we've ever had, just without a doubt.
"All the experiments we made, and all the money we lost, paid off in the end because we learnt so much from the shows on the previous tours - what not to do - and in the end it paid off.
"Our basic idea was to perfect our own atmosphere and recreate it each night. It was a good idea but the problems involved were immense. We had one hundred road managers at one point, so you can see the cost.
"And yet we could justify each roadie, until we had a different system designed. It was really down to fatigue among the guys putting up the equipment.
"Now we have spent more time researching how unions work and how we can use them, and all sorts of things - planning up front."
How many roadies did the band have when they started in 1970?
"Three - no, was it four?"
How did Greg feel about the new ELP album?
"It's the show. We're doing all the thing we think people want to hear from our past records and most of the new ones on 'Brain Salad Surgery.' It's just the live show."
You were saying that after this American tour you might back away from the heavy kind of presentation. What could you do after that really?
"Um. One has to do something original. I mean the accent may or may not be on production, it may be something entirely different. The choice is open, and the direction will come entirely from the music. It always does. So before we really lock onto any new ideas, they will come from the music."
Have you had much time for writing, when you've been touring so much?
"No, we've played something like 84 shows since November, and there has been no time. Except we've had a few weeks just lately, and we've all done a little bit on our solo albums and generally rested.
"So we are in good spirits now to do the next little bit, and then it's the last show we do with this particular production.
"We've just done a European tour which was very necessary because we did so much damage last time we went over. We were late for gigs, late setting up and this show was smooth!
"This show was twice as large and impressive and it could go up in about five hours. Before it was ridiculous - it took all day.
"I'm glad we filmed that tour, looking back, because it was a step, a courageous step. Everybody in the business said, 'Don't do it." And then when we went to do it again, they said: 'You're crazy, you must be crazy.' But it worked out fine."
How was Greg progressing with his solo album?
"It comes in spurts in between all the other work. You can't really settle down to a long period on it, just bits and pieces, but it's coming."
Greg had talked about it before, over the past couple of years. Why the wait?
"Yeah - it became the fashion, didn't it? I think it stemmed from the players in bands who perhaps saw the day when their band broke up and whatever.
"It's an insecure life and I suppose they thought that to make a solo album would enhance their own identity. And so everybody was making solo albums. Which kinda put me off a bit, and still does.
"I really don't want to make it to come out like a solo album. It certainly won't be recorded like 'THE GREAT LAKE ALBUM.'
"I want it to have a title and be an album in its own right. Then if people find out later, that I've done it, then great and that would be a fantastic dream for me.
"But I want it to survive on its own merits, and the main motive is to see what, without compromise, my music will bring forth.
"Because in a band you compromise and happily so. But it's interesting to see what will happen when it's just me."
Had Greg done many sessions?
"Just little demo things, little experiments, just really putting down tunes to see how they are going to feel. I have actually done no recording that is going to end up on a record. Just a few experimental things I have done after ELP sessions, in an extra hour."
People might well expect an acoustic album from Greg. Would he go into that?
"Yes I would. I suppose it's more me than anything. But I've always played in tough music bands all my life, the Godz [sic] and people like that, and really it's part of me. In fact on ELP albums I usually put only one track down that's like an acoustic thing.
"I think anyway, I'm known for acoustic things from my solo spots. Peter Sinfield writes the lyrics and they are better than my own lyrics to my own melodies. It's just like a flash of magic.
"It's a good combination that has worked for years. It worked in King Crimson and we've done some on 'Brain Salad.' Of all the musicians, he's the one closest to me. He's the only one I could write lyrics with and he writes exactly the lyrics that I want."