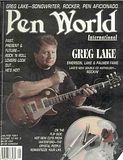 Greg Lake - More Than Just a Lucky Man
by Nancy Olson
Is there a baby boomer anywhere who doesn't have a favorite Emerson, Lake & Palmer tune - one that spirits you back to a very particular moment in time whenever you hear it? Is there anyone over the age of 35 who missed the classical allusions of Pictures at an Exhibition or one who hasn't sung the chorus of "Lucky Man" while driving down the freeway? If so, stand and be counted among the culturally challenged. Emerson, Lake & Palmer had a profound effect on a generation which defined itself in large part by its music. Thankfully, Greg Lake is still writing - creating music for new generations. And if that isn't reason enough to love him, he's crazy about fountain pens, too.
When Greg Lake walked into the recording studio in Los Angeles, I knew it would be a good day. Dressed casually in a T-shirt and shorts, he looked more Muscle Beach than international superstar. His attitude was just as easygoing - he mentioned that he'd brought along more formal clothes for the photo shoot if I wanted. If I wanted. Lake had one of his many guitars with him and picked at it casually as we set up lighting. He'd thoughtfully brought a few of his pens as well. I had a CD of Pictures at an Exhibition which was playing in the background - I thought it would be the perfect mood music, and maybe he'd autograph it when we were through.
Our interview took place over lunch by the pool at the Sunset Marquis in West Hollywood....
Pen World International: You have a career that has spanned decades, and you've been writing music since you were a kid. How does the creative process work for you... do you wait for inspiration, or do you sit down and make it happen?
Lake: Mostly it happens the latter way. I sit down at ten o'clock and say, I've got an album to make and this is the time to do it. But I draw on the thoughts I've had at earlier times. I keep a diary of themes and titles.
PWI: Is writing music an easy process for you?
Lake: I believe that ideas don't come from you, they pass through you. I think that if you are in the right frame of mind, the better ideas come easily and leave easily. If they need a lot of attention and festering, I just throw those ideas out. The best ones are usually simple and right and comfortable.
PWI: So there's a kind of fatefulness to it?
Lake: Well, most of the things I've been involved with have been accidents...songs that were never meant to be hit records that were because they were innocent and they were received that way. "Lucky Man" was the biggest single I ever had and I wrote it when I was twelve years old. When I was twenty years old and making our first (Emerson, Lake & Palmer) album, we were one song short - the final record had to be 21 minutes per side. Everybody was looking around the studio, and saying "got any ideas?" I said I had a song. I played "Lucky Man" on the acoustic guitar, then I put a bass on it and it sounded pretty good. But it was only meant to fill up that album. And then it was all over the radio.
PWI: Besides the obvious musical contributions, I would imagine that Carl Palmer and Keith Emerson each play different roles in the band. What are these roles?
Lake: A band is chemistry. It's like mixing liquids together in chemistry class: if you get it wrong, it turns brown; but ifyou get it right, it bubbles and turns a beautiful color. If the chemistry is right [in a band] it is effervescent and you get an abundance of energy and that's when things work out. In the mid to late '70s, they [promoters] started putting bands together, and even though many times the individuals were very capable and talented, the chemistry was wrong and they failed. Some band members weren't very talented, but the chemistry was right and they developed a style and became successful.
PWI: What other bands do you respect for their contributions to music?
Lake: I respect almost every band in a way because I know what hard work it is to be part of one. If you listen to the Beatles or Hendrix, the music is phenomenal - the spirit and philosophy contained in it. It's a lovely thing to have left [of them]. It's like a shadow that was cast...and the shadow remained because it's the spirit of their souls. That's what really gives me pleasure - that feeling that I've made some contribution. It's not the money or fame, although that's nice. When I look out into an audience, I can see that our music is woven into the lives of the people. . . they can remember where they were and what they were doing when they hear a particular song.
We were playing Pictures at an Exhibition many years ago, and I looked into the audience and I saw this guy - about my age - with tears in his eyes. I didn't know what to think. After the performance we went out to sign some autographs and I saw the same guy at the back of the crowd sobbing. I went over to talk to him and he told me - in beautiful broken English - that when he was young he bought a copy of Pictures at an Exhibition and smuggled it into Hungary. The Soviets put him in a military prison when they caught him playing it in his apartment. The memories of his imprisonment and oppression under the Soviets came flooding back to him when he heard the music. He said that he'd waited seventeen years to see us perform. So when I play now, I think about what the music means to the people hearing it - which really has nothing to do with the music, but everything to do with life.
PWI: Besides the profound effect you've had on many people, ELP has had a major effect on the direction of music. How do you perceive that effect?
Lake: Music went through a complete metamorphosis in the late '60s moving away from the 2¼ minute pop song. The coming of age of the baby boomers changed the direction of music because that was their vehicle of expression. They influenced so much, from fashion to politics and everything in between. Young people were looking for something new, and they wanted to shake out of that staid mode of their parents. Music was exciting and it had some of the elements important to teens like sexuality.
The music of ELP contained a lot of classical elements. I think this was perhaps the first time that it was okay for a young person to listen to classical music without it being considered stuffy. We were loved by the kids but criticized by journalists a lot. They said we were pretentious. We always had this strange relationship with the press...
After we recorded Pictures at an Exhibition in England, we brought it to America - Atlantic Records - and said we wanted to record it. They said we couldn't release it. "It goes on for a whole side and then another side - they'll never play it on the radio...," we were told. But we knew that the kids went mad whenever we played it in concert. So the English record label, Island Records, imported 250,000 copies and sold out. We finally recorded it in America. It sold over three million copies.
PWI: When did you begin to feel successful professionally?
Lake: In some ways I'm still waiting... I suppose it was really when I saw the reaction of the audience changing. It seemed like all of a sudden the response was more intense. I was doing the same thing, but the reaction was much bigger. It happened first with King Crimson (Lake's first band).
PWI: How about your audience today?
Lake: The majority of the audience is between 40 and 60 with many in their twenties and thirties.
PWI: What do you do to relax?
Lake: Look for pens. My time off tends to be expensive...
PWI: So how many pens do you have?
Lake: I've got about 40 - part new and part vintage. I just pick them up here and there.
PWI: Have you been to Portobello Road [flea market in London]?
Lake: Not recently, but I have been there.
PWI: What is your fascination with pens?
Lake: I like them because they are anything you want them to be. Pens are toys - you can play with them as well as write with them. Also, I am always fascinated by things that are beautiful, precise and small. A lot of musical instruments are delicate, sensitive and small and require great precision - strings and keys and even music itself. . . these tiny little black dots. A pen is one of the most basic implements of expression - a guitar, keyboard and a pen. That's how you get a song out in the end. At its best, penmaking is an art form, so I have an affinity for them in that way, too.
I'm quite adept at using a computer, but I always write first and then transfer it to the computer. There's something about a pen...the scribbling of a word, getting halfway through it, then scratching it out. I think with a pen and I always have one in my hand. Usually I've got two or three of them [in use] at once. They are like friends and I take them out for a walk: "You can come out today if you'd like...come on, you haven't been out for a long time."
PWI: Do you have a nib preference?
Lake: I have to have a nib that's soft enough to do that spreading stuff - but not too flexible so they [the tines] split - since I write in a calligraphy style. But I can adapt almost any pen because it's really all about the pressure you apply.
PWI: How did you learn calligraphy?
Lake: Basic calligraphy is so simple, really: you press hard on the way down and lighten [the pressure] on the way up. But it [calligraphy-style wnting] impresses people to no end. I write a little thing on a Christmas card and people say, "Oh you write so beautifully." Calligraphy is very convenient with my pen collecting, too, because when I try out a pen [at a shop], the salesman thinks, "Oh, he's really serious."
PWI: Earlier in our conversation you mentioned keeping a journal of thoughts and song titles. The obvious question: what do you use to write in it?
Lake: I use a Yard-o-Led.
PWI: How about paper? Do you have any opinions?
Lake: Paper is certainly part of the game, and if you're using a good pen, you must have good paper. I compare it to drinking from a styrofoam coffee cup versus one made from bone china.
PWI: Where do you think you'll be in ten years?
Lake: I hope I'm still able to have some sort of a role in music. I don't know whether I'll still be performing. Being in a band and being on the road is a hard way of life. I hope I'm still writing songs and recording. If not, I'll still consider myself lucky. I've had a fantastic run.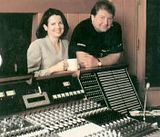 Timeless
To everything there is a season. Or, if you're more familiar with Kenny Rogers than Ecclesiastes, you gotta know when to fold 'em. So it was with some trepidation that I attended the Jethro Tull/Emerson, Lake and Palmer concert in September. I've been a fan for years, staying in touch through CDs and a newly found WEB page. But this was the real thing. . .no electronics between me and the boys.
I'd been disappointed before. Like when I saw the Monkees recently on late-night TV. I used to watch them when I was in junior high and thought they were so cute. Now they are men for whom cute doesn't work. Or when I bought the Frank Sinatra Duets CD for my mother several Christmases ago and found that he couldn't hit the high notes anymore. I'd grown up in a household of weekly Frank Fests, and here he was reduced to a couple of pseudo-sung "kookies" and a lot of heavy bass. The passing of an era. I saw Ann-Margret in Las Vegas (the tickets were free) some years back. Somehow the sex-kitten demeanor and the little-girl voice seemed anachronistic and silly for a mature woman. More disappointment. But the worst was the Rolling Stones Steel Wheels Concert Tour. Mick-my-heartthrob-and-fantasy appeared to be resting on past laurels. It was more than I could handle, and I turned the mirror on myself.
While walking into the concert I was prepared for the worst. I'd seen Jethro Tull many years ago in Boston, and this crowd could have been the same, albeit "filled out" and with more reflective pates. There were even a few whiffs of contraband in the air. But wait - there were kids, too. . .a new generation with good taste in music.
The concert began and Jethro Tull was better than I'd remembered. Emerson, Lake & Palmer were outstanding. They'd never sounded more energetic or creative - Greg's voice, Carl Palmer's drumming, and Keith Emerson's keyboard. When Lake sang, I wasn't transported back to a kinder, gentler time, but rather, I enjoyed the moment for what it was.
So I guess it's really more about being true to who and what you are at any given moment than trying to capture a memory or live a legacy. Talent is always in season, and I still have all my hair. Life is groovy.