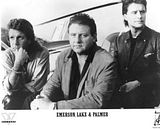 EMERSON, LAKE & PALMER
LIVE AT THE ROYAL ALBERT HALL
One of rock's true supergroups, Emerson, Lake & Palmer earned their mighty reputation with a searing repertoire of heavy metal power, classical virtuosity and minstrel folk finesse. Since 1971, over 25 million record sales ago, the respected triumvirate of ex-Nice keyboardist Keith Emerson, original King Crimson vocalist/bassist Greg Lake and drummer Carl Palmer (originally of The Crazy World of Arthur Brown/Atomic Rooster fame) set the standard for progressive art rock sophistication and arena spectacle, rivaled by few bands today. From their melodious multi-platinum FM radio standards "Lucky Man," "From The Beginning" and "Still...You Turn Me On," to the critically-acclaimed pomp of Tarkus and Brain Salad Surgery (featuring artist H.R. Geiger's award-winning album sleeve), ELP made rock respectable with maestro-like dexterity.
After a 15-year hiatus, the trio reunited under the guise of recording soundtrack material for their old friend Phil Carson's Victory Music label. The chemistry was instantaneous, resulting instead with 1992's well-received "reunion" album, Black Moon. While in the midst of this year's subsequent smash 82-date international tour, ELP decided the time was right to re-introduce audiences to the majesty of their unrivaled brand of highbrow rock with the brilliant new Emerson, Lake & Palmer Live At The Royal Albert Hall, an 11-track 68-minute romp through 20-plus years of stellar rock history.
"With this new live album, we were afforded the opportunity to revisit all the older ELP material, as well as introducing our old fans to current work," Lake offers. "it was very challenging and important for us to take the primitive sounds of before, and re-record them with the aid of new sonic technologies. Plus, it was quite moving to present this affair at the prestigious Royal Albert Hall. The quality of this recording far surpasses any of my initial expectations." Indeed, from the opening "Karn Evil 9 (1st Impression, Part 2)," to Emerson's haunting piano piece "Creole Dance," to the glory of "Pirates" and "Pictures At An Exhibition," ELP have never sounded better; almost as if they never went away in the first place.
"We realize that you can't be away for 15 years and expect people to pick up where you left off," Lake surmises. "But frankly, the response has been quite moving. The loyalty is marvelous, it's like a family feeling with our fans - which luckily, there are still quite a few! That's another reason for this live album. We wanted to give a little something back to all those people who have stuck with us along the way." A mutual and enduring bond between artist and audience now entering its third decade; welcome back my friends to the show that never ends.
A cut-by-cut overview from Greg Lake
"Karn Evil (1st Impression, Part 2)"
"When we say 'Welcome back my friends to the show that never ends,' we're expressing the sentiment of the whole group - our fans are our friends."
"Tarkus"
"This song has always been a centerpiece to our set. 'Tarkus' typifies the style of ELP. it couldn't be anyone else."
"Knife's Edge"
"Each album is represented in our live performances, and 'Knife's Edge' is a quite popular track from our first album, sometimes known as 'The Dove Album.' When we play it today, it doesn't sound dated; it has a contemporary sound, although it's 20 years old."
"Paper Blood"
"This track is off Black Moon, although it could've easily been on our first album. It's a good solid rock tune...it's about money; the lack of it and too much of it."
"Romeo & Juliet"
"It was Keith's idea to perform this song. He said it reminded him of Jimi Hendrix's 'Purple Haze' - that same strong intro and melody. It works quite well in the 3-piece context."
"Creole Dance"
"This is Keith's piano piece. He enjoys the chaos of it, particularly the ferocious attacks and radical piano playing."
"Still...You Turn Me On"
"One of our more popular songs, I like the sentiment because it's still applicable today. It expresses a certain passion I find sadly lacking in most modern music."
"Lucky Man"
"Well, if we didn't play it, people would throw things at us! This re-recorded version has a new arrangement, particularly in Keith's synth parts."
"Black Moon"
"The title track to our latest album is very colorful musically. It displays a certain consistency in approach to our earliest works. I find it a very moving piece live. It was inspired by images of the oil fields burning during the Gulf War.., there was a television shot of the sun literally blacked-out by all the smoke...it looked like the moon..."
"Pirates"
"A very unusual song in terms of rock. We perform lengthy sets, so that the audience has a chance to get absorbed into it, and 'Pirates' typifies that approach. A very visual piece, it almost makes for a good exit - before the encore, of course!"
"Finale (Medley)"
"All ELP shows consist of three basic parts: 'Tarkus,' 'Pirates' and 'Pictures At An Exhibition,' which is our closing. 'Pictures' was very significant in our career because we fought hard for this one. We were told by Chris Blackwell that it would never get on the radio in America because it was supposedly too long. But Scott Muni of WNEW-FM played it in its entirety and 'Pictures' ended up being one of our most successful releases. We were able to silence the critics, which continues to be a trademark of ELP, 20 years and counting."