(Click images to enlarge)
"I RESPECT high-level dealers, cats like Muhammad Ali and Bertrand Russell. I also respect Jesus Christ who was one of the highest-level entertainers of all time. He went out with his 12 roadies and some of the stunts that cat pulled would blow your mind."
Greg Lake said that. But, to be fair, it was 1972 and he was on his way to Japan aboard a Jumbo chartered for the exclusive use of ELP. A 50,000 crowd awaited, another territory ripe for conquest. On top of the world looking down on creation, they were the gods of the Progressive era. Briefly.
Now, as the trio plot a comeback, the future is the subject of earnest declaration and the recent past a matter to be dusted round, preferably. But the good old days make them smile. In the dowdy "lounge area" of Ritz rehearsal studios, the 12.15 from Wandsworth to Putney clattering by right outside the window, they sit in a row, L E and P, gradually loosening the stays of reminiscence.
Greg Lake, 43, singer/bassist, round as Humpty Dumpty, plainly content to let middle age spread. Keith Emerson, 47, keyboards wizard, a few pounds overweight, a touch dishevelled, sporting a leather jacket with studs and a painted dragon. Carl Palmer, 41 drummer, lean, sharp haircut. While they're plainIy here to do a job, Emerson's arrival, last and late, had provoked a rowdy breach of purposeful propriety - seemingly customary greetings included the query, "Shagging again last night, were you?", and he'd further confirmed that he's going through a bit of a laddish throwback phase by announcing that "this bloke" had written two Ws on his buttocks in indelible ink so that, in the time-honoured jest, he spells "Wow" when he bends over. Ho, and furthermore, ho.
They reconvened last year and immediately, says Lake, "started to feel the chemistry of the original band, an organic sort of thing." Hence the new album, Black Moon.
"I'VE MENTIONED this before," says Emerson, meaning 20 years before, "but whereas a lot of bands from our generation developed their style from black blues, what we wanted to do when we got together in 1970 was stick to our heritage. We're white, we're European, we didn't want to pretend to be something that we're not."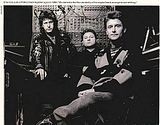 Seen as a supergroup - Emerson from The Nice, Lake from King Crimson, Palmer from Atomic Rooster - they turned to the classics both for inspiration and, in a crusading spirit, to clobber snobbish musical prejudices. In short order, Mussorgsky's Pictures At An Exhibition, Bach's Brandenberg Concertos, Aaron Copland's Hoedown and Fanfare For The Common Man were all given a vigorous going over, alongside their own oddly diverse compositions (pomp extravaganzas, jazz-rock workouts and Kinksy comic songs).
And millions loved it; and this was the core rock audience, not just greatcoated Prog-heads. lndividually and as a band they won all the readers polls going, ahead of The Rolling Stones, The Who, The Moody Blues and Yes. "Music back then had a cultural significance, you see," Lake opines. "Whereas now, because it's a market-led industry, you've got rock product, then you had rock heroes."
A different kind of hero, though, the last lurch of the 60s revolution. After the famous boys next door (The Beatles) and the rebels (The Rolling Stones), ELP and their peers were in that perhaps less than heart-warming group of bands "who could really play." They were "players' players." Trading on technique, like Olympic divers, they were judged according to the degree of difficulty. As Lake says, "Our role was to represent something the fans could identify wilh in terms of excellence or capability, something they could feel proud of."
Of course, as it turned out, the Progressive era was the rock orbit in decay. It produced some grandeur, but more delusions of grandeur. Gigs started to be weighed and measured, rather than enjoyed. Bands, fans and journalists were all seduced by sheer scale until, fatally, a report that ELP had 40 tons of equipment and a 42-man road crew might evoke almost as big a thrill of admiration as the music itself.
BUT IF that's the theory of their rise and fall, what Emerson, Lake, and Palmer insist on to this day is that, live, they gave the greatest show available anywhere, they were rock 'n' roll.
Apart from the flying Moog and the revolving drumkit, Emerson would regularly produce a fistful of daggers and attack his instruments on the feeble musical pretext that some interesting sustains might be achieved by jamming the blades down between the keys. Then there was the organ wrestling. The roadies would bring out a big, old Hammond and, after a bit of fast fingering, he'd start to kick it, jump on it, shove it all over the stage and finally stand it on one corner and spin it like a top. "I got sounds out of that organ the manufacturers never even dreamed of," he says, eyes misting over.
But such antics cost him a lot of pain - as did, of course, the exploding piano routine. "Yeah, I had a few accidents," he grins. "Blew fingernails off with thunderflashes, fell off stage with the Hammond and broke quite a few ribs, broke my nose..."
"What about the Tarkus?" says Palmer, "That night in Brighton? We had a model of the creature from the album sleeve, you know, half battle tank and half armadillo, and at one point it would spew out this sort of snowstorm of polystyrene. Anyway, that night we had it aimed in the wrong direction and it poured all this stuff straight out into the grand piano! Filled it up! We had to stop the show and on came the roadies with the dustpans and the Hoover to clear it out."
ELP definitely had a thing about Hoovers, unique in the annals of pop. At this juncture, Greg Lake's carpet roadie should be mentioned.
"Now that came about because of me nearly being electrocuted at a gig in Germany," says Lake. "I got a shock off the mike, bang, there I was flat on my back. So I started wearing plimsoles and the crew put down a rubber mat. But that looked bloody awful so said to my roadie, 'Couldn't you cover that up with a bit of carpet'?'
The times being what they were, the bit of carpet was Persian, £6,000 worth, and Lake's reaction was to extract a little extra value from it by ordering a ritual once-over with the vacuum in full view of the punters before every show.
When it comes to the extracurricular aspects of rock'n rolling ELP are equally fervent that they did their share of everything available - though, as usual on these occasions, they are unforthcoming with the details. But most of the band apocrypha concern Lake. While he probably behaved no more garishly than the rest, he does seem to have done it, if not in public, then with a convivial arm round the shoulders of the pop press.
It was Lake, so they say, who, evidently fond of a fresh seafood snack, kept his bath full of live lobsters. It was Lake, allegedly, who had urinals installed in all his domestic lavatories because he was fed up with the sheer drudgery of lifting and lowering toilet seats. It was Lake, maybe, who took a crowd of friends to a modish Russian restaurant and then, because he was on a diet, ordained that they all eat nothing but caviare [sic]. And it was Lake, perhaps, who was asked by a connoisseur friend which wine he would prefer and replied with Philistine relish, "The most expensive!"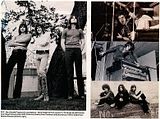 THE POST MORTEM on ELP does not record that they were victims of punk, as is usually assumed. When, after five albums from 1970-74 (including a live triple) and global touring non-stop, they took what became a rather extended break, they were already under critical fire as a "ego-inflated dinosaur" and "hip, electronic Cecil B de Mrs Mills." Then when they came back in 1977 with the dauntingly titled double album, Works Volume 1, further damaging hints of hubris emanated from their decision to tour America with a 70-piece orchestra and it proved the undoing of them.
There were cancellations and cutbacks, heavy losses, though they still stand on their dignity about the extent of it. After that, Lake concedes, they were "exhausted creatively" and their final album, Love Beach - improbable palm trees, bare chests and medallions on the sleeve - was, he admits, "a mistake." Reflecting on the split at tour's end, December 30, 1978, he says, bemused to this day, "We were probably one of the most misunderstood bands in the world."
By and large the 1980s were not kind to ELP. Emerson wrote a few soundtracks to forgotten films. Palmer's best period was Asia's short-lived but huge American success, Lake tagging along latterly as replacement for John Wetton. But when he invited the press round to his place to promote a solo album the scene was both poignant and, since journalists are a hard and unsympathetic crew, richly comic. Where, in better days, they had been summoned to the country estate, he was now reduced to a modest house in south London - the only sign of former glories being a suit of armour stationed in the hall.
Inevitably, in the circumstances, there were attempts to revive the magic formula. Emerson, Lake & Powell, in '86, looked too much like the outcome of a want ad asking for "heavy drummer, surname must begin with P." The following year Palmer became available, but after a few rehearsals Emerson broke a wrist falling off a motorbike. While the reunion was deferred, its logic, as they say, was ever harder to resist.
So now they have a new album of relatively short songs, heavy on Hammond, and a bow to the classics with Prokofiev's Romeo and Juliet. Meanwhile, the provisional live set taped to the rehearsal room wall leans heavily on the past: Tarkus, Pictures, Fanfare and even America, the West Side Story cover retrieved from the Nice repertoire. Plus, definitely, "drum solo."
Stewart Young, ELP's manager now as then, has his eye on that item too. The drum solo used to be 20 minutes long and conclude, doubtless for very good reasons, with Carl Palmer ringing a cowbell held between his teeth.
"Mm. It'll be a shame to see it go, won't it," he twinkles mischievously. "Used to give you a chance to nip out for a drink."