Emerson, Lake & Palmer go for broke
By Charles M. Young
| | | |
| --- | --- | --- |
| | | |
| ELP works out: Carl Palmer at karate practice; | Keith Emerson at the keyboards; | Greg Lake after jogging. |
"The possibility of failure can't be accepted. But it can't be ignored. Your mind is dominated by the will to win, but at the same time you're haunted by the fear of failure. These are conflicts that control everything you do."
~ from Liberace, an Autobiography
---
N e w Y o r k
---
WE'RE RISKING everything we ever made and everything we're ever likely to make on this tour. I'm talking about our families, our possessions, everything we believe in. We'll have to sell our houses in England if it flops," pronounces Greg Lake, his sense of apocalypse unleashed by a couple of cognacs he's been sipping in a medieval-looking restaurant in Montreal's old quarter. "Either way it's a terrific story for you: great success or utter disaster."
A large number of journalists have flown up from the States to watch ELP's Montreal rehearsals and seem to have found, if not the end of the world, then something to reckon with: Emerson, Lake and Palmer touring with a full symphony orchestra (57 instruments, six-person choir and conductor - rounded off by press-release arithmetic to 70 pieces), plus an entourage of 60 roadies, truck drivers, etc., at a weekly cost of $215,000. "If anybody ever needed media exposure, it's us," Lake says. "But we haven't talked to the press in three years. I don't know what to say beyond that I cannot conceive of anyone putting more into a tour."
Greg Lake, 29, grew up in Dorset, where he and Robert Fripp shared a guitar teacher. After working as a draftsman and playing in a succession of rock bands, he teamed up with Fripp to form King Crimson. It was a band almost as far away as ELP from the current crop of primitive but popular British punk bands. "The wave of the future is not in smashbang! Nor is it in electronics!" he says. "It is in musical expression. And just as we once opened doors for other groups electronically, we're now going to do it musically. Where we once had six hands, we now have 140."
Were they trying to prove themselves in a critical sense, achieve respectability?
"Art is not something you prove. It's something you appreciate. If I draw a castle on the wall, one person is going to piss on it while another will cry over it."
KEITH EMERSON, 32, an only child who grew up in Woking, England and whose piano education consisted of lessons from a local teacher, sits naked on the top bench of the sauna at the Hotel Meridien. After swimming 25 laps (both Lake and Palmer jog and do karate), his slender body is slumped with the slightly hunched back of someone who has spent too many years bent over keyboards. His sweat glistens in the dim light and there is a definite tan line from sunning in Nassau, his temporary home.
"I wrote the first two movements of my concerto in a pleasant, pastoral style," he says. "Then my house in the English countryside burned down, and the final movement became, ah... more fuck you. Aggressive."
Emerson's eyes tend to drop as he speaks. His words come a little slower and with more consideration than Lake's - you wonder if he isn't doomed to be uncomfortable around other people unless he has a piano in front of him.
"I lost a lot of music and didn't care about anything for months - just stayed drunk most of the time," Emerson says. 'finally I was able to vent my frustration. I learned not to place much value on anything I buy because of the fire - this tour, for instance. If we lose money, so what? Just so I'm satisfied aesthetically. There's no way we can make money."
After stints in Nice, King Crimson and Atomic Rooster, respectively, Emerson, Lake and Palmer coalesced in 1970 and released Emerson, Lake & Palmer, which promptly sold well over a million copies. All technical virtuosos, the three hit upon a formula of rockified classics and romantic ballads that propelled their next five albums (Tarkus, Trilogy, Pictures at an Exhibition, Brain Salad Surgery and Welcome Back, My Friends, to the Show that Never Ends, a triple live album) near or over the platinum mark. Also one of the biggest concert attractions until they stopped touring in 1974, they were met with mixed critical reaction. While no one faulted their abilities, Emerson's keyboard playing and Carl Palmer's drumming were sometimes seen as part of the Alvin Lee Flesh-before-Melody school of musicianship. While Lake had an evocative voice, his lyrics occasionally contained distracting clinkers. By the end of 1974, even ELP felt they had reached a dead end: they went into seclusion for three years.
After working on solo and group projects and even taking music lessons, ELP reemerged, this year with Works Volume 1, a two-record set with three individual sides and one group side. It is by far their hardest album to understand. Vilified in Britain, the album has had more favorable reviews in the States. But now the band's traditional supporters, the record buyers, seem to have deserted them. Works made it to the low teens in the charts after a few weeks' release and has been dropping ever since, even as the stunningly expensive rehearsals continue.
ELP's manager, Stewart Young, originally opposed the expensive tour, but Emerson convinced Young of its worth. "I had the hot sweats four months ago. Now I sleep pretty good," Emerson says. "We've spent too much money to stop at this point. I felt guilty about the others at first - their financial loss. I suggested the tour in the beginning. They were very dubious, and thing was off so many times, but now they're committed. We had to come back with a bang."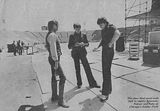 (Click photo to enlarge)
CARL PALMER, 27, who grew up in Birmingham, England, and was often taken by his father to working-class bars to play drums, walks into Pepe's Pizza and asks the waitress if this is Rymark's bar. No, she says, this is Pepe's Pizza. Is she sure this isn't Rymark's? Yes, she is sure. Does she know where Rymark's is, then? Yes, next door. So that's where we go - Palmer isn't the slightest bit embarrassed, as if it is perfectly normal to walk into Pepe's Pizza and insist it is Rymark's bar.
"I knew it wasn't Rymark's," he says, as we sit at a dark wooden table in the workingman's hang-out that specializes in meat, potatoes and beer. "They don't allow women in these places. There were women up there. That's how I knew it was the wrong place."
Does he too feel he has his house on the line for this tour?
"We've invested a fortune, but I'll be damned if I'm going to sell something that's mine," he shudders. "Such a bad scene. I won't let it happen."
How much is a fortune?
"Well, recording the albums, rehearsals, living expenses and an awful lot of messing about, we've spent nearly $2 million of our own money. I've geared myself not to make anything, but had to do it. To promote the album, we have to present the music the way it's heard on record. The gap between acoustic and electronic instruments must be bridged. Two years ago it would have been impossible because of the technology. Now we have a chance. An amplified acoustic violin can now sound like an acoustic violin, not electronic violin. And there's only one way to do it: with mucho dinero, as they say in Spain."
A WOMAN WITH bright pink hair sits alone in the middle of the cement-floor hockey rink during the rehearsal. I ask her why she has pink hair. "My feeling on the matter is: down with punk, up with pink," she says. "Will you write about me if I tell you my name? Mary Lou Green. I'm an international art director for Vidal Sassoon. They want me to cut their hair in a very anonymous style to fit with their image. I call it geek chic. You know why they want their hair cut that way? Because they don't want to look like fags..."
The orchestra breaks into Aaron Copland's Fanfare for the Common Man. A symphony orchestra blaring through a million-dollar sound system at full rock volume is jaw-droppingly awesome. In an age when rock concerts are coming more and more to resemble the rest of life - that is: shoddy, overpriced and too loud - it is a rare pleasure to hear a band that is only too loud. The system is unique in that each of 72 identical 450-pound, ten-speaker cabinets can reproduce the full sound range and is used as a stage monitor as well as PA. Each instrument in the orchestra has an individual mike (now attached with rubber bands after a clamp scratched the finish on a 400-year-old violin).
The musicians, sitting on risers around the stage, appear to average about age 26, and most come from the best East Coast conservatories like Juilliard in New York. "They're more inclined to play it well than the old fucks you run into in most orchestras," sums up Lake, during a break.
"They're the best orchestra I ever played with," adds Emerson.
"Some of the percussionists are so good I'd like to cut off their arms," says Palmer, rubbing surgical spirits into a huge blister on his right palm. He slashes the air with a couple of karate chops. "I wonder why they want to play in the background in an orchestra where they're only going to realize half their potential."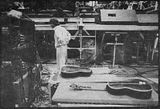 Pictures at a rehearsal: Greg Lake backstage in Montreal
THE MORNING AFTER the Beverly Hills Supper Club fire across the river in Kentucky took 161 lives, the Cincinnati sky still rains ashes. Wafting like butterflies in the soft breeze and sticking in long grass, they are actually from a paper-bag factory that burned the same night, but the effect is no less eerie. "I helped take out 67 bodies this morning. I had three friends in there," says Bill Leggett, stage manager of Riverfront Coliseum, during sound check for the third date of the tour. "They didn't have a chance. Some were just frozen at their tables or stacked behind the bar. I know they arrested at least one man last night for looting bodies."
BEFORE THE performance in Cincinnati, directly across the aisle from the VIP box, a teenage boy bends his head between his legs and heaves what appears to be a couple of six packs and an undigested hamburger. Eleanor Emerson, Keith's wife, screws up her face and says in her lilting Danish-English accent, "Oh God, I've never seen anything like that!...You mean it happens all the time now?" Her six-year-old son Aaron appears to take greater interest in the boy's malady.
The lights dim, and the short-of-sellout crowd cheers wildly as Godfrey Salmon, the Cambridge-educated conductor, rises from the floor to address his orchestra from a hydraulic lift. Halfway into "Abaddon's Bolero," from Trilogy, they are joined by the band. Reaction to the set is ecstatic despite numerous technical problems. Once renowned for throwing knives into his organ, among other stunts, Emerson is comparatively subdued. On Copland's "Hoedown," he lets loose a bit, throwing around a portable keyboard in a variety of obscene gestures, but the theatrics don't really seem necessary to hold anyone's interest. For the concerto, the audience becomes respectfully silent. They break the spell only once: to cheer when a flash pod goes off at the beginning of the third movement. (During the show's second segment, they will give a standing ovation for "Pictures at an Exhibition," a song which should receive the "Most Improved" award for 1977. Where the beauty of Mussorgsky's original composition was sometimes lost in feedback and ostentatious virtuosity on the original album, ELP is now more willing to let the music stand on its own. The orchestra, ELP's biggest excess ever, has had the effect of smoothing over their other excesses. Lake's best ballads - "Lucky Man," "Still...You Turn Me On" and "C'est La Vie" - draw enthusiastic cheers of recognition. "Pirates," using orchestra and band to fullest potential, closes the show, and the overwhelming "Fanfare" serves as the encore.)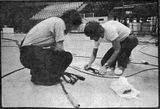 Keith Emerson autographing a copy of 'Works' on the floor of the Montreal hockey rink
Intermission. The lights come up for 20 minutes. The boy's head is still between his knees. We head for the labyrinthine bowels of the custom-made aluminum stage, where Emerson is fiddling with his Moog console. It's too intimidatingly complicated even to look at, so Aaron turns his attention to some platform braces. "Daddy, what's this ladder for?"
"It's not a ladder," says Emerson, looking up from his work. "It's just part of the stage." He looks over at me. "The ribbon controller blew up in my hands this afternoon," he says of a small keyboard instrument that shoots fireworks. "It was lucky it happened in rehearsal. Some of the shrapnel could have hurt the audience. I was lucky it didn't blow off one of my fingers. The last time it happened, it blew off my thumbnail."
ON THE ORCHESTRA bus from Cincinnati to Detroit, I ask Bruce Dukov, first violin and once a student of Yehudi Menuhin and Nathan Milstein, what he thinks of the music. "It's an amazing challenge," he says. "The scores are very difficult to read and we've had to rehearse very hard for it to work. Keith is very talented on keyboards. The concerto should increase his reputation considerably outside of rock & roll. I hope it doesn't escape the audience who want to be hit by something driving all the time."
I say I am looking forward to Detroit and describe how the stage was bombarded with bottles and firecrackers at an Iggy Pop concert I saw there.
"Really?" Dukov's face pales. "I have a $30,000 instrument."
THE PART IS VERY simple. Anyone can count to eight and hit a tam-tam." percussionist David Frost assures me.
"I'm still terrified," I reply. Because of a Plimptonian brain-storm in Cincinnati, I have roped myself into playing the tam-tam, a small gong, on 'Abaddon's Bolero" in tonight's Detroit show. "You said yourself I was half a beat off during practice. I've always been a frustrated heavy-metal drummer, but this is different from playing along with records."
"Heavy metal?" says John Haas, another percussionist. "That's an interesting name for a type of music. I'd like to hear it sometime."
The Great Fear has infected my gut and the Cold Sweat is flooding my brow. Suppose I'm too tense to keep any sense of rhythm at all? Suppose I throw the whole orchestra off? Suppose...
"You know, if you blow it," says Haas, "Carl will probably destroy your body with two karate chops."
"You want a valium?" asks Frost.
"Gentlemen," says a roadie, "onstage, please."
We climb the long flight of aluminum stairs to the left rear riser, where the percussion section is located. A dull roar goes up as the musicians take their places. I am in serious danger of throwing up. "Just knock the shit out of it," says Haas. "That's all you have to remember." He starts the hypnotic military cadence that continues unchanged through the eight minutes of the song. My part doesn't start for five minutes. A large fly buzzes around my head and l am haunted by the thought of it flying up nose on my cue.
Frost motions that I am to come in on the next measure. I count to eight and knock the shit out of the tam-tam. Not so bad. The noise is past the pain threshhold, but what a rush to fill up Cobo Hall with my gong. 1-2-3-4-5-6-7-8 CRASH! The little bastards love it. CRASH! I'm a star. CRASH! And it's over. My stomach is so loose I could melt down the stairs. The rest of the performance goes without incident, except for Carl Palmer falling into the hole where Emerson's grand piano is kept on a hydraulic lift.
I later ask conductor Godfrey Salmon his professional opinion of my debut. "Well," he ponders, "you looked very earnest."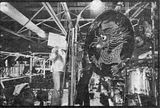 Carl Palmer before Chinese gong
Stepping down from Greg Lake's sumptuously furnished tour bus on the way into a restaurant after the show, Keith Emerson is approached by tour manager Tom Mohler, who has driven by car. "Did you see down the street?" he asks. "There's a five-story building in flames. The fire engines haven't even got there."
Emerson looks at the orange glow in the distance, shrugs and heads into the restaurant. Perusing the wine list, he declares Chateau something-or-other has a "bouquet like an aborigine's armpit." Lake soon follows suit and informs everyone that he hates this place and everything it stands for. "Vulgar, vulgar, vulgar, vulgar, vulgar," he says. "Barf. BAAARRRFFFF!!! Ralph! Buick! Herb! Huey!" He turns every word into a plausible synonym for vomit with his intestinal inflections.
Finally I ask Emerson a question that has been bothering me for days. "With all these disasters and fires following you around," I say, "do you think you're a jinx?"
Emerson only shakes his head no, with the vaguely troubled eyes of a shy man who doesn't quite know how to answer an unexpected question from a stranger.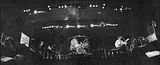 (Click photo to enlarge)