Welcome back my friend?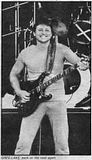 GREG LAKE, who finally rose from the ashes of ELP when he made his solo debut at Reading last weekend, has signed to Chrysalis Records, releasing his first ever solo album, 'Greg Lake', on September 25.
Featured musicians on the album are Gary Moore on guitar, Tommy Eyre keyboards, Tristram Margetts bass and Ted McKenna drums. And guest musicians include Clarence Clemmons on sax (yes THE man who plays with...gasp!...Bruce Springsteen), Steve Lukather, Dean Parks and Snuffy Walden on guitars.
The album features ten new songs, eight of which were written by Lake with various collaborators, including Tony Benyon (a cartoonist who works for the enemy).
To promote the album Greg and his band play an October UK tour kicking off at Aberystwyth University on the 9th, Cardiff University 10, Dunstable Queensway Hall 12, Norwich University 13, Liverpool Royal Court Theatre 15, Newcastle Mayfair 16, Glasgow University 17, Edinburgh Playhouse 18, Sheffield Lyceum 19, University of Kent Canterbury 22, Birmingham Odeon 23,
Leicester Polytechnic 24, Bournemouth Winter Gardens 25, Exeter University 26, St Austell Cornwall Coliseum 27, Crawley Leisure Centre 29 and Hammersmith Odeon 30. Tickets will be available from respective venues and prices for most of the tour are £3.00 and £3.50, except Glasgow University (£2.75) and Exeter University (£2.40). Prices for the Hammersmith Odeon date are yet to be announced and further dates are expected to be added in the near future.