Emerson, Lake & Palmer's Grandest Design
'Works, Vol. 1' Is the First Installment of a Spectacular Orchestrated Rock Showcase, by Dan Nooger (Circus, 4/28/77)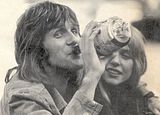 Keith Emerson and his wife, Elinore, enjoy a cognac break from ELP tour preparations.
Emerson, Lake & Palmer music is the cosmic soundtrack for an ultraviolent age of endless struggle between man and machine. The buck-skinned savage with a brain full of computer data knifes the screaming moog synthesizer to death. In the nearly three years since the appearance of Welcome Back My Friends...many have wondered out loud if the long suffering synthesizers had finally exacted their revenge. Was Keith Emerson, who introduced the rock-classical fusion and the synthesizer to rock, reduced to plunking piano in the back room of a pub? But the long hiatus has only been a period of study and preparation for a great leap forward. With Works, Vol. 1 (Manticore) the trio stake out a legacy for the ages, to a time when rock will be no more than a memory.
The first new material by ELP since Brain Salad Surgery, Works, Vol. 1 is a sprawling, somewhat confusing collection of solo and group efforts, a precursor to this summer's massive tour. ELP have never done things by halves and for this trip, their first since 1974, they are mounting their most spectacular live show ever. In addition to the sense-jangling blend of lights and sounds, antique gongs and futurist manifestos of classical masterworks, the show that never ends will include(on some stops) a 70-piece orchestra of hand-picked musicians, none of whom have experienced the non-stop craziness of a big rock tour.
"It'll blow their minds," promises Mario Medious, the Manticore mainman, "they won't know what hit them. The band knows they're not going to make any money out of it, even playing in baseball stadiums, but they feel it's their music, their lifework they're presenting. Only one thing's for sure, if it doesn't work, they won't do it again."
Keith's new music requires players who can do more than just read. "In classical music," Emerson says, "you have to read your parts rather like an office clerk, and I've found that, having worked with orchestras in America and England, it breeds a certain type of person rather like a bank clerk. I've been at concerts where I've seen guys reading their tennis results during one hundred bars rest. When I did the Sadlers Wells gig with the Nice I was amazed to look down in the orchestra pit and see all the music stands with crosswords on them, all filled in. Obviously, during the breaks they'd got their puzzles out. I can't work with people like that."
The long awaited Works, Vol. 1, which went gold immediately upon release, is an affirmation of the unity in diversity that has held ELP together through seven turbulent years. The double set allows a side for each player's solo efforts and a final side of new group material. Although their innate musical leanings are obviously different, their mutual respect for each other has held them together. Emerson the classicist, Lake the gentle romantic, and Palmer the prince of percussion each blow their minds out on their solo sides and come together in two masterworks on the penultimate ELP side.
"There's no other musician who's got all the properties Greg has," according to Emerson. "He's got an incredibly good business head but it doesn't affect his musical head. And Carl freaks me out completely. He's always got his practice books and a set of sticks in his case and he never stops practicing, on an airplane, everywhere." Keith and Carl have spent much of the last three years studying and improving as musicians. Palmer returned to the Guildhall School of Music and mastered the art of symphonic and tuned percussion, in addition to further improving his percussion synthesizer, while Emerson studied with a private teacher to work out technical aspects of performing and writing.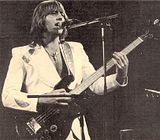 Greg Lake worked closely with old friend and ex-King Crimsonite, Pete Sinfield, to co-produce Lake's solo side.
The release of Works, Vol. 1 had been scheduled and then held back several times due to the band's desire to have every track as perfect as they could make it. "We tended to get so critical of ourselves," Lake reveals, "that we'd record something, mix it, take it home, listen and say, 'Well, I don't like it after all,' so we'd go back into the studio, do another version, and decide, 'Well, maybe the first one was best after all'."
Emerson's contribution is his "Piano Concerto #1" in which he puts aside the electronic hardware for his first love - the acoustic piano. The London Symphony Orchestra conducted by John Mayer, accompanies him. Although sprawling and too long, the "Concerto" is filled with exciting passages. The climax is a solo piano section in the "Toccata Con Fueco", proving once and for all that Emerson measures up to the great classical pianists like Andre Watts, Vladimir Horowitz, Claudio Arrau, and Rudolf Serkin. While he is not yet a composer on the level of the masters he admires, his work is streets ahead of Jon Lord's pseudo-Romantic exercises, for instance. The "Concerto" is Emerson's first large scale orchestra work since the "Five Bridges Suite" with the Nice, but eschews the rock band orchestras fusion for a straight classical performance. This is music of oceans and mountaintops and if ELP tries to pull it off in, say, a baseball stadium in Fort Worth, the audience is either going to love it or tear the place apart.
Greg Lake, producer and lyricist for ELP, is also their in-house romantic. His simple, accessible love songs provide a breather in between Emerson's technical esctasies. On his solo side he comes up with six of these beauties, recorded in London and Paris. The lyrics are mostly written by his old pal from the King Crimson days, Pete Sinfield, who also co-produced the side. "Lend Your Love To Me Tonight," contains the immortal lines "Divine and universal whore complete me/the lamp of laughter dies too soon to live reflected in a spoon."
"C'est La Vie" is basically a folky tune recalling "Lucky Man", with Greg's guitar and (of all things) an accordian prominent in the arrangement. "Hallowed Be Thy Name", originally intended for Brain Salad Surgery, features all of ELP plus a ninety-piece orchestra and a hundred-voice choir. Lake has a lovely voice but for some reason he chose to drown it in echo on "Nobody Loves You Like I Do", another ELP oddity.
Carl Palmer makes the most of his solo side. Palmer has spent a considerable amount of time studying the orchestral and tuned percussion since the Welcome Back...tour. It shows. An arrangement of themes from Prokofieff's "Scythian Suite", titled "The Enemy God" features tympanies and orchestra (the latter arranged and conducted by Harry South). "L.A. Nights" is one of the earliest pieces on Works, recorded during a break on the last tour over two years ago. "I did the basic tracks in L.A. with Keith and Joe Walsh on guitar," Palmer recalls, "and we finished it off in London." The moog drums and spitting guitar rush furiously, like a 90 MPH ride down Sunset Boulevard, breaking into some hard-driving rock. Then it's back to London for Bach's "Two Part Invention in D minor", a subdued mood piece featuring Palmer on vibes sided by South strings. "Food For Your Soul" and the oldie, "Tank", are vehicles for Carl's incredible speed and added power playing. This boy hasn't been lazing around his country mansion. He's just itching to get back on the road and try out his latest refinements on his self-designed percussion synthesizer. Palmer, by his own admission, used to think of himself as just a rock & roll drummer, but judging from the music here, he's obviously gone way beyond.
The fourth ELP side of Works, Vol. 1 contains the band's first studio recordings since 1973, and consists of two pieces: Aaron Copland's "Fanfare For The Common Man", arranged for the trio by Emerson, and the original group composition, "Pirates". Emerson has always excelled in his interpretations of classical pieces in rock format: witness such extravaganzas as their LP version of Moussourgsky's "Pictures At An Exhibition", Ginastera's "First Piano Concerto" (which became the "Toccata" on Brain Salad), and, of course, their early arrangement of a Copland piece, the "Hoedown" on Trilogy.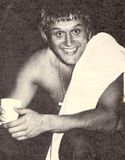 Carl Palmer: "The Japanese symbols on my drums mean 'added power.'" He used to think of himself as just another rock drummer.
"Copland heard my arrangement of 'Hoedown' and he was knocked out by it," recalls Emerson. "The only thing he said was why hadn't I played the triplets in a certain bar. We'd altered it with a very finely dotted quaver because it didn't swing the other way. I get great enjoyment out of playing other people's music. When I did Ginastera's piece I went to his home in Geneva and played it for him and he said it was exactly the way he'd envisioned it." Copland will probably enjoy the new treatment of "Fanfare" also, especially when the writer's royalties start rolling in.
"Pirates" is an extended masterwork featuring ELP augmented by the prestigious Orchestra de l'Opera of Paris. The basic tracks were done in Montreux; the orchestration (conducted by Godfrey Salmon) was added in Paris and, finally, Lake's vocal was superimposed in London. It's bombastic cinema for the ears with majestic themes so rich and vivid that you can almost see the water splashing off the ship bows - almost see the pirates drink a toast to the devil in goblets of stolen gold before setting sail for Eldorado.
ELP view Works, Vol. 1(also recorded and ready is Vol. 2, a single LP entirely performed and written by the band) as their legacy to the ages. The tour, featuring music from their entire career, will be recorded for a possible live set, and the band is looking forward to touring again.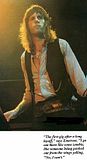 "It's hell," says Emerson, "the first gig after a long layoff I go out there like a zombie, like someone pushed out from the wings yelling, 'No, I can't'. Then you're stuck out there in front of all those people. But after the first gig I'm fine."
With their reputations secure for the ages, there's only one more thing for ELP to do: a version of Haydn's "Farewell Symphony". During the performance all the member of the orchestra get up one by one and go home. The piece was Haydn's way of asking his patrons for a vacation. In the ELP version, one by one, pieces of equipment will leave the stage and go home until nothing remains but a couple of knives and a guitar jack.
---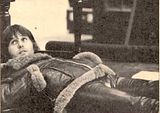 ELP - Semi-Classical, Semi-Magical
Emerson, Lake and Palmer, The Rock Conglomerate. One million copies of Works, Volume 1 shipped in a week to eager record retailers and equally eager record buyers.
Well, believe it or not, they're still waiting for their first Number One chart LP. But Works ought to work out fine. The six-sided classical package by rock's resident figurative longhairs delivers something for practically everyone's taste, from the mundane to the esoteric. And, to support the recorded project, ELP have embarked on a mammoth worldwide tour, beginning with two sold-out Kentucky shows.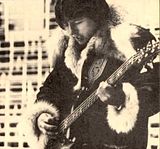 Never ones to do things half way, ELP plan to tour one whole year, spending three months in the US, several in Europe and another few in the US, tentatively planned for next winter, January or February 1978.
Preceding ELP's opener in Louisville, Kentucky, May 24 and 25, the group has been rehearsing in Canada with a forty-piece orchestra and chorus which will accompany them on every date. To accommodate the large performance group, ELP is booked into stadiums and giant halls. They'll do three shows at New York's Madison Square Garden (July 7, 8, 9), two at Boston Garden (July 21, 22) and other shows at similar hallowed halls like the Buffalo Bills' and Cleveland Browns' stadiums.
A specially-designed stage had to be constructed to make the show possible. The chorus and orchestra will be on terraced lifts ringing center stage in a semi-circle. Clever lighting will make them disappear from time to time, and a laser light display will keep the aurally dissatisfied happier.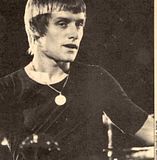 ELP have never done anything half-heartedly. The 1977 tour is no exception and the response, so far, seems to justify their monumental goals.
---
ELP Back + Much Better
By Zach Dunkin
The old Emerson, Lake and Palmer concerts were unforgettable experiences.
Keith Emerson stabbing at his keyboards with a knife. Greg Lake deftly weaving vocals and guitar while standing on a $6,000 Persian rug. Carl Palmer attacking astounded audiences with his battery of percussion instruments.
ELP was a pioneer in sight-and-sound concerts, but like anything new, the show got old. So four years ago the British group went into seclusion. No tours, no music, no interviews.
Then as quickly as it had disappeared, the trio returned to the studio and the stage and has made its way back with more energy than before.
The old shows were something else. Tuesday night's 8 o'clock performance in Market Square Arena should be even more so. In addition to those unearthly sight-and-sound effects of the past, ELP has added a carefully handpicked 40-piece orchestra and a 20-voice choir to the entourage. Nearly $5 million is the show's projected cost for the 50-city tour, which will be only two weeks old when it arrives here.
The concert's promoter has wisely agreed to a compromise with the prospective ELP concertgoer who thinks the "festival seating" arrangement stinks (it does) and is debating whether to go. There still will be a general admission price of $8 ($7 in advance) but there will be seats on the floor, which usually is filled with swaying and sweating bodies at the festival-seating bashes. After all, an ELP concert should be a sit-down, mellow-out affair. The doors are scheduled to open at 7, but who knows?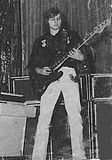 "Moving us around is like moving a town," Lake has said. "The biggest problem we have is putting and electronic rock 'n' roll band with an acoustic orchestra."
A lot of research went into preventing ELP's electronics from drowning the softer orchestral sound.
"Each member of the orchestra will have his own mike," explains Lake.
"I've always been conscious of the show-business aspect of performing music. A concert is all-around entertainment whereas records are pure music. But theatrics should be used to complement the music rather than obscure it."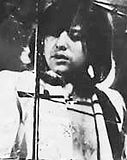 Palmer explained the sabbatical was a sensible one.
"It reached a point where we were asking ourselves, 'Where do we go from here?' I wanted time to think rather than just keep on recording. You have to stop. You just have to after doing the same show for a period of time."
The return of ELP is popular. The band's recently-released album, "Works Part 1 [sic]," was shipped gold (500,000 units ordered).
The release is a four-sided affair, once again displaying the group's knack for pioneering in the record industry. Each member of the group has a whole side of his own on the album in addition to a fourth side for the trio.
According to Lake, all three had intended to do solo albums but opted for the "all for one - one for all" double album.
"We have managed to make this work without splintering off to establish individual identities. You don't want to compete internally."
A large portion of "Works" was recorded in Montreaux, Switzerland, where the group labored behind locked doors.
In the days of disintegrating supergroups, Emerson, Lake and Palmer remain intact. It's difficult to say who is luckier, the band or us.