Pop Shop - Birmingham, Alabama
(Edited for clarity - pictures by Allan Ballard - click to enlarge)
THE Emerson, Lake And Palmer rock machine had just rolled into town. And the three superstars were coming to terms with the searing Southern heat. Keith Emerson, keyboard wizard, was sprawled beside the hotel pool, sipping chilled white wine poured by a slim, cool blonde. Greg Lake, superb bass-player, singer and guitarist, was in his air-conditoned suite sipping carrot juice and listening to classical music. Carl Palmer, dazzling drummer, was involved in a gruelling karate work-out with the Japanese instructor who is never far from his side on tours.
Brilliant
It was business as usual for Britain's three-headed monster of heavy, progressive rock bands - this week at No. 2 in the charts with Fanfare For The Common Man. This is the band that likes to provide the greatest show on earth, if you accept that expense, brilliant technical sophistication and sheer volume add up to greatness. The rock fans of Birmingham, Alabama, had been waiting three years for the show to come to town.
ELP had taken a break from life at the top of the rock world - they had made enough money during the boom years of the early Seventies to sit back and think things out.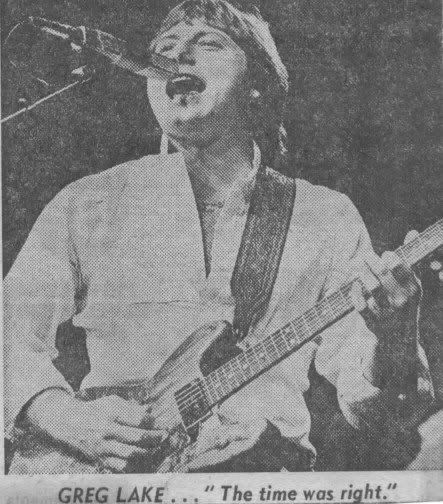 Ambitious
Greg, 29, said: "We didn't want to keep repeating ourselves. We had done far too many shows using the same material, but now the time seemed right to come back. We had to choose between doing this tour, and splitting up through boredom."
The tour is easily the most ambitious ELP have ever attempted. It takes in 44 dates in North America, and comes to Britain and Europe later this year. The band will also play Japan, Australia and New Zealand before going home early in 1978.
The American dates alone have cost close to £3million, with about £300,000 for sound and stage equipment: when the tour began, the three stars had a 70- piece orchestra in tow.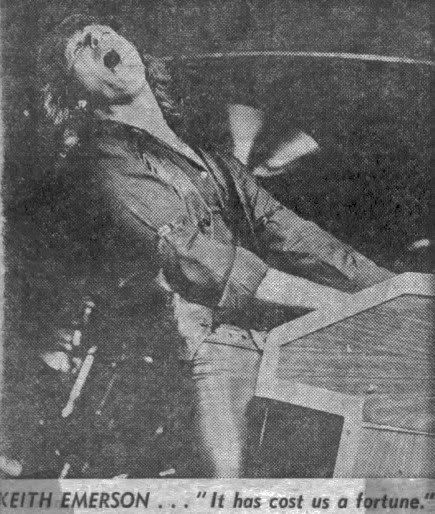 Fortune
But after a dozen concerts, it became obvious that the cost of travelling with 120 people and more equipment than any band had ever taken on the road before was too high: the orchestra had to go.
Keith, 31, said: "We hated having to do it but we started to run out of money. If we had done one more gig with the orchestra, we would have been bankrupt. We put up all the money for this tour ourselves, and it has cost us a fortune, but it has been worth it. We will bring the orchestra back for major concerts. I hope we will be able to use it when we play Britain."
Even before ELP arrive in Britain, the old magic has been rekindled by their new music. Their single - Fanfare For The Common Man - is a chart topper, and their ambitious new double LP, Works (Atlantic), is at 16 in the album charts.
Keith said: "I often doubted that we would ever get back on the road. During the lay-off we openly discussed splitting up. The thing that kept us together was that we all wanted to work with a full orchestra. For all we knew, audiences could have changed dramatically in those three years. But they haven't."
Carl, 27, said: "It's great to feel wanted - to walk on stage and see all those people cheering.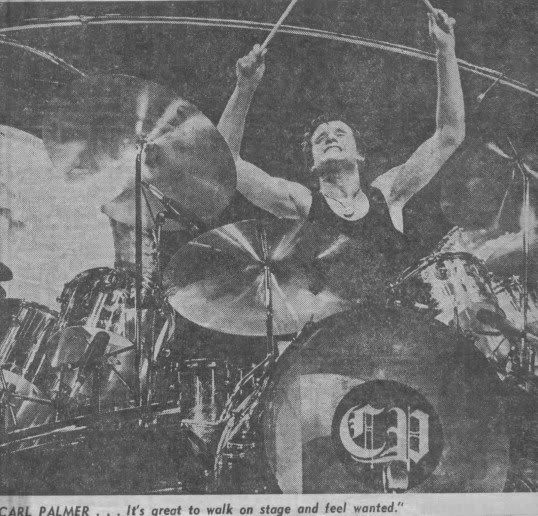 Money
"Once we start to play, we all enjoy ourselves. In the end, that's the only thing that holds a band together. It is all very well to be successful, to have a lot of money, but having the ability to walk on to a stage, pick up your instruments and play like a band is something that money can't buy."
There is a strong feeling that the current tour will be ELP's last.
Greg said: "We will stay together as long as we feel it's worth it. If we wake up one day, and find we have nothing to do next day as a band, we'll quietly say goodbye."