SUPER GROUP
Rock Legends Band Together For Charity
They were the rock stars who provided the soundtrack to the Sixties and for one night only they will unite to create musical history and raise more than £300,000 for charity. This supergroup containing living legends from rock 'n' roll's hall of fame, was the result of an extraordinary meeting between The Who's frontman Roger Daltrey and Daily Express owner Richard Desmond.
"It was over dinner in April," remembers Daltrey. "We were discussing ways of raising money for Teenage Cancer Trust, a charity The Who has supported for many years. I knew Richard was a pretty good drummer and so I said I would sing in any group he wanted to put together. Richard promised me he would assemble a band and he was true to his word."
But it was not just any band. The Express proprietor set about assembling a wish-list of the artists he most admired. The final line-up includes: on keyboards, Zoot Money and Gary Brooker of Procol Harum [sic]; on guitar, Greg Lake, of Emerson, Lake and Palmer; Gary Moore, and The Who's Pete Townshend with brother Simon; on saxophone, Nick Newall; vocals, Roger Daltrey and Sam Brown, with backing singers Margo Buchanan, Aitch McRobbie and Claudia Fontaine.
"I was amazed when Richard came back with the line-up," admits Daltrey. "And, of course, he will be on the drums. I've promised we'll treat him gently."
Richard may just surprise Roger again. He was 13 when he bought his first drum kit after saving money he had earned as a cloakroom attendant in a smokey rhythm and blues club. He played in various rock groups and was due to begin a month-long tour of Ireland as the drummer in a band called Renia when he had a sudden change of heart.
Richard, 51, remembers: "I was sitting at the Highbury traffic lights thinking about the tour. It was a real crossroads in my life. Do I take a month off work and risk jeopardising the business or do I leave the band?"
"I decided to give up my dream of becoming a drummer but the strange thing is that, 30 years later, I am going to be on stage with Roger Daltrey. The question is: would I be on that stage with Daltrey if I'd chosen the other path that day?"
The supergroup will play at legendary jazz club Ronnie Scott's on October 19 and all 250 tickets have quickly sold out, raising £100,000.
Many guests are flying in from all corners of the globe to witness this once-in-a-lifetime performance, including Bernard Picasso, grandson of the artist. Even those who can't attend, such as chairman of Saga Holidays Roger De Haas and Granada chairman Charles Allen, have donated generously to the cause. The night is expected to generate a further £100,000 from the auction of exclusive lots including one of the last Manchster United football shirts to be autographed by David Beckham and Sting's signed guitar.
The Who has raised more than £2.5 million for TCT and Daltrey remains ferociously passionate about the cause.
"It is absolutely heartbreaking that teenagers with cancer are overlooked completely by the NHS," he says. "In the current system they are treated in the same wards as much older cancer patients and sometimes even in baby wards.
"We have already raised enough money to build eight specialist teenage wards at a cost of £750,000 each but the plan is to bring that number to 20."
Research has shown when teenagers are treated alongside people their own age there is an improvement of up to 15 per cent in their recovery rates.
Daltrey has seen these results first hand. "The support of the teenagers for each other is amazing," he explains. "You go into a ward and all the children there have shaved heads - not just those who have had chemotherapy - they do it in support of each other. Despite their illness they are really upbeat.
"It is watching the faces of the parents which is so difficult. It is important to realize that every time the life of a child is saved so are the lives of at least another two because parents never recover."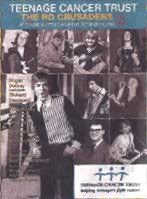 As well as preparing for the charity event, the singer is busy planning The Who's long-awaited return to the recording studio. But when the group reassemble once more it will be tinged with sadness. The new album will be the first without their bassist, John Entwistle, who died on June 27 last year, the day before the band began their American tour. Fans questioned whether the group could continue without his songwriting force but Daltrey and the band's other surviving original member, Pete Townshend, decided to carry on.
"We're not going to give up now," says Daltrey. "I may be 59 but I'm not ready for early nights and Horliks yet. As long as Pete's there on guitar and I'm there to sing the lead you're going to have The Who. Pete's getting better as the years go by. The chemistry is still there and the spirit is definitely alive, but we have become more of a five-piece band instead of the original nucleus."
There is a harmony in the new Who. Along with John "Rabbit" Sundrick on keyboard are two scions of rock aristocracy - Pete Townshend's brother Simon on guitar and Ringo Starr's son Zak Starkey on drums. And with Zak, the spirit of the original Who drummer Keith Moon (who died of an overdose in 1978) is kept very much alive. He bought Zak his first drum kit.
"Releasing new material will be a leap into the dark for us, but I am confident that we can do it and produce the best music yet," insists Daltrey. This time we are coming from a very special place because we all really want to do it. In the Eighties it was all a bit of a circus - we were on tour and playing these huge stadiums to crowds of 80,000. It was too big. We didn't want to be like the Stones.
"Those stadiums are great for going to see football matches but it's not for us. We need to be more intimate and react with the crowd. The songs are just the skeleton of the show. It is the performance, the atmosphere and the energy from the crowd that makes up the blood, the cladding.
"The importance of music was really brought home to me after September 11. We performed at a concert in Madison Square Garden in New York in aid of the rescue workers who had worked at Ground Zero. People were still very raw - the site was still smoldering. People were performing songs to promote peace and love. We took a decision and we went on and rocked. Everone went wild. God needed earplugs that night. It was a huge outpouring of emotion. I realised that this is what music is for.
"Like the work we do with the Teenage Cancer Trust we want to help in the only way we know how - through music."
• For more information or to make a donation to Teenage Cancer Trust, call 0207 387 1000 or log on to their website teencancer.org