ELP: Rock Kings
Turn Gypsies For Pop
Extravaganza
____________________________________________________________________
While the echoing thunder of their Tarkus tank monsters fades into the
distance, ELP prepares to perpetrate the most revolutionary rock
experience in their careers on unsuspecting American fans.
___________________________________________________________________
by Barbara Graustark
At 5:30 P.M., under the greying dusk of the disappearing sun, Emerson, Lake and Palmer prepared backstage to say thank you to more than 18,000 fans gathered in the London Oval cricket ground. Beneath the mighty steel of the mammoth Kennington gas holder, eager fans camped on the green turf, waiting for the stars of the show to emerge from the Oval's famous Long Room where they were receiving their seven awards that gave them the sweep in a prestigious British paper's pop poll.
Keith Emerson bopped backstage, looking modishly funky in blue denim, eager to meet the cheering throng in this, ELP's first British appearance for almost a year. Greg Lake was dapper in a tailored cream-colored suit. "Going to a wedding?" Keith asked him, undazzled by his crony's sharp skins. Greg, unaffected by Keith's quips, merely flicked an ash from his cuff.
If tensions were rising out on the green as thousands of young people waited for their idols, things were far from calm backstage as ELP prepared their monumental surprise entry. Carl Palmer paced the wooden floors with a frown, mock crying, "Me Moog drum's bust. And we promised everybody we'd use it. It got shipped over from the States and there were pedals missing and wires cut - inside!"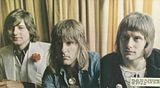 Tarkus monsters declare war on crowd: Finally, all problems temporarily solved, ELP were ready. As the crowd roared their approval, the group raced from backstage, launching immediately into "Hoe Down," the upbeat, good-humored number from their recent Trilogy LP, and the crowd was on its feet. Without hesitation, the group jumped immediately into "Tarkus," and simultaneously pulled off the biggest feat in the history of rock wizardry. Two mammoth armadillo tanks appeared on both sides of the stage, bellowing replicas of the figures on the Tarkus cover. The metal dragons breathed clouds of smoke, and, as the show thundered to its climactic high point, the tanks thundered an ear-deafening barrage, driving fans into a wild frenzy of excitement and jubilation. Keith pounded the piano as "Take A Pebble" echoed from the massive multi-toned speakers,and Greg Lake brought down the house with his excellent acoustic guitar work on "Lucky Man." But with the advent of "Pictures at an Exhibition," off the LP of the same name, the crowd watched in absolute amazement as Carl Palmer's drum solo threatened to pop the sliver of sun out of the darkening sky. In a fury, Carl hurled himself at the drum kit, battering the cymbals and destroying the gongs. The Tarkus tanks belched forth their deafening roar as London's last great rock concert of the season shrieked to its end - and ELP proved once again that they remain the world's greatest rock band, upholding their title of "Britain's Best Band," (the title they won last year) and taking on the title of "World's Best Band" as well.
As the last fans wearily straggled home, ELP slowly unwound backstage, gathering the remains of their shattered instruments with them. Each clutched at their golden trophies: Top Group, British and International; Emerson's tribute as the top keyboard man; Palmer's trophy as top drummer; Lake's souvenir as the world's most accomplished producer; ELP as the top pop arrangers; and finally the shared award, Keith Emerson and Greg Lake taking honors as the world's top composers.
Revolutionary circus: While the concert served as a gigantic hand-written thank-you note to their supporters, ELP also had another motive in mind. For several months, they had been fiddling with a revolutionary notion of changing the format of their concerts. A recent Japanese tour crystallized the idea in their minds to turn their concerts into traveling circus shows, presenting historic feats in rock entertainment, as well as superb music. The Japanese concerts. they noted, were almost vaudevillian in appearance, with many people participating and each performer playing several instruments. Now, says Greg, ELP, too, are ready to change the structure of their new act, and American audiences are in for a few surprises when the boys begin their spring American tour. For sure, they'll see Carl stripped to the waist, beating life into his gongs; and Keith will still stab and straddle his organ with maniacal fury. But the boys insist the format will he completely changed. Says Greg, "I think the whole concert concept will become more showy to the point where it will almost become a gypsy caravan existence and that is what were designing now. We'd like to carry on our own stage that we'd build into a concert hall; have our own P.A. and coach that we'd use as a dressing room. Every night, we'd go into the coach, which will be done out like a living room and it will be our home. We'll walk out onto our own stage, like home again. It will give an aura like a circus trip. And it will also give the artist a chance to come to the concert relaxed before he goes on."
The gypsy caravan boys are eager to take their sideshow behind the Iron Curtain, as well, and are pulling diplomatic strings to arrange it. But they're excited about trying out the new circus theory for American audiences this spring. "Americans have seen so much, the impact just isn't there anymore. We're going to turn Americans on to something really new."
If turning pumpkins into coaches and tanks into Tarkus monsters are examples of what ELP can do, American audiences are in for the rock experience of their lives.