ELP Split For Solo Exploits
________________________________________________________________________________________________________________________
In days of yore, the Manticore was bad news, but 1974's myth is much more benign. Mario Medious explains how ELP use their record company as an artistic tool and spotlights some hot coming attractions.
by Jim O'Connor
________________________________________________________________________________________________________________________
In ancient Persia the Manticore - a mythical creature with the head of a man, body of a lion, and tail of a scorpion - was one of the most feared of the many monsters, demons, and creatures of the night that made life not worth living. The Manticore's image did not improve during the Dark Ages when it acquired a reputation as a vampire with a hearty appetite for young children. Due to this bad press, the Manticore dropped out of sight for several hundred years. Then, less than two years ago, it reappeared in a much more benevolent form.
In fact, because of this new Manticore, Emerson, Lake and Palmer - one of the most volatile musical combinations around - is surviving, and thriving on,the group-shattering experience of having all three members record solo albums simultaneously. Manticore is, of course, ELP's private record company. Not long ago, realizing that more was known about the old Manticore than the new, Circus dropped in on Manticore headquarters on a shady side street in the heart of New York's fabled Upper East Side.
Because Keith, Greg, and Carl were off on a tour, Manticore's President, the legendary Marion "The Big M" Medious, agreed to tell all about Manticore and ELP himself. Leading the way into his plush office and pouring out some wine, the tall, wiry karate enthusiast sunk into one of the room's over-stuffed brown leather couches, dug his feet into the deep pile beige rug, and gave a brief history of Manticore. Mario talked, under the many framed pictures that were hung about the office: a large picture of himself, dressed in black and riding a motorcycle: a Grahan Wilson cartoon portraying a Monster DJ; and, on the wall behind Mario's desk, a large, Grandma Moses style, oil painting. It was of a brick wall with five holes in it. Records were crashing against the wall while five people - Keith Emerson, Carl Palmer, Greg Lake, Stu Young, and Mario Medious - peered through the holes. Standing on the grass in front of the wall was...a Manticore.
Paper lion: "Manticore came into being on paper around January, 1973. At that time, ELP had been off the road and out of the studios for around 18 months, so everyone knew that something was not going right. They just weren't happy with Atlantic and, you know, when a group sells the amount of records ELP sells, a record company should do a lot to keep them happy. So, Keith, Greg and Carl got to form Manticore - their manager Stu Young was in on it too - and Atlantic got to distribute the records. "ELP knew they would be too busy to really run their own company, so they called me up and asked if I was interested, and I was. I'd worked with them since their first album. I'd known Greg even longer than that - since he was in King Crimson. So by the time Manticore came around, we were all very old friends. I joined the company in April 1973 and really started it here. Before that it had really only existed on paper."
Mario smiled as he recalled, "For a brand new record company, we were - and are - in terrific shape. Besides having ELP, there were three other bands/acts already signed. Greg had recruited Pete Sinfield who was in King Crimson with him and who wrote 'Twenty-First Century Schizoid Man' for them. Greg had also signed a group called 'Stray Dog.' They sort of sound like Led Zeppelin."
Italian Beatles: "Meanwhile, Pete Sinfield went to Italy and found this amazing group called PFM. They're the Beatles of Italy - in fact, when ELP toured Italy they opened the show for PFM! Anyhow, PFM were so hot that they became the first Italian group ever to have a million seller. You know what they got for that? A solid gold single, not gold plated, solid gold.
"Well Peter was knocked out by PFM and he dragged Keith to hear them and Keith signed them on the spot. They are unbelievable, they sing in three different languages: French, Italian, and English. Plus they have Pete writing all their English lyrics for them . . ." Mario's voice trailed off as the phone rang, and a moment later he was up, racing for his chrome and glass desk to answer a long distance call from someone who wanted to book PFM.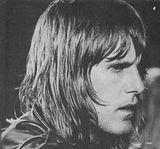 Keith Emerson: Dragged out to see a group which sang in three languages, the cosmic keyboardist signed up the hottest act in Italy since Rome burned.
After Mario got off the phone, he refilled the wine glasses and continued, "We have another group, Hanson, which I signed. They're sort of a cross between Cream and Hendrix. They've only got one drawback," he confessed sheepishly, "they refuse to tour here. They're all English and just don't want to leave England. That's something I've got to do something about," he said glancing towards the phone.
Solos readied: But what about Keith, Greg and Carl's solo albums. "Well, right now Keith and Carl are both about 50% finished with theirs," said Mario. "Greg's written his whole album, but so far he's only recorded one track. It's called 'C'est La Vie.' Want to hear it?" With that, Mario was across the room turning on the gigantic reel-to-reel tape recorder that stood next to his twin turntables. A moment later, Greg Lake's distinctive voice filled the room with a slow acoustic torch song:
How am I to know
If you don't let your love show
For me? C'est la vie.
Ohhhhhhh, c'est la vie
Ohhhhhhh, c'est la vie
Who knows, who cares, for me?
"Most of Greg's album will be acoustic, like this cut," Mario said when the song ended. "Keith might add a little organ or accordion here and there for effect, but Greg really wants to keep it simple."
Greg Lake: The only sure cut on Greg's coming solo is an acoustic torchy number. Says his record company president, "Greg wants to keep it simple."
"On the other hand," he continued, "Keith and Carl's albums will both have a classical sound to them - a few cuts are going to have a big band feel. And Carl has one out-and-out rocker. It's called 'LA '74' - because that's where and when it was recorded. Joe Walsh plays guitar on it and Ian McDonald, who played sax for King Crimson, is on it. Want to hear it?" Once again, Mario was up and threading tape into the machine.
True to Mario's description, "LA '74" is a real rocker. Carl lays down a strong rhythm on his tom-toms, while Ian McDonald leads off with super strong sax work. Later Joe Walsh breaks in and cuts the song wide open with an incredible guitar solo. "But you should hear 'Tiger in the Spotlight'," Mario gloated. "That will probably be the next ELP single. It's a studio jam and won't be on any album, ever. Just like the single of 'Brain Salad Surgery'."
Carl Palmer: The drummer's album will contain cuts with a lush orchestral sound, but the sharpest tune in the can so far is "LA '74," featuring Joe Walsh.
Symphony sympathizers: "I can't say when any of these will be out," Mario conceeded [sic]. "Everything needs at least a final mix and, like I said, most of the albums are only half done. Between touring, mixing the recent Live ELP albums are only half done. Between Keith, Greg and Carl are all looking for houses up in Westchester County. All the really good symphony musicians work and live here in the northeast. And those are the guys ELP want to work with in the future, so it would make a lot of sense if they lived here, too."
The three ELP-related albums should all be out by this winter, but so far Mario hasn't a clue to the titles. "If you ask me, they should all he called the same thing," he said with a wicked grin, "How To Make A Solo Album Without Breaking Up."
"I don't think they could have done it without Manticore, because it gives them the freedom they need to get out and do what they want to. Otherwise, with three creative guys like this, sooner or later one would have quit just so he could record - it's a lot easier, and better, this way. Just wait and see."