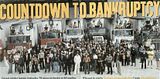 (Click to enlarge)
Classic Rock, 2001
Carpet Minder, Karate Instructor, 70-piece orchestra or 63 roadies. Who put an end to Emerson, Lake and Palmer? asks Johnny Black.
QUESTION: HOW DO EMERSON, LAKE AND PALMER change a light bulb? A: They don't. Drummer Carl Palmer's personal karate instructor holds the bulb steady while 63 roadies turn the lighting rig. Truth to tell, it wasn't quite as bad as that but, on May 24, 1977, when Emerson, Lake And Palmer set off to steamroller America with the biggest rock tour ever conceived, they really did take along Carl's karate instructor and 63 roadies, not to mention a 70-strong orchestra and choir, two accountants, a doctor, a hairdresser, seven artics laden with gear and three crew buses.
Early on the morning of the very first gig, at Freedom Hall, Louisville, Kentucky; it was noticed that a vital weld in the massive lighting rig had come apart, leaving the huge array precariously suspended, ready to crash down at any moment. Had it not been spotted and repaired, it could have brought a couple of band members, and the tour, to a sudden end. In hindsight, that broken weld could be seen as the first in a series of omens warning one of the most successful supergroups of the '70s not to embark on an ill-starred, 11-month long trek which would bring to them to the edge of financial ruin and set them on the road to dissolution.
"I was scared shitless at the start of that tour," keyboard maestro Keith Emerson says now; "as I'm sure Greg [Lake, bass/vocals] and Carl were, but we had to be honest with our fans. My piano concerto on our double-album, Works, which accompanied the tour, was augmented by an orchestra, and what you hear on the record is what you expect to hear when you buy the ticket to the show!"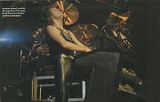 (Click to enlarge)
Alarmingly, though, Works seemed to indicate that all was not well in ELP. Each member took one side for his solo project, only on the fourth side did the three play together as a group. "I wouldn't say that we were great buddies then," says Emerson. "We didn't socialise together very much." On the tour, they wouldn't even be travelling together. Emerson and Lake flew from town to town, while Palmer had his own tour bus.
The spark that brought ELP into existence happened on December 16, 1969, when Emerson's band The Nice was sharing a bill at San Francisco's Fillmore West with Lake's band, King Crimson. As luck would have it, both musicians were disillusioned with their respective outfits, so a spirited jam between Emerson and Lake during an afternoon sound-check was all it took to get the pair thinking about a longer-term liaison. Roping in drummer Palmer, lately of Atomic Rooster, they were immediately hailed as the UK's latest supergroup, a power trio in the Jimi Hendrix Experience mould, but with Emerson's keyboard wizardry and flair for showmanship replacing Hendrix's axe pyrotechnics.
Their first live concert, at Plymouth Guildhall on August 25, 1970, was a warm-up for the event that introduced them to a wider world tour days later - the Isle Of Wight Festival, alongside The Doors and The Who. Four consecutive UK and US Top 10 albums followed, with the group's massive popularity confirmed in 1974 by the triple album, Welcome Back My Friends To The Show That Never Ends; Ladies And GentIemen...Emerson, Lake And Palmer, a UK Number 5 and US Number 4.
But it was in the live arena that ELP really made their presence felt, with extravagant stagings and even more extravagant behaviour. Roadie Rod Demick described one early ELP tour as "like a Fellini film, badly edited. A collage, a blur." Punters attending an ELP live show might be treated to a trio of bagpipers, a giant foam-spewing robot armadillo or 1,000 white doves and it was taken for granted that at some point in the evening, Emerson would stab his keyboard with knives. As the years rolled on, each member of the band could be relied on nightly to deliver a transcendentally elongated solo during which a stoned dyslexic could read A La Recherche Du Temps Perdu and still have time left over to browse through the latest Silver Surfer. Alone among rock gods, Greg Lake could boast a carpet roadie, nicknamed McGoo, whose tasks included the transportation, maintenance and, live on-stage before each gig, sweeping of a £6,000 Persian rug on which the vocalist stood during the performance.
The gargantuan 1977 US jaunt was planned as something of a come-back after two years of relative inactivity. Having invarialby gone out with a series of big bangs, they had to return with something even bigger, so it was designed as the ultimate fusion of prog rock and classical. Their friendships might be falling apart, but with $2million of the band's personal fortune invested in the album and tour, the show had to go on. Godfrey Salmon, a British viola player/arranger and conductor who had worked with the band before, was brought in to create the orchestra.
"I brought a few English players to New York with me," remembers Salmon, "but after the first day of auditions, out of 36 applicants I had only found three players we could use. In the end, we had to have another two days in New York, plus one each in Boston, Chicago, and Montreal before we had the complete orchestra."
Salmon took pains to explain to the players that this would be unlike any classical gig they had ever played. "I remember telling Bruce Dukov, the orchestra leader, that it was going to be incredibly loud, he wouldn't be able to see half the orchestra because the band would be playing right in the middle of us, and he would have to have an electronic bug stuck on his 18th century Italian violin. Then I said, "And I need you to smile all the time to keep everybody else feeling happy."
Two months of planning were followed by a month of rehearsals in a Montreal ice rink, where the purpose-built 72,000-Watt PA system was tested for the first time. Visiting Rolling Stone journalist Charles M. Young was suitably impressed. "A symphony orchestra blaring through a million-dollar sound system at full rock volume is jaw-droppingly awesome," he wrote. "In an age when rock concerts are shoddy, over-priced and too loud, it is a rare pleasure to hear a band that is only too loud."
No expense was spared to achieve that sound, notes Emerson. "Every orchestral instrument was amplified by its own contact mike, which then went into a sub-mixer and then out to the front desk." The contact mikes were held in place by rubber bands because Dukov's near-priceless Cremonese violin had been scratched by the clamp originally intended for that purpose.
Sixteen-year-old ELP fan Jeff Linkous was in the audience on that first night in Louisville. "The orchestra opened with Abaddon's Bolero and some woman playing flute dropped sheet music or something, but it didn't halt things. At the height of the song, the band rose up from an elevator at centre stage and they kicked into Hoedown. Keith had a tumble trom the stage with that hand-held synth he shot fireballs out of. It was a grand night, unfortunately marked by bugs in the sound."
With the average orchestral player's salary running to $450 a week, orchestra-related costs approached $80,000 a week, by far the biggest element in the tour's weekly budget of $200,000. "We're risking everything we ever made and everything we're ever likely to make on this tour," admitted Lake. "I'm talking about our families, our possessions, everything we believe in. We'll have to sell our houses in England if it flops."
Five days later they arrived in Cincinnati to find black ash raining down from the sky onto the Riverfront Coliseum, like some portent of impending doom in a Greek tragedy. A nearby paper factory and a supperclub had burnt down the night before, killing 161, and the ashes were still floating in the air. During rehearsals there, the ribbon controller on Emerson's Moog exploded: "I was lucky it didn't blow off one of my fingers.
Lesser mortals would have packed up and gone home, but ELP ploughed on to Detroit, where Emerson watched a five-storey building burn down as the band headed for dinner after their gig in Cobo Hall. Days later a highly lucrative July 1 show in Tampa, Florida was cancelled after a riot by Led Zeppelin fans. Poor ticket sales caused the cancellation of two more dates - Pittsburgh and Cleveland -with an estimated loss of $2m. At such moments of despair, according to some reports, Emerson could take solace in a glass of bubbly, having taken the precaution of bringing along three cases of Dom Perignon 69 for his personal consumption. This he vehemently denies: "Hate the stuff. I did have my own supply of syringes and B12 capsules that the doctor would administer to me intravenously before every performance. Never any drugs. I limited my alcohol to one glass of wine before going on-stage. My arms were black and blue after 12 dates which didn't pass the front row's attention. They probably thought I was a junkie."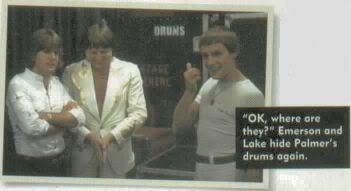 The cash flow crisis was not helped, says Salmon when "word apparently got round to the unions that there was a lot of money around this tour, and it could be soaked. So whenever we arrived in a new town, the union would show up and demand extra money, maybe several thousand dollars." "We set records everywhere for bills to local unions," agrees manager Stewart Young. "Just one faulty weld cost us an extra $35,000 a week."
To balance the books now required sell-out shows at every venue, but union regulations, limiting the band to three shows a week and restricting travel to 100 miles a day, made re-routing to replacement venues virtually impossible. In darkest Iowa, on June 12, the accountants delivered their ultimatum to ELP. Spiralling costs and cancelled gigs meant that the orchestra had to go or the tour would bankrupt the band. In an emotionally fraught meeting, it was decided that ELP would continue the tour as a trio, and the orchestra would return only for a selected few prestige shows.
"That was a sad occasion," says Emerson. "We called the orchestra in and gave them the bad news. There were a lot of tears, but optimism that we'd film and record the spectacle at Montreal's Olympic Stadium."
Salmon points out that, "Although it was very upsetting, especially for the younger players, we had been well treated throughout the tour. We were tired and sometimes bored, but we had good hotels and good travelling conditions. They even paid us for the shows we didn't play on."
Now, though, the band had its work cut out. "We were faced with me working overtime to compensate for the orchestra," says Emerson. "There were a few numbers we couldn't do without them... with ELP alone it's only possible to play the first movement of my concerto."
A friend who travelled with the band during this period, Linda Heath, recalls, "We spent a week in Fort Wayne, Indiana, while ELP rehearsed sans orchestra. I don't believe I ever saw them work so hard."
By the time they hit Philadelphia on June 20 for two nights at the Spectrum, ELP were reduced once more to a trio, but the audience didn't seem to mind. One fan, Jim Colemin, reported the sound system as being "incredible" and declared it "the best concert I ever saw. Every note was perfect. Keith was on, Carl was on and Greg...man, if you never heard Greg sing live you ain't heard anything."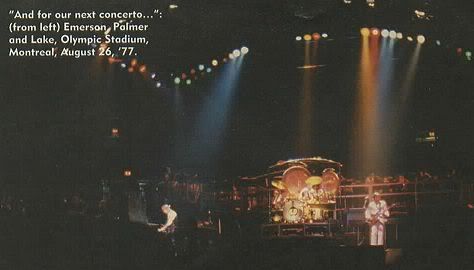 The orchestra didn't return until ELP rolled into New York for a three-night stint at Madison Square Garden starting on July 7. "The second night at Madison Square Garden was the best gig of the whole tour for me," recalls Emerson. "I finished playing my piano concerto with this splendid orchestra, and I received a standing ovation that must have lasted three minutes. Greg bounced on the stage and hugged me in front of 14,000 people. After all the hard work and arguing he hugged me! That meant a lot!"
"Everybody said we lost tons and tons of money on the tour," says Palmer. "Yes, we did lose a lot of money, but we went back out as a dynamic trio for six weeks and made substantial amounts to pay the debts. And we recorded an album with the orchestra, so all was not lost. The trio kind of put the books straight."
The orchestra returned for the last time almost two months later, in Montreal on August 26. "There was alot of pressure on that gig," points out Salmon, "because there was only time for one orchestral rehearsal, and we hadn't played together for a while, so everybody was a bit rusty."
The tension was compounded by the fact that the performance was to be recorded for a live album and filmed for a TV special. "I prayed so much before that gig," admits Emerson. "Just get me through it. There - was, after all, so much that could go wrong!"
However, it all came together and the trio went back out from January to March 1978, still struggling to recoup the losses of the orchestral dates. But the heart had gone out of the band. "At the end of that tour;" says Emerson, "we were considering a final separation. It was at the back of all our minds, but was left unspoken. The orchestra plagued Greg and Carl as a financial and artistic disaster - a view I totally disagreed with." After one more album, Love Beach, in November 1978, the towel was officially thrown in on December 30. ELP did not resurface until 1986, by which time Palmer had left the fold, replaced by a drummer whose surname conveniently began with the letter P - Cozy Powell.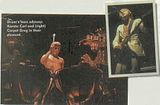 (Click to enlarge)
"We were the victims of over-exposure and over-touring," is how Greg Lake sums up Emerson, Lake And Palmer's sorry demise. "We just did too many live shows and we wanted to stop, but at that time the record company didn't want us to stop, they wanted us to keep recording. And we were basically pressured into making that record, Love Beach, which we really didn't want to do. When the music is right and when it's coming naturally and it's not forced, then it's healthy and it's great fun. I think near the end of the '70s, we just got burned out."
_______________________________________________________________
Thanks to Phil Sutcliffe and Charles M. Young. Special thanks to George Forrest, Martyn Hanson and Frank Askew, whose book Emerson, Lake And Palmer - The Show That Never Ends (Helter Skelter Publishing) was invaluable in writing these features.
Photos by Marc Eisenhoff