Crawdaddy Magazine, August 1, 1971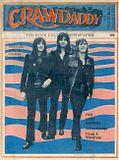 Their first album rides high in the bestseller lists. Their first tour, from the Fillmore East to Carnegie Hall, has been a real and resounding success. Keith Emerson from The Nice; Greg Lake from the now re-formed King Crimson; Carl Palmer from The Crazy World Of Arthur Brown. Together they've arrived. Wherefrom? Michael Gray reports from England: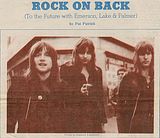 It was in about 1965 that I first came across Miss P. P. Arnold, ex-Ikette (and now a part of Jack Good's rock-tragedy 'Catch My Soul'). She'd gotten a backing group together and they were touring dance halls and campuses. She was very bad, the group was just boring. The Nice.
There were at least five of them then, and the gig I caught was a small campus dance up in Yorkshire - not far, as it happened, from Joe Cocker's hometown. Maybe Joe came over for the dance. Anyhow, one of the students, called Roger something, got very drunk and hit the trumpet-player in the mouth. Everyone carried on dancing. No one seemed impressed by the music, and the elimination of the trumpet made little difference.
Months later, when another more famous group failed to show up for a similar dance on the campus, back came The Nice again. Their music seemed vaguely strange and discordant, and still got ignored. We all assumed they were lousy anyway, because they'd just come as stand-ins for somebody else. Students. . .
And then the next time I caught them was when Dylan came to the Isle of Wight (because he "just wanted to see the home of Alfred Lord Tennyson") and brought a quarter of a million people to see him. By this time The Nice were down to three people: Emerson, Jackson and Davison. And they were famous. Yet here they were again just helping out - appearing as unbilled "surprise guests" on the cold first afternoon of the three-day Festival.
It was dull and cloudy weather; people were drifting in and out, trying to find friends and hot-dog stands and places to spread out blankets; there was no atmosphere. It must have been like trying to excite a corpse. Keith Emerson worked tremendously hard and ran through everything from 'America' to 'Rondo', with masses of feedback, knives stabbed into the organ - the whole show. And the corpse just applauded politely.
Afterwards, though, a lot of people must have played the complete Festival over again in their minds, and must have decided in retrospect that The Nice had been fairly spectacular - especially when compared with some of the later acts: disasters like the debut of Noel Redding's Fat Mattress, or an hour of the Pretty Things, or the flat, grim set by Pentangle. The more you thought back over the whole thing, the better The Nice seemed to have been. They really packed a delayed-action punch of some kind. And after the Festival they got bigger and bigger; their records soared to the magnificent heights of the 'Five Bridges' album; and then they split.
Keith Emerson was back at the Isle of Wight, this time with Lake and Palmer, last summer. The 1970 Festival gave us their debut - and gave Emerson the kind of recognition, and the kind of atmosphere that time around, that he'd long deserved. And then once again, things built up from there. They got voted 'Brightest Hope' by the readers of Britain's best overground music paper, the Melody Maker. Their first album sold very fast in England, and by January they had another in the can (which is being released this month over here). The only sour note came after the band's first London gig, when John Peel, top "progressive" DJ, called the show "A tragic waste of talent and electricity."
Not many people agreed with Peel, however, and before their current U.S. gigs, ELP squeezed in a 26-nite British tour. And what a tour.
For Keith Emerson it was a triumphal return to the circuits. When I saw the show, at Plymouth, Emerson said how good it felt "to be back where we started from" - and his sincerity was obvious. Obvious too was his supremely confident flexibility, as he handled all the equipment he had on stage: two electric organs, Bechstein Grand piano, electric clavinette, plus $12,000-worth of Moog synthesiser.
For two and a half hours they played, giving us highlights from the first album and astonishingly tight, precision-work previews of the second - including the marathon title-piece 'Tarkus' and a stunning re-working of Mussoursky's 'Pictures From An Exhibition'[sic] (which they've been leaving out on their American gigs).
They brought in a beautiful series of solos. Carl Palmer's drumming had flair, abrasion and always the right texture. Greg Lake's guitar-work was a real delight. He handled himself with a kind of unassuming majesty, making the switches seem easy from electric to bass and then to an acoustic that he gracefully coaxed into sounding like a harpsichord at times. And Keith Emerson. He wasn't playing Superstar, he was part of the group. He even avoided all those old Nice numbers that everyone wanted to hear (until the encore, when 'Rondo' suddenly re-emerged, better than ever, with that old train-whistle blowing the roof off the theater). Yet despite what was almost self-effacement, Emerson's performance - especially, I thought, on piano - was a real tour-de-force. What a musician.
The audience response was tremendous. There had been mass excitement and a kind of jubilant anticipation beforehand; and then, with the performance, the response grew to an all-smiles, dancing-in-the-aisles ovation.
The group's reception was the same on all 25 nights. Each date wound up with the audience dancing to the late great 'Nut Rocker' done on electric clavinette. In America - by way of a strange kind of contrast - the group has had to drop this number because people haven't seemed familiar with it. And they've found this surprising, because in England 'Nut Rocker' is regarded as a classic oldie and copies of the original single - by a bunch of American session men who called themselves B. Bumble and the Stingers - are very much treasured.
Along with Kokomo's 'Asia Minor' it was one of the first rock sorties into classical music. A real beginning, in fact, for Emerson Lake & Palmer.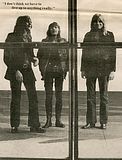 THE MUSICIANS' MUSICIANS - An Interview
Emerson, Lake and Palmer are that most rare of phenomena, a group that is splendid. Splendid; music that is intricate, complex and powerful, musicianship that can take that music and make it understandable, and inspiring. And in performance, another dimension is added; they are exciting, and even, humorous. Keith Emerson rolls his piano on top of himself, lying on the ground, and plays it. Or he climbs on top of it, and plays it. Or he stands behind it, and plays it. Or he sticks knives into it Or he runs out into the audience, still playing. While Carl Palmer, stripping off his shirt, plays not only his drums, but a huge pair of six-foot gongs which stand impressively behind him, without looking at them, without getting up from his seat. Greg Lake switches instruments each time you look at him, and often, disappears entirely. Yet when next you look there he is.
Of course, Emerson Lake and Palmer are a group that must be seen, not described and heard. But in the meanwhile, until you can see them for yourselves, let Crawdaddy introduce them to you, via a few of their unusual ideas, as follows:
Q: Keith, What formal training did you have?
KEITH: I had piano lessons at the age of eight until the age of fifteen and that gave me a classical grounding, and at the age of fifteen until about the age of nineteen I had an interest in jazz in which I used to listen to records and from the age of ninteen, twenty I developed a style which was like a combination of those two things which I'd learned.
Q: When did you first start to understand about styles...harmonies...the mathematical aspects of music?
KEITH: When I was about eighteen, nineteen.
Q: Carl, did you have any classical training? Did you go to a school or anything?
CARL: I went to a school of music in Birmingham.
Q: So you all can read music. Does this help when you're doing arrangements? Do you write out your arrangements?
KEITH: I write out my things, personally. Greg has his own form of shorthand he uses for his bass parts.
Q: What bands did you play in before?
CARL: None worth mentioning.
Q: And before Crazy World?
CARL: None that would be known in this country.
Q: Did you play blues then?
CARL: Anything.
Q: What music do you listen to now? Do you just turn on the radio...do you listen to classical?
CARL: I probably listen to more jazz than anything, it's really hard to say.
Q: Do you listen to classical or modern composers?
KEITH: I listen to quite lot of things, I've got a wide taste...I like to put on a record of whatever happens to suit my mood. One minute I might like to listen to John Williams playing solo guitar, classical guitar or I might like to educate myself and want to put a record which involves a lot of piano playing and get inspired that way. My record collection is pretty varied.
Q: Do you think of yourselves as a rock 'n' roll band?
CARL: No. I don't think of ourselves...it's all according to what you mean by rock 'n' roll. When you think of rock 'n' roll, you usually think of Elvis.
Q: I think there's an element in the stage performance that is very rock 'n' roll.
CARL: Oh, I think there's a little of that in every musician. Broadly speaking, we're just a band of musicians...because we cover so many different styles when we go on stage. We play like a country thing, we play what could only be called jazz, we play classical music, we cover the contemporary works, also the Baroque works of Bach...so you really couldn't say this band plays just rock 'n' roll.
Q: Your audience is a rock 'n' roll audience, yet your music is so diverse, so out of the realm of the regular Fillmore thing.
CARL: That just goes to show that they're not solely rock 'n' roll people. Our album sells very well. There must be a big majority of people who don't listen to rock 'n' roll. Like I don't think Hendrix is rock 'n' roll. One of the biggest beauties of the band is that you can't say that it's this way or that way...its not just one thing, it's everything.
Q: What is happening in England, I think, makes it possible for your music to be accepted.
KEITH: I think that we're more advanced in England...maybe not advanced but we're willing to try. There's lots of room in England for people who want to do new things. Before I joined this band I'd never played a piano on stage in concert like we have done. Over here, I've never seen an American band do it, they always have an electric piano.
Q: Do you rehearse the things that you do or do you just rehearse the music?
GREG: No, we don't rehearse the performance part. We've played in other bands. Performance is a thing you build up over all your career. Every artist does tricks and things...you just build them up. It would look stupid if you just stood rigid and played. Some people take it a little further. Hendrix took it a little further than most people. Keith takes it further than, say, I do. It just depends on how much energy you've got. With me, it's not so much of a physical energy, because I haven't got much of that, it's sort of a mental energy. I get very nervous before going on stage and then when I go out I can feel physically drained, almost exhausted, because I just build up to it...I get too nervous.
KEITH: The thing with me is my nervous energy which gets my adrenalin going which gives me a buzz before I go on, and therefore the bigger and more important the gig the more nervous I get. Those gigs, I get a lot more physically exhausted playing but I usually get a lot more ideas happening in my head. Sometimes I get both going at once; I get a lot of physical energy and a lot of ideas and those gigs get off great. I don't always get the two things happening.
Q: Do you feel that you have to live up to being a British group when you came to America? Image, style or sound.
GREG: I don't think so, because I don't think people knew what to expect when we came here. I don't think we have to live up to anything really. We've got to live up to maybe the album, the way the album was cut. We're very pleased with it...but we're very confident to come over here and play the tracks off the album. We know we're playing them a lot better now than what they are on the album.
Q: Do you feel that you're competing with other bands?
GREG: Only from a business standpoint.
Q: What bass players do you like? American?
GREG: I like the bass player, I don't know what his name is, on Area Code 615. Bass players don't really stick out often.
Q: How much of your music is improvised and how much of it is written?
KEITH: Some pieces don't require an improvisation at all and some pieces do. Some pieces don't contain any improvisation. A number like "Rondo" requires a lot of improvisation and a number like "Take a Pebble" is one where you feel it's right to improvise.
Q: How do you come by your arrangements? Do you think of them yourself and tell everybody what to play?
KEITH: Usually an arrangement starts off with one idea, a positive conception of a piece...then arrangement is really interpretation on your part the individual's part. And the way I might interpret affects the way he plays his part. An arrangement sort of grows like that: a really tight arrangement is worked on as you go.
Q: Do you rehearse a lot in the time between tours?
KEITH: Only when we've got any new material to do, when there's new material to get laid down.
Q: How do you keep your instruments working? What does it do to them when you stick a knife into the keyboard?
KEITH: It splits the keys down the middle. I usually try and get them in between the keys but the margin is very small...one degree out and you split a key down the middle. But even if they're split down the middle they still play.
Q: Have you ever been hurt pushing the instruments around?
KEITH: I got an electric shock out the back of the organ once and it gave me a big scar and I also stabbed my thumb in Boston...it looked quite good, blood all over the keys and I didn't mop it up for about a month, the contrast of the red blood against the white keyboard.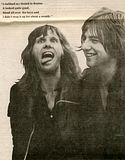 Q: What instruments do you use on stage? You have a piano and organ.
KEITH: Yeah, both by Hammond.
Q: Do you always jump out into the audience?
KEITH: Not always, no. I did it at the Fillmore because there was a gangway there.
Q: How did you come to disband the Nice?
KEITH: Well, don't know...what it comes down to...how can you word it without being nasty. I wanted to work more vocals...basically I felt incredibly on my own in a group like that. It got to a point where it was just me...a thing like that could be cool for somebody's ego, but it's not like that. Sometimes it can be good, but for me it's not good. I like to feel that other people are working and sometimes I like to feel that I can play with them or play behind them if necessary. With a band like the Nice you get to a point where you think "Well, I've done this, what the devil do I do now?" and you realize that you're on your own, you can't go to somebody and say "Look, I don't know what to do next, you got any ideas?" There was nobody in that band that could help me. I think that's basically how the Nice came to work with orchestras because we were working together and playing music and each time we did something I felt we were going to do something new and we can't do it with this band so let's get somebody in to play with us so I wrote the Five Bridges Suite which involved the orchestra...that was a new project for the Nice. It was a new project for groups as a whole and then after working with orchestras I was left with one decision, to fall back on the original format of a three man band but there was nothing there that could inspire me, nothing new, nothing fresh. We tried it. We discussed the problem, we tried to make it work again but you just couldn't get away from the fact that it was just the same and I just had to work with more inventive people. That's how I came to work with Greg.
Q: How did you come to leave King Crimson?
GREG: Well, very sort of strange circumstances. I met Keith at a time when things were not very happy with Crimson and I saw more future, more exciting future for me, musically, with him. It's not that they weren't good musicians, they were good...but I've got far more freedom with this band.
Q: What's happening to them?
GREG: They're still going.
Q: How did you come to leave Arthur Brown, Carl?
CARL: I left at three o'clock in the morning, which is the right time to do it.
Q: Is Arthur Brown still performing?
CARL: Is it still happening, yeah. The thing was with the band, I joined the band. It was just bass player, organist, myself and Arthur and a few months later it was organist, drums and singer and we got to America and I thought they were going to drop me so I went back to England.
CARL: You mean you left them on tour?
CARL: Yeah, I sure did, it's as simple as that. I still love him though, he's great but he's a freak.
Q): You played with him a long time?
CARL: Yeah, about 18 months.
Q): How did you meet Keith and Greg?
CARL: The Gardner's Weekly.
Q): Is that true?
CARL: No.
Q): Do you practice everyday?
KEITH: Not everyday, no. I've got a keyboard up in my room at the moment...I use it to loosen up, but it's really practice. It's just a question of keeping my fingers loose.
Q): How do you relate to the audience? Are you trying to get them off, stimulate them intellectually?
GREG: Blow their minds, I suppose.
Q): Is that what you aim for?
GREG: Well, at the end of a performance they should be exhausted and they should be really happy with what they've seen, that's what we aim for.
Q): Have you ever seen the Grateful Dead?
GREG: No, I've managed to avoid them.
Q): Why do you say that you've managed to avoid them?
GREG: I've listened to their records and I've met a few people that surround them and generally it's something that I wouldn't want to be involved with or in any way be connected with.
Q: Why?
GREG: The music's banal and tasteless. The policy under which they work is that you need to be tripping to see them...that's the Grateful Dead's art work. In other words, you need to have no control over your mind and body while you're watching them. In other words, first you're rendered helpless then they throw some words down your throat and I suppose anybody would get into it that way but it's not for me.
Q: In America there's an aura about the Grateful Dead that stems from San Francisco and they're an enormous band here.
CARL: I don't know. I've never listened to any of their records, so I can't comment on their musical abilities at all. But just things that I've heard about them and the conditions which they play under...their criteria for judgment, the whole scene, is not a musical one. It's whether we can get people out of their seats stomping and running up and down the aisles, which is cool...
Q: Isn't it like zonking their minds?
GREG: It is, yeah, but Cassius Clay can zonk their minds. There's difference between a musician and an entertainer. Although a musician can be both, [it] can also be a separate thing...he can be a musician and entertainer or he can just be an entertainer. They are more just entertainers. Maybe they are good musicians, but if they are it's certainly one of the greatest camouflages. When you hear stories about musicians taking acid and going on stage you begin to wonder.
Q: Do you feel that your music has been influenced by drugs in any way?
KEITH: No. I can't play on anything. I like to play straight and my high is a natural high. The thing about playing is it's just fun, you know that you can create a sort of high within yourself.
Q: Do you have an aim? Are you trying to achieve something specific? I mean here you are a musician, I don't know how old you are, and when you see what you're doing now do you see it as part of a long range thing, do you see the future in a clear way, musically?
KEITH: I don't think anybody does. I know that now what I am in life is a musician and I shall always be one...that's what I know for a fact...and my output is as a performer and writing new things is an outlet for me and as long as I have those two outputs I shall be perfectly happy. Everytime that I write something different...I try and make it different from the last thing which I wrote. At the moment, I can't say what the next thing that will come out of me, what it will be.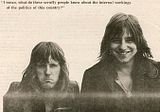 Q): When Bill Graham announced the closing of the Fillmore one of the things he indicated was the musicians and the music industry in the way it's forming, and the musician's attitude, which he considers very irresponsible and greedy. Do you agree with that and do you think that could really bring about a change in performances? If the alternative to the Fillmore is a very small club or huge concert hall only, what would be the result?
GREG: Does my attitude change because of that? No, it doesn't change at all. Sometimes I can play better to a small audience than to a big audience. I would tend to look a bit further than what Bill Graham said because what he said isn't necessarily what he's going to do.
Q): I'm not talking about him, I'm talking about the effect on the musicians themselves...if what he said was true, if you felt any effects and what it might do to musicians.
GREG: He's probably quite accurate...a lot of groups ask too much. You see, if you are, say, Grand Funk and you know that you could pack the Garden and Bill Graham wants to book you. But you want to get $50,000 for doing the Fillmore. Bill Graham just can't get enough people together to make $50,000 for doing the Fillmore. It's a job to say who's right and wrong. Are Grand Funk wrong to ask for the money when they know they can go on the road and get it or is Bill Graham wrong for not having enough seats in the Fillmore.
C): If Emerson, Lake & Palmer became a super group and you were then in the position of saying we'll no longer play at small clubs but only at a place where we can get $50,000 guaranteed, at what point should a musician start taking control of events which will effect the entire business?
GREG: If you're honest about it there can be only one answer and that's if the money is obtainable any group, any musician, any management will take it...if you have a choice of playing at the Hollywood Bowl or the Whiskey Au-go-go you would far rather play the Hollywood Bowl. You're playing to more people, you get more money...you're gonna do it, you're not gonna say, 'I should play the Whisky Au-go-go'...really why should you?
C): Do you feel that way?
CARL: The more successful you get the more in a position you are to be able to choose where you play. I mean every musician is into playing in the right conditions because he wants to give an audience his best and he can't play his best if he's cramped together somewhere on a little mantelpiece...and likewise the place might be an absolute sweatbox and the sweat's running off the walls, you can't breathe, and you're passing out on the stage. So is the audience. Those aren't the right conditions.
As far as we're concerned there are principles involved. The principles aren't whether or not we should do a free gig for Bill Graham in two years' time not because we owe it to him or we owe it to the business. You only do a gig for Bill Graham if everything adds up right...if the place is right, the conditions are right, if the money's right...then you play. It's got to be done that way. If groups start playing...if Grand Funk started playing for nothing the business would suffer far more because all of a sudden it would put groups out of business who were trying to make it. When you find you can get Grand Funk for the same price as somebody else who's smaller, why book the group that's smaller? So it's good we have people trying to get more money, it's logical. Always give somebody else the incentive to beat them, give the promoters the incentive to try and cop them for just a little bit less. You talk about principles...we would play a place...say, the Fillmore East for Bill Graham even if we knew that Bill Graham couldn't pay us enough money. If we wanted to play it, we'd play...we'd just say what can you pay us and we'd play because we wanted to.
C): It seems that there's a lot of controversy about the music business and the only people that never seem to be asked about what they think or what role they could play or are taking an active part in are the musicians. They seem to be dealt with as stars who need to be protected or as babies, one way or the other. I wonder if you ever have a desire or need to take an active part in affecting what would ultimately be, I guess, politics.
GREG: We take an active part in the business and the responsibility for its success by just playing...going out and playing every night. That's what we do. Other people do other things for the business.
Q: You can look at it from the point of view that you might feel more comfortable playing in the Forum or something, but what about the person who still has to pay $4.50 to sit in the upper balcony?
KEITH: He doesn't have to pay $4.50. It's up to each individual to choose whether he wants to pay and actually go and see it. You could turn around and say that I've had to practice eleven years to get that cat to come and see me. The cost of piano lessons if you want to add that up comes to thousands of dollars. But you don't think like that.
Q: Do you ever think of using your position to effect a change? In a way other than playing music?
KEITH: I'll tell you, the thing about that, is it's very dangerous. Too many people in this country, groups and things, try to sway politics one way or another, and I think that unless you study politics like you study music you put yourself in a very dangerous position by telling other people who probably know more or just as much as you, what to do. They look up to you. Groups like the MC5 for example. I mean what do these scruffy people know about the internal workings of the politics of this country. I was more politically based in one point of my musical career and that resulted in my getting banned from the Albert Hall (for burning an American flag). It became a bit of a joke because everywhere I went after that I got publicity. But that wasn't why I did it. It was done genuinely, because we felt that we had to express the way we felt in some way. But the thing is you get type cast and then it becomes a joke and you have to decide well what am I gonna become... am I gonna become a musician or am I gonna lay down this thing all the time.
Q: And you can't be both?
KEITH: I don't think so.
Q: And you?
GREG: I can't get into politics at all...I mean as much as I'd like to. I read a lot about it, I try to understand what's going on. But like everybody says, each person should do something to...all I can say is that we just entertain the troops and if the audience feels like they want to be the revolutionaries, that's cool. We'll keep them happy while they're doing it. I think we can sort of play music to inspire people to do that. It's like there's certain music that can be played to inspire people to go to war if they have to. I mean we're obviously in favor of things like world peace. There are statements in some of the words we've written which are related to war. But it's not preaching. it's just statements, take it or leave it.
Q: What about you Carl?
CARL: I have really no interest at all in politics or any band that would indulge in politics...as a musician I have no interest. I wouldn't use the stage to do something else on, to get to people; I'm there to play. People think because you're on the stage you can get into their heads in other ways. I'm not there to do that. People pay $5.00 to hear me play.
Q: Are you opposed to the kind of statements John Lennon makes?
GREG: I dig John Lennon, and I think his thing is quite mild anyway. I got into what he sort of does, like it's not me, that's him, I couldn't do all of that. But I think it's sort of a mild attempt. He's not really setting himself up, he's saying, take it or leave it.
CARL: I think he's quite confusing. I mean he shows it when he says Give Peace a Chance and then there's Power to the People. I mean, there's two opposites there as far as I can see. You see, the basic underground philosophy does not work.
Q: What is the underground philosophy?
KEiTH: You make love on the streets, produce lots of babies, do away with parents, that sort of thing. You give power to the people and you give power to people who are not trained and don't know how to use it. In England there's not much power given to the people, the people have taken the power by joining big unions...and what is the first thing they do, they cripple the country's economy, that's power to the people. You give a power to a working man who's not basically that intelligent, he's not been trained or educated to deal with those things. He'll do basically what the big red Communist union leader lays on him because he's a heavy rapper, he's been put there by somebody. The people should enjoy being told what to do, they can't live happily unless they're told what to do. Most of the people who talk about it don't do a damn thing about it anyway.
From my experience, I used to work in a bank for two years, and this was enough to fuck my head up...I used to go there every day and I used to listen to all the normals say; I'm getting out of here, man, this summer comes, I'm splitting! And I never used to say a damn thing...I'm gonna become a musician, I'm gonna get out of here...I never said that once in all the time I was there. Everybody else said 'This is shit. I don't want to work in a bank the rest of my life. I'm gonna get out of here. This is really messing me up.' I was past there and they're still working there. All the people that made all these plans, they're still there...all the people that talked about it. I never said a damn thing, I just got out of there and I'm fucking glad that I did.
We were talking about this Washington thing, this number where they're tripping along and blocking up the streets...if you asked one of these cats for money to support the thing, if you asked them instead of taking a holiday to work their holiday for a cause, the answer would be no. There might be 5 per cent who really believe in the cause they're going there for...the rest are going because all the other people are going there. There's nice chicks...the same thing applies to festivals. 10 per cent are going there to listen to the music, the other 90 per cent are going to camp in the mud. Human beings are the most difficult people to bring together, they're the only animals that kill each other for a start. And like, if you go back into the jungle, baboons can live quite happily together without sort of murdering and killing each other. People have tried to set up different communes on islands - they've bought an island, tried to get a new society going there but basically they all end up with the same problems...
I mean, you've got to have rules...the more people you get to live together - the more rules you've got to have to keep the people together...it's just incredibly difficult. I think that basically - what is wrong is that human beings are - placed in the wrong environment, concrete. We should go right back to stage one and try and start again, but you'd still get to the same point. People are the only animals with emotion and basically they have to learn to control their emotion.
Q: Do you think your music helps them?
KEITH: There has to be a substitute for killing...I mean, you can't just say don't kill a person, because everybody digs holding a gun and shooting at something. I mean, this is basically a human instinct. When I was a kid I knew nothing about it, but I got a catapult and I used to try and kill birds...I don't know why, it was just great to kill a bird - because it was probably difficult to do it.
I mean I could have smashed milk bottles and not have hurt anything but I preferred to try and shoot at a bird.
Q: Because nobody taught you that you shouldn't?
KEITH: Well, I was told that I shouldn't...
GREG: You have to be taught to do it. You turn on the telly when you're six years old and see somebody shooting; you're taught to do it. It's difficult to place any sort of value on human life because it seems easy enough to create and easy enough to destroy, so how much value can you place on one person's life?
(At this moment, a harried manager rushes in. Emerson, Lake and Palmer have GOT TO GO. OK.)
Q: Just one final question. Is there anything that you would want me to put in the article that we haven't talked about? Is there something that should be said or that you want said, about anything?
GREG: Buy our records!
KEITH: I wear my underpants inside out.