"One of the most vilified bands in history." That's how one musician describes Emerson, Lake and Palmer - and he should know, because the words are Greg Lake's own. Of all the bands targeted by the 1976 punk rockers, Emerson, Lake and Palmer aroused the most vitriolic animosity. A full-on, classical-adapting, prog-rocking, dollar-earning behemoth, they were exactly what the Sex Pistols set out to destroy. Even the band's name was the height of vanity and it has been mud ever since.
Thirty years on, however, the members of ELP remain defiant. They have just released a Best Of collection that sounds like a blast from a time that rock forgot, and plan to re-form if only they can stop squabbling with each other. But even now those Seventies brickbats still rankle.
Keith Emerson ducks into his bathroom to read out a review he has framed and mounted at his home in Santa Monica, California. "'During the glory days of Emerson, Lake and Palmer,'" he reads in deadpan fashion, "'Keith Emerson was not averse to dressing up as an armadillo. He would routinely ram flick-knives into his keyboards and physically wrestle ostentatiously huge Hammond organs while endeavouring to improvise a theme on Aaron Copeland [sic]. He was obviously some sort of arse.'"
It is a typical reaction to progressive rock's defining band. Keyboards wizard Emerson, guitarist and bassist Greg Lake and drummer Carl Palmer sold 30 million albums, but the critics had their knives out from the start. Alter ELP played their second-ever gig in front of 600,000 at the Isle of Wight Festival in 1970, DJ John Peel famously described them as "a tragic waste of talent and electricity".
"At least he acknowledged that we had talent," Emerson argues. "As far as wasting electricity was concerned, well, he wasn't paying our electricity bill."
"We were one of the most vilified bands in history," admits Lake, at home in south-west London. "When you try something new, people feel intimidated. But the criticism was very strange. To go out and play these huge shows, then to read in the paper the next day we're 'a waste of talent and electricity' you think, 'How can they say that? It was a great show, people loved it, we just sold two million records!'''
ELP were accused of being pretentious and overblown. So let's hear the evidence. They made concept albums. A triple live album. Tours that necessitated 35 tons of equipment. A revolving drum kit. A grand piano that flipped end over end 30 feet in the air with Emerson attached...
So far, so guilty. Their second album, 1971's Tarkus, was based on Argentinian classical composer Alberto Ginastera's Piano Concerto Number 1. The armoured armadillo on the LP cover was created for the the show and blew polystyrene balls out into the audience. And, unforgivably, every gig included a 20-minute solo from each of the three players.
But they had a sense of humour, too. For one early tour they collected all the bad reviews and insulting comments they could find about themselves and printed them in the official programme.
In the Sixties, Keith Emerson had been leader of The Nice, soul singer PP Arnold's backing group, who transformed themselves into an innovative jazz/rock outfit. Ironically, they were the darlings of the British music press. Meanwhile, Greg Lake was writing and singing with Robert Fripp in King Crimson - prog-rock before it became uncool. With both bands coming to an end, Emerson and Lake decided to throw in their lot together and started fishing around for a drummer.
Carl Palmer was a drum prodigy from Birmingham who had played in The Crazy World Of Arthur Brown on their hit Fire then formed his own group, Atomic Rooster. His grandfather had been a professor at the Royal Academy Of Music and Palmer was classically trained - the ideal pomp rocker.
The band was all set, with Emerson composing, Lake producing and writing hit ballads like Lucky Man, and Palmer taking care of business. They were all virtuosos: in breaks from ELP, Emerson recorded a piano concerto, Palmer a drum concerto and Lake orchestrated his songs.
But they were completely different characters. The serious and experimental Emerson clashed with the more relaxed Lake, who endeavoured to translate his partner's more outlandish ideas into an acceptable form. "I was known as the referee," Palmer admits when we meet at his favourite Italian restaurant in London. "There's always a resentment between Keith and Greg, but Keith can't do anything without Greg, and Greg can't do anything without Keith."
In that time, ELP added several major factors to rock culture. They were the first major band to incorporate the Moog synthesizer to create sounds that no one had heard before. They were also the first to bring classical music to a mainstream audience.
Most of all, ELP made rock concerts a spectacle. "We inspired this hatred because we were flamboyant," Palmer acknowledges. "We put on these big shows but they'd look like nothing compared with today. We had quadraphonic sound, hydraulic stages. It was beautiful audio, great playing and something interesting to look at. We thought it was the way to go and we were right - look at what the Rolling Stones, U2 and Bowie did."
Such were the rampaging egos, it was said, that Lake employed a roadie specifically to clean the Persian carpet that he stood on. He gladly sets the record straight. "I got electric shocks off the microphone. They put this rubber mat down and it looked terrible. When I said, 'Go and get a bit of carpet,' the roadie got this." Lake points at his lounge floor to a large yellow Persian rug nestling shyly under a coffee table. "It cost thousands but it was too late so we put it on stage and thought no more about it. Unbeknownst to the band, the roadie was very pleased with this carpet and would go out before the show and Hoover it. Of course, it looked like Upstairs, Downstairs!"
ELP's pioneering shows were not without their hazards. "I broke my nose on the flying piano," Emerson recalls. "I blew my fingernails off, and almost a finger, when I triggered pyrotechnics. I've broken three ribs falling off stage with the Hammond organ. Carl had a lot of accidents, too."
Lake, who was nearly killed by electric shocks that would blow him off his feet, winces at the memory of Palmer jumping into the hole left by a hydraulic lift that brought the grand piano up to the stage.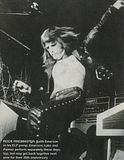 In the end, ELP's towering ambition was their downfall. In 1977 they decided to take a full symphony orchestra on the road and the $3 million bill nearly bankrupted them. Eventually in 1979, ELP called it a day. Emerson and Palmer re-formed with drummer Cozy Powell in 1985 while Palmer enjoyed massive commercial success with Asia. ELP re-formed to tour sporadically in the Nineties and with their 35th anniversary coming up next year, Palmer wants them to do it again...if Lake and Emerson can settle their differences.
Their technically brilliant, if emotionally rigid, music reminds us that ELP tried to change rock forever. But punk and its Nineties baby brother, grunge, made sure that they did not. ELP have been virtually wiped from official rock history, but the attempt, as Johnny Rotten would tell you, is the point. That is very punk indeed. •
Emerson, Lake and Palmer: The Ultimate Collection is on Sanctuary.