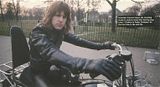 Fanfare for an uncommon man
When a former member of Emerson Lake And Palmer decides to chronicle his achievements, humility is not an option.
---
Keith Emerson
Pictures Of An Exhibitionist
(John Blake, £16.99)
KEITH EMERSON CLAIMS TO HAVE CHOSEN his autobiography's title for its snappiness, not its accuracy. However, its cover-line 'A towering genius of popular music' confirms that he's no shrinking violet, also echoing the rampant self-esteem that surrounded Emerson Lake And Palmer during the 1970s. And after 323 pages it's difficult to dispute either of those observations.

To his credit, Emerson has pulled few punches. Pictures Of An Exhibitionist will never compete with Motley Crüe's The Dirt as a trawl through rock's seedy underbelly, but what book possibly could? However, he has included many sex and drug anecdotes that flatter neither himself nor his associates: early in the book he flippantly owns up to regularly straying from Elinor, his wife of 22 years and mother of his two children; Mike Harrison, the frontman in an early group, apparently had to masturbate in the toilet in order to relieve tension before a gig; Lee Jackson, bassist in The Nice, is also portrayed as a veritable sex machine.

Emerson tells his tale from a Sussex childhood to The Nice's days as soul singer PP Arnold's backing group, although the departure of flatmate and Nice guitarist Davey O'List, beyond the fact that he was becoming unreliable (he even forgot to turn up for an important gig at London's Marquee), is glossed over.
Post-Nice, Emerson approached Chris Squire of Yes and then Cream's Jack Bruce to form the band that became ELP. It quickly becomes apparent that he had little in common with ex-King Crimson bassist/singer Greg Lake, who did take the job. An early disagreement saw Emerson throwing a bottle of red wine at the bassist's head and yelling at him. However, ELP would eventually even share their groupies - including a certain Rosemary P Hamilton, whose speciality was administering "a blow-job and a polish at the same time, while Mr One-Eye visited the optometrist". Carl Palmer will also wince at the revelation that he once asked a groupie to put her clothes back on and remove them again before he could get a stiffy. "It looked like we'd be there all night," Emerson writes now.
Pictures... is entertaining stuff, for example Emerson's revelation that he once spent an evening partying with John Bonham, with the Zep drummer insisting that his band's own music be the soundtrack to a cocaine binge (Emerson even forgives Bonham's son Jason for urinating into ELP's rider many years later). The £10,000 Persian carpet that Lake purchased to stand on on the stage is mentioned, as is the fact that the band came very close to being prevented from releasing their best-known song, 'Fanfare For The Common Man', by its composer, Aaron Copeland.
However, the brevity of the final chapter is the book's weakness, glossing over the disaster of the 'Love Beach' album and the ensuing reunions. Emerson has forgotten that while all the world loves to see a colossus striding the globe, what they're really waiting to see is its fall from grace.
«««««
Dave Ling