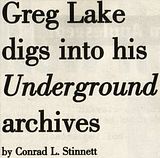 Greg Lake has achieved a lot of distinctions in the world of rock. As one of the founders of the legendary art-rock band King Crimson, he helped launch the progressive-rock movement and later helped it achieve massive popularity through his work as one-third of Emerson, Lake & Palmer. In addition to his work with the aforementioned groups, Lake enjoyed a successful solo career in the '80s, worked briefly with pop-rock "supergroup" Asia, and teamed up with Keith Emerson and the late Cozy Powell in Emerson, Lake & Powell.
Since the release of the 1997 King Crimson box set Epitaph, a set of previously unreleased early Crimson outtakes and concerts, Lake's long musical career has been increasingly documented with music from practically every aspect, including ELP's debut performance (at the Isle Of Wight), a concert from his 1981 solo tour (King Biscuit) and additional concert recordings from the original King Crimson (King Crimson at the Marquee Club).
Lake's 1998 release, From The Underground, contains live cuts and unreleased tracks from various solo and group projects, including pre-Crimson bands such as The Shame. Recently, Lake's vault yielded another "underground" collection, From The Underground II: Deeper Into The Mine, which, in addition to King Crimson and ELP rarities, features material from Emerson, Lake & Powell, his short collaboration with Asia/Buggles keyboardist Geoff Downes and previously unreleased material from his solo years. He has also been involved with two recent Emerson, Lake & Powell official bootlegs, The Sprocket Sessions and ELPowell Live.
Goldmine: With From The Underground II, two ELPowell official bootlegs, Discipline Mobile Global's King Crimson archives and other ELP-related projects, your career continues to be well documented.
Greg Lake: I really have to give credit to [manager] Bruce [Pilato] for a lot of this. He's really been very motivated to help find these things and get them out. At one time, I really didn't pay a lot of attention to these kinds of things - I knew they were out there but really was focused on what I was doing at the moment, rather than looking back - but have come to appreciate them as special moments from my career. I do know there are some things out there that have appeared as bootlegs where the quality has been bad. I'd rather those things, as well as some other music that hasn't been widely circulated, get out there in a quality format.
Regarding Deeper Into The Mine, the Ride The Tiger material with Downes was done after your brief stint in the band Asia. Some of these songs, I believe, later showed up on Asia albums.
I believe they did. Geoff was trying to re-form Asia after we worked together and used some of those songs.
The live "Preacher's Blues, " showed up in ELP's catalog in a reworked form as "Tiger In A Spotlight," but this seems to be the first time it has ever appeared on a recording as "Preacher's Blues."
[laughs] Probably so.
There are also outtakes from your solo years, such as the ones you did with Toto ("Cold Side Of A Woman" and "You're Good With Your Love"), though "You Really Got A Hold On Me" was done live on your solo tours. I understand these were things that hadn't seen the light of day in decades and have never appeared anywhere else.
Yes, all of those songs were good, though they didn't make it on the albums for one reason or another.
The version of "Epitaph," from The Rolling Stones' legendary Hyde Park concert, is really a slice of history.
Yes, and for more than one reason. It really marked the arrival of King Crimson, not just during the show, but during that very song. It really was a strong moment for me. King Crimson was a unique band in many ways. It was also a band that became successful largely due to word of mouth. We just played music. We never talked about marketing or promotion - any of the things that are now commonplace in the music industry We would play the Marquee Club fairly regularly and noticed how our audience grew just by people talking about our shows. One time there would a dozen people; the next time a hundred and more after that. We really didn't do anything other than show up and play.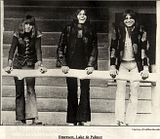 Between your efforts, Robert Fripp's DGM Crimson archive releases and ELP live releases and official bootlegs, decades of your career have been captured and are available. One can not only get a good concert recording of your last show with King Crimson, but also a quality recording of your first show with ELP. That's amazing.
Those shows were very meaningful in terms of my own career and, so I've come to realize, bits of rock history as well. King Crimson was the kind of group that never really gave the same concert twice; each show was very much its own thing. The early ELP shows really saw us taking off and coming into our own. We were called a "supergroup" in that we were all in other fairly well-known bands before, but the way we came together and worked together was very natural, not at all like the manufactured and artificial way supergroups are generally created.
The two recent ELPowell official bootlegs help document that period of time between your solo years and the official re-grouping of ELP. Emerson, Lake & Powell was one very strong album.
It was a strong album. I do have to say that Keith [Emerson] and I didn't kick Carl [Palmer] out. It was originally going to be an ELP project, but Carl was contractually committed to Asia and couldn't do it. That's why we got Cozy [Powell] in. One of the funny things about bands is the chemistry between players. You have individual players in a band, but you never really know what you're going to get when you put all the elements together. That's one of the reasons I'm not all that keen on the concept of supergroups - the chemistry tends not to work in situations where it's contrived. In the case of ELPowell, the album was strong, but it didn't have the same kind of chemistry you had with ELP. Cozy was a great drummer, but he was a very different drummer than Carl. As a result, the band didn't stay together long, but we did make some great music.
You're kind of hard to pin down musically. You've said in earlier interviews that you're primarily a guitar player but became the prototypical singing bass player in King Crimson and ELP. Both of those bands were notorious for their power and bombast, but you're also well known for your acoustic ballads. Then in your solo years, you took a very guitar-heavy approach. You're all over the musical map.
That's right. [laughs] I think I was confused. I wanted to be kind of a Jimi Hendrix guitar player and went on to play bass in bands that played a kind of European classical composer-derived rock. And, yes, I really like doing acoustic music and ballads, so that's been a part of what I do. Then, after ELP went on hiatus, I met Gary Moore and really enjoyed doing more guitar-oriented hard rock and blues. I would have liked to play more guitar on stage with ELP, but the bass sound would suffer. I mean, Keith could do some things with a bass pedal, but it really wasn't the same.
I really do enjoy all kinds of music. I'll even admit to liking country music. I love country music. However, if I ever said to anyone, "I'd like to do a country music album," they'd think I was crazy. [laughs] Santana has made quite a stir in recent years. ELP toured with Santana, and I must have listened to dozens of his shows. I love all the various elements that he's able to incorporate into his music. It makes it interesting.
Your music seems to have been impacted by your diverse interests.
I think it has. I know it certainly did when I toured with Ringo [Starr]. It was probably the most diverse group of "All-Starrs" he'd ever had - me, Howard Jones, and Sheila E among them. It was challenging and fun to do all that music, particularly when Shelia would do one of the Latin-style songs she's known for. It was a really fun group to play with.
You've been involved in releasing various, archival collections. What other kinds of things have you been up to?
In addition to the tour with Ringo, I recently did a session with The Who. I've also been working on a solo album - some acoustic-based songs I've been doing just for fun. In the current musical environment, I'm not sure how well they would be received, but it would be interesting to know how people liked them.
I know Ian McDonald and other former King Crimson members have done some touring as the 21st Century Schizoid Band. I read somewhere that John Wetton did a song or two with them recently. Have they been in contact with you?
I do talk to John Wetton sometimes but haven't heard about that. I'm always reluctant to go down memory lane just for that purpose alone.
What's going on with ELP? Does the possibility exist that you may work with them again?
It's always possible. I know that there's a retrospective DVD project in the works for next year being put together by the same people who did the Led Zeppelin DVD project. That might be a good reason for the band to come together and do a tour, but at this time I'm not sure what will happen.
ELP have gone on hiatus twice. The first time was after Love Beach, an album with some good stuff on it but, as has been admitted by members of the band, not your best work. The second time it was after In The Hot Seat, another album that isn't indicative of ELP's best work. Do you ever feel that ELP might be capable of doing at least one more really good album?
I don't know how to answer that in any other way but to be honest. The only way I would do another ELP album would to be in the way in which I believe we did out best work - just the members of the band in the studio together. The last two ELP albums had us working with an outside producer - a situation that I felt did alter the chemistry of the band and impacted the music. Whereas before we would play off of and listen to each other, we had another party to contend with, and I don't think we did our best work that way.
You can definitely tell a difference between those two albums and ELP's earlier work. I saw ELP on the Black Moon tour and felt like I got a good show, that you guys weren't phoning it in.
Touring is a hard thing, and ELP did a lot of it. A lot of factors go into doing a good show -how the band is doing, the hall, the crew and a lot of other elements. Some nights are better than others, but I've always felt we did our best.
So, are you tan, rested and ready for more musical activities with ELP or otherwise?
Well, I did just get back from Barbados, so I'm tan. [laughs] As far as the other, it really does go back to what I said earlier about going down Memory Lane. I'm old - well, old for rock 'n' roll anyway - and I really don't want to be involved with anything that isn't done well and for the right reasons. For instance, the tour with Ringo was well planned and executed and was a great experience. Future projects with ELP are also a possibility, if we all can agree with why we're doing them and if they're done the right way Just doing ELP -or anything else - purely for the sake of nostalgia just isn't interesting to me.
When you look back at all you've done over the decades, how do you feel?
Well, I really don't think about it much, but since you do ask, I'm proud of it. I've made some good music that many people over the years have enjoyed and appreciated. I'm quite proud to have had the opportunity to do that.
More information on Greg Lake can be found at www.greglake.com.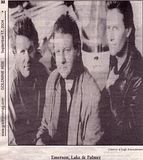 Greg Lake comments on From The Underground
Since 1995 with the release of Greg Lake In Concert, a show originally broadcast in 1981 on the King Biscuit Flower Hour, Lake's career has been well documented with live releases. The 1997 release of the Epitaph boxed set showcases Lake's live work with King Crimson, with recordings of shows from 1969. In addition to three "official bootleg" live releases, his work with ELP is highlighted with the King Biscuit concert release Emerson, Lake & Palmer. Also, Then And Now collects concert recordings from 1978 and 1998, and Emerson, Lake & Palmer Live At The Isle Of Wight Festival is a recording of the group's first major concert in 1970.
In 1998 Lake released an archival CD, From The Underground, on his own label, which collects live versions of songs from King Crimson, ELP, ELPowell, Asia, and Lake's solo work. Also included are rare studio recordings of his pre-Crimson work with '60s psychedelic bands Shy Limbs and The Shame. During this previously unpublished interview, conducted in 1999, Lake discussed From The Underground.
Goldmine: How does it feel to hear yourself in live recordings from earlier decades?
Greg Lake: Well, I never really, listen to myself. [laughs] Once a record's made the only other time I really come into contact with it is if we play it live or if there is some other reason, that I'm around if it gets played. I never really play the things myself. When we did this live From The Underground record, it was just very strange to listen my life pass by me so quickly. It is just that - very strange. It's like when people say they die and they see their life go before them very quickly, and it's a bit like that. You just hear all the records, and it puts you in mind very quickly of all the memories.
I gave From The Underground a listen and was surprised with some of the selections. I had previously heard "Love" from The Shy Limbs but had no idea it was you singing it. How did From The Underground come about?
I think it was a combination of things. Firstly, I keep being given or sent bad bootlegs of myself or of ELP; I keep coming across them. I thought it might be better if we do one of our own where at least, the quality of the recordings are good or interesting or have some sort of intrinsic value rather than just that they happened to be popular songs throughout my career.
We tried to capture interesting moments, interesting versions of the things. And it was important that the thing was done in a decent quality. To be honest, I was of two minds about it, but Bruce [Pilato, Lake's manager] said "Let me put one together. I'll assemble it." When I heard it, I really did quite like the record. I honestly liked it. Not for ego reasons, but it just kind of fascinated me to see what I'd done. For the first time ever in my life I could sit there and listen to me as a kid, me as a teenager - all those things that one goes through in one's life. In the music business you tend to get bound up very much in the record you are currently working on or the tour you are currently doing. It was just an interesting perspective to see it from a distance as all one thing.
It does skip around, and there is a wide variety of stuff. The live tracks from your solo years ("Retribution Drive" and "21st Century Schizoid Man") are not the same ones as on the King Biscuit CD?
No, they were taken from the Palladium - same tour, same band but different shows.
There are always new people getting into music who hadn't heard of Greg Lake or are just peripherally aware of your music. Would any of these archival live releases, such as From The Underground, serve as a good introduction to your work?
I think, to be honest, this record is more for people who have enjoyed the bands or my career in general, rather than someone saying, "I think I'll buy a Greg Lake record. Which one should I get?" Nothing you do ever is really typical of everything you do. The other thing about me personally, because I've been in bands all my life, is that when you are in a band one tends to become the band. It's like you metamorphasize, if that's the right word, from being one thing to another. In the context of ELP I was one thing, and, I suppose, in the context of King Crimson I was kind of another. There is no one thing I would say to someone, "Get that, because that's the way it was." Generally speaking, however, I think the music from the '70s was stuff that was the most significant, that had the most passion in it - In The Court of the Crimson King and the early ELP records. I'm quite proud of those, really.
It was kind of amazing you put a live version of King Crimson's "A Man, A City" on From The Underground, because the band stops playing twice during the song. Why did you do that?
It was one of the peculiarities about King Crimson. It was a very anarchistic band. One of the joys of that band was that every time we played we never really knew what was going to happen. There would be people going off into different keys or different time signatures, or all of a sudden two people would stop playing entirely. It threw up new things and new ideas, and it was good from that point of view. It was one of the things I liked about that band. I suppose you would call that indulgent now, but it really did bring about a new way of trying to look at making music, I think. In that way, I think I made a contribution. I look very fondly on that music for that reason. When you look at it today, the approach seems rather dated, but at the time it was really quite pioneering.
~ Conrad L. Stinnett