Emerson, Lake and Powell
__________________________________________
Legendary Unit Reforms With New Drummer but Same Distinctive Sound.
___________________________________________
BACK TO BASICS - by Paul Hunter
Back in the mid-1970s, the mere mention of the initials ELP was enough to send many rock fans into a state of ecstasy and most rock critics into hiding. Few bands in rock history have generated the response, both positive and negative, of ELP, and with a new version of the legendary trio recently unleashed upon the unsuspecting rock masses, a new flood of press hype and hyperbole is surely destined to be heading our way. Such facts do little to disturb the serene countenances of Messrs. Keith Emerson, Greg Lake and Cozy Powell - the ringleaders behind ELP's sudden, and unexpected re-emergence.
Yes, it has been nearly a decade since the glory days of ELP; days when albums such as Tarkus and Brain Salad Surgery sold in the millions and transformed the band's three members (then including current Asia drummer Carl Palmer) into instant millionaires. Yet, the intervening years have not been particularly kind to Emerson and Lake in an artistic and financial sense. With such bands as Yes and Deep Purple proving that reunions can be profitable in both a commercial and artistic manner, the time seemed right to bring that ancient rock warrior, ELP, out of mothballs.
"ELP was a band for the ages," Lake stated. "I don't think we were ever tied to a particular era or sound. We covered a very broad range. We were doing pop ballads like Lucky Man and all-out show stoppers like Pictures At An Exhibition. People tried to label us as 'techno rock' or 'art rock,' but I think we managed to defy easy classification. That's what made ELP a very special group."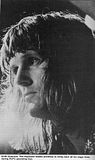 Despite the band's undeniable skills and a five-year period of success where ELP sold millions of albums and headlined mammoth arenas throughout the world, the band's creative juices had apparently run dry by 1975. Emerson seemed more interested in his vast collection of motorbikes than his infamous keyboard stabbing stage theatrics. Lake seemed determined to polish his pop stylings in a solo career. For years after the band's demise in 1979 it seemed that the members of ELP had dropped off the face of the earth.
Except for a few movie soundtracks that never saw the light of day on this side of the Atlantic, Emerson seemed to intentionally steer clear of the rock scene. Lake's solo career met with a mixed response at best. His two solo LPs, which featured an array of guest star sidemen, explored the softer side of the ELP song spectrum, leaving the band's millions of fans wondering what happened to the group's rock and roll magic. Only Carl Palmer continued ELP's string of success as he shifted his mammoth drum kit to Asia, lending his sonic wallop to that band's progressive rock sound.
"I think we were all a bit tired out after ELP finished its run at the top," Lake stated. "You've got to realize that for a three-year period we were one of the hardest working bands in the world. If we weren't on tour we were in the studio. It was a hectic lifestyle but it was quite rewarding on a number of levels. But you do burn out. No matter how much you enjoy things, you can grow tired of it."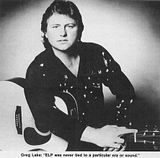 With Emerson and Lake adding a new "P" to the group's lineup in the guise of former Rainbow, Jeff Beck Group and Whitesnake drummer Cozy Powell, it seems that ELP is once again prepared to sail to the top of the rock world. While musical tastes have changed a bit since the band's halcyon days over a decade ago, the trio believes their special blend of concert antics, instrumental artistry and songwriting talent will once again lure fans to the group's musical camp.
The seeds for the reformation of ELP stretch back a number of years to when Lake, needing a touring band to support his solo ventures, inquired as to whether Emerson would have any interest in joining him on the road. At that time the lanky keyboardist had no desire to leave his palatial English home, but an important line of communication had been opened. As Lake's solo career floundered, and Emerson's desire to whip out his synthesizers grew, the pair began making tentative plans to work together again.
When their initial attempts to lure Palmer away from Asia proved fruitless, they began a search for another drummer - one that could not ony support the band's volcanic sound, but supply the band with the all important letter "P." "Please, don't say that," Lake said with a laugh. "People will believe that we honestly went out looking for a drummer whose name began with the letter P. Nothing could be further from the truth."
Finally, after rehearsals with the likes of Bill Bruford proved unsatisfactory, the band contacted Powell, who had just returned from a world tour with Whitesnake. Though the drummer believed that the Snake was on the verge of international superstardom, the chance to strut his stuff in one of rock's all time classic instrumental bands proved to be too much of a lure for rock's ultimate "have sticks, will travel" drummer.
"I'm not happy that Whitesnake cut my drum solo out of some of the gigs," Powell said shortly before leaving the band. "We're playing nearly an hour and a half. Can't they give me a shot? I love the guys, and the music, but I do feel the need to step out a little."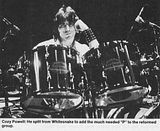 Powell surely has gotten his chance to shine with ELP. Soon after their formation last February, the band sojourned into the studio to begin work on their "debut" LP, a disc which shows the band to be in vintage form. As soon as they finished recording the album, the group began making preparations for their first world tour, something that had Lake particularly excited.
"ELP has always been a live band," he said. "Our best work was always done on stage. We were ahead of our time in terms of stage shows, and I guess we have a bit of catching up to do. We want to have this project looked at as something new and fresh, but we know that there will be many who view it as a continuation of what we've done before. For those people, I want to add to that legacy, and we'll do everything in our power to make sure we do."