Caught In The Act
Symphonic Rock Rave at Croydon
A horde of hairy idiot dancers freaking out to the music of a sober-faced and dinner-jacketed symphony orchestra must rate as one of the more bizzare scenes this year. But it was a fitting finale to an astonishing evening with the Nice and King Crimson at Fairfield Hall Croydon on Friday.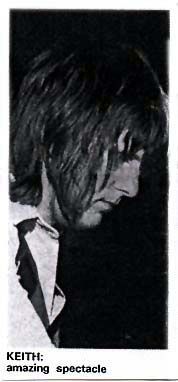 This was another ambitious attempt by the Nice to combine electronic rock with the rich acoustical sound of a full symphony orchestra. It was exciting and entertaining --- but musically it must be rated as only a partial success.
Musical honours went to King Crimson, who played a near faultless set and confirmed their reputation as a really important new group. They thundered into the cataclysmic "21st Century Schizoid Man," followed by the beautiful "Epitaph," a new work, "Trees," and the incredibly heavy " Court of the Crimson King." All their songs were impeccably arranged and executed and Robert Fripp's guitar work was excellent throughout: sometimes lyrical, sometimes jagged, and always working in tight partnership with drummer Michael Giles.
They closed with "Mars" from Hoist's Planets Suite, hammering out the menacing riff over an eerie wail from Ian McDonald's mellotron. Together with Peter Sinfield's brilliant lights, they created an almost overpowering atmosphere of power and evil.
The Sinfonia of London, conducted by Joseph Eger, began with Berlioz' "Fantastique Symphony," and were warmly received. They were joined by the Nice and we were into the familiar "Karelia" by Sibolius. It soon became clear that the two musical forms cancelled out rather than added to each other. The combination weakened the rythmic drive of the Nice and detracted from the sweeping beauty of the orchestra. The experiment was interesting and courageous, but it didn't really work.
Things picked up when the Nice were joined by a team of jazzman, including Alan Skidmore (tenor sax), Joe Harriot (alto), Chris Pine (trombone) and Kenny Wheeler (trumpet), for a really belting version of "For Example." It was a far more convincing combination.
The final work was Prokoviev's "Troika," interspersed with the Nice's unbeatable " Rhondo," a five-minute riot of applause forced everyone back on stage for an encore. Massed idiot dancing broke out as Keith thundered once more into " Rhondo" and " She Belongs To Me," with a somewhat bewildered orchestra still playing Prokoviev and Skidmore blasting away on tenor. The spectacle was so amazing that it dispelled any doubts about musical validity --- for a while at least. --- ALAN LEWIS