King Crimson click in America
"America is even more American than we had expected," said King Crimson's Ian McDonald on the phone from Chicago.
"For example they have a programme instead of our Epilogue called Sermonette -- unbelievable!"
Crimson are on their first trip to the States and will be away for eight weeks during which they play a string of major dates including a Miami concert with the Rolling Stones for which they are being flown in by a helicopter.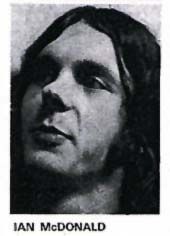 "The album is out here now and seems to be getting plays on all the New York stations," reported Ian. "Actually we were surprised to find that people knew us when we arrived. This was partly due to people reading about us in the MM and we have also had bits in the underground papers here.
"Among the people we have worked with so far is Al Kooper who was disappointing. He was backed by a new group,a second-rate soul band.We also worked with Om, a very nice heavy rock band, and Steve Miller. " Audiences here still seem to favour English groups --- perhaps because they seem to project more than the Americans.
"One unexpected problem --- the power seems rather peculiar over here and I've been having trouble with the Melotron [sic]. Every time the lights go down it goes out of tune.
"Audiences seem pretty much the same as in England but we have re-paced our show so that it builds more to a climax."
Ian said there was a possibility of the group recording a single for Atlantic during the tour. --- B.D.