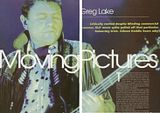 (Click to enlarge)
Greg Lake Interview from a 1992 Guitar Mag
The relationship between bands and the period of time in which they exist is a historically important one; the invention of the electric guitar allowed embryonic rock'n'roll to be born to its country and blues parents. Years later, financial independence and freedom of choice allowed teenagers to demand their own music in the swinging '60s, bearing witness to a veritable explosion of beat bands spearheaded by The Beatles.
Then came the '70s. Some musicians began to adopt a 'seriously progressive' mantle as bands embraced the then accelerating music-related technologies. The spectre of 'concepts' loomed large, and we were treated to the questionable excesses of 'supergroups', where ex-members of name bands would get together to pool existing mass audiences and automatically generate mass sales. After all, they'd all served their apprenticeships, so who were we to expect them to - gasp! - start all over again at the bottom of the heap? Thus came Humble Pie, Bad Company and, to a lesser extent, Emerson, Lake and Palmer, breath-preservingly abridged to ELP.
Each individual ELP member had considerable previous [sic]. In the '60s a young Keith Emerson whacked the keys in neo-classic fusioneers, The Nice. Among other things, The Nice were banned from playing in the USA after setting fire to a Stars and Stripes flag during a spirited version of Sondheim and Bernstein's anthemette, America.
Carl Palmer had been the drumming force behind the heavily Hammond organ-driven sound of Atomic Rooster, also part of the similarly-personnelled (and sounding) Crazy World of Arthur Brown. No novice himself, Greg Lake helped form the fledgling King Crimson with Robert Fripp...
"That's right. Robert and I come from the same place, Wimborne near Poole in Dorset. We grew up together and went to the same guitar teacher. I originally played guitar, and Robert used to come along before he was in a band, watch me play and help with the equipment. We would play guitar duets together, just mucking about. Then he formed a band called Giles, Giles and Fripp who got a recording contract and released 'The Cheerful Insanity Of Giles, Giles and Fripp.' It was an absurd, unlistenable record, tasteless to say the least [Not a fan then, Greg? - GK]. Decca threatened to drop the group unless they started to make more tangible music with a singer to make it accessible. Bob called me to ask if I'd like to join them, and I agreed. The only problem was that as we both played guitar, he asked if I'd play the bass. I thought, okay, for this one album, how hard can it be? Four strings instead of six; 25 years later I'm still playing the bloody thing!"
To commemorate that silver anniversary a four-CD box set, 'Return Of The Manticore', has been released. The content covers the whole 25 year span, and the trio have actually taken great pains with the material, which has been remastered specifically for CD. Tracks representing each member's career prior to ELP have also been re-recorded by the band and included in the set. Thus Hang On To A Dream represents the Nice connection, Carl Palmer re-does Arthur Brown's Fire and Greg Lake features the original King Crimson grunger 21st Century Schizoid Man.
"We're very proud of the set. It's the first time the whole band's career has been properly mastered, in effect. Usually a 'Best Of..' is pulled together by the record companies in a make-money way with cheap production. This collection has been done carefully with a lot of research and superb re-mastering. Also we took the trouble to record some new pieces for it, to really show how the band started, where each one of us came from before ELP. For a long time, too, we've wanted to make a studio - version of 'Pictures At An Exhibition'. We'd started a relationship with Dolby [noise reduction] recently; we'd done a live broadcast in Dolby Surround Sound and were talking about future album co-operation, so we seized that opportunity to do 'Pictures' in Surround Sound for the box set."
In ELP, Keith Emerson worked closely with Bob Moog to help pioneer the Moog synthesiser in its infancy. Have the band always been interested in expanding the use of new technology?
"As a three-piece, you've got to use every resource available to support the sound, especially when you're trying to do 'Pictures At An Exhibition' where it's very symphonic. And with drums, bass and a keyboard it's quite a challenge to make it sound complete [Actually Mussorgsky originally wrote it for piano and it was only later orchestrated by Ravel - Historical Misinterpretations Ed]. So when synthesisers came along it was something that made a three-piece band sound bigger than it was, and it fitted well with what we were trying to do musically.
"I've never heard our songs sound as good as this; even when we originally recorded those tracks they didn't sound as good because of modern re-mastering with the advantages of new technologies, and it's a pleasure to hear them back.
"Using Dolby's Surround Sound recording technology works superbly well, too, so it's good to be involved with that. Previously, on 'The Best Of ELP' and the Atlantic years [sic], the remixing consisted of a little bit of extra top on it and that's the end of it as far as the record companies are concerned.
"The live sound is equally satisfying for us. I'm using a Tune bass now, a Japanese bass of extraordinarily high quality. I believe the body is made by Alembic, the Japanese make the electronics, and it is a wonderful instrument. Unique. For a while I got into playing a Wal Midi bass but because of a total lack of support from the company, I've had to stop. They couldn't supply the leads that connect the thing to the equipment, and it's just hassle. Also Keith now has so much control over all the midi and synthesiser side of things that there's really not much point in me dabbling with it.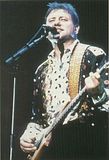 (Click to enlarge)
"As far as guitars go, I still am a believer in the Gibson J-200. I've got a few of those and I just love them. And I use a Toni Anderson electric guitar; that's fabulous. As far as the backline shit goes, I plug into anything, basically. I use Trace Elliot - actually, I should really say that I use Trace Elliot for personal monitoring because what people hear is not the actual amp, they hear it going through the PA, and that's a different matter entirely. My guitar amplifier is a Matchless - lovely - based on the old Vox AC3O. The Matchless people loved the Vox and have made a sort of Rolls-Royce version of it."
'In The Court Of The Crimson King' was the first album by King Crimson, so re-recording Schizoid Man must have been a reminder of those early days.
"It was a very creative band situation, an open forum where anyone involved could contribute. Pete Sinfield, who did the lyrics for Crimson and ELP, originally did the lights! We always had one music section in live shows which would have no key and no time signature; Mike Giles would count it in and no one knew what they were doing. The idea was that you would pay more attention to listening than to playing, and so it would start off with very little then you would hear something develop and subscribe to that. And because you had become a part of some ongoing thing, someone else would join in, and that way it had a sort of life of its own. It was very interesting, actually, a nice thing to do, though in truth sometimes it was bloody awful and other times it was absolute magic, phenomenal. Now, almost no contemporary music in the form that we generally speak of is made like that. Most of it is pre-calculated, passive market-researched, think-about-the-video-before-you-put-the-track-on-the-album. Music is not made in a free way and I think that art, and music which is art, should contain an element of freedom. Music has become totally homogenised. It's made for a purpose, for a market, whereas in the '60s and '70s music was art-led. Now it's market-led, and it's the worse for it."
For the last three years, ELP have toured worldwide to regain ground lost during their 17 year lay-off. Was Greg surprised by fan loyalty at this level?
"It is strange, but on the other hand when we play a live concert, what I'm looking at is usually an audience of people to whom ELP has contributed a soundtrack to their lives. We've been together for so many years that when we play the songs, you can see people re-living their memories. Lucky Man from the first album is a good one for romantic associations, for instance."
A brief dalliance with Cozy Powell in the ELP drum seat, whilst permitting continued accurate use of the 'ELP' acronym, was not overly successful...
"The chemistry was not right with Cozy. I enjoyed playing with him; he's a very good drummer and though he was comfortable in the band and we were comfortable with him, it didn't produce the results that we were used to in the context of ELP. The relevant fact is the personality difference, with the drumming a secondary consideration. Carl Palmer is a very effervescent person, and for some reason it's that effervescence which makes what Keith and I do work in context.
"You see, we're not particularly talented people - I can tell you, because it's the truth. But ELP has a special chemistry and it's a personality reaction which causes that energy, so if you're halfway decent on an instrument and fortunate enough to stumble upon that chemical reaction, then you've got something very special; that's what ELP is."
And so to that modern soundtrack to the festive season. I Believe In Father Christmas has also been re-recorded for the box set.
"People often ask about the Christmas song, but I believe if you tried to write a Christmas song you'd fail miserably. It has to happen by accident. I'd written a guitar lick and couldn't think what to do with it. This was in the summertime, and it was quite a pretty little lick and I wondered what the hell it could be about? Sometimes you find tunes that stick in your mind and irritate you, and with this particular little guitar motif I kept hearing Jingle Bells over it - next time you hear it, you'll realise that you can whistle Jingle Bells all the way through it! Then I thought that I'd write a song about Christmas. At the time I was working with Pete Sinfield, and we talked about the values of Christmas, what it meant. We both agreed it was a piece of shit, it had become commercialised and cheap and nasty, and Christmas should really be about children. When you're a child it's magical, and that's because you believe in Father Christmas. So the idea was, 'I Believe In Father Christmas'. It was a folky song for a while, then Keith came up with the idea of putting the Prokofiev theme into the middle section; after that it was obvious to add the orchestra. At the time I was working with an orchestra in Abbey Road and we just scored it up; the orchestra over-dubbed on to an acoustic guitar track, is all it was. And all of a sudden it became this huge symphonic, almost Phil Spectorish production, and it was very successful. It really was just one of those things that came from nothing to something without any preconception as to its purpose."
"There were two basic reasons for doing it again on the box set," he continues. "One was that it was timely as the box set was coming out at Christmas! The other was that when we recorded 'Pictures At An Exhibition', we used a gospel choir. The thing about ELP which is different from most rock acts is that our music is generally not derived from the blues, it's derived from more European routes. Most rock'n'roll comes from blues and black music in one way or another, and ours never did. And so we've got this black gospel choir in the studio doing 'Pictures...', and they're really fantastic, wonderful to listen to. And then the idea struck us that we could put them on the Christmas song with the religious overtones to it, too. Its a simpler version than the original, but it's got a warmth and friendliness and it's more accessible in a way."
And so onto that perennial ELP bugbear, the critical non-acceptance. For the defence, Greg Lake.
"We get a tremendous amount of criticism from all corners, and have done over the years. We're extremely tenacious people but whenever you get beaten in the press it always hurts and you always think, Christ, that's a bit harsh, because it's only music, you know? Nobody has to buy the records or has to go to the shows, but we always think about all the fans out there. We played in 140 cities last year, and in every single one of them - places like Budapest, Brazil and Chile - there are thousands and thousands of people who like the music of ELP. Therefore, for us, as long as there are people out there who want to hear us play, we're happy to play and make records. Because, we don't have to be stars and we don't have to be Number One in the charts, we don't have to be on MTV to be happy. We're happy as long as people want to hear us, and that's how we feel about it.
"I must say that on the last tour I was really quite shocked at the depth of feeling and the warmth that we, as a band, felt towards ourselves. It was quite stunning, the power of feelings was enormous and it that made it all really worthwhile."
So the feeling in the ELP camp is one of continued optimism, given that 17 years is a long time to be disbanded?
"All I can say is that you don't control everything in life, you know. It's like a journey on which you're an observer as well as a participant, and you just have to accept the way life is. And, had we not had our break perhaps we wouldn't be doing anything now. As it is, we're in the middle of making a new album which I predict will be very exciting because the band has picked up a momentum that I believe will be very telling in the next year or so. I feel we're sitting on the edge of something which might be new and revolutionary, and if it is, one has to ask the question: would that potential have been possible had we just kept going throughout the years? I think the answer to that is probably no, it wouldn't, so our lay-off has been beneficial in that respect.
"What is strange is that it doesn't stop there. Once, a girl came back to the dressing room on the last tour and asked me to sign a piece of paper. I took it and when I looked down it said Death Certificate. I looked at her and didn't know what to think. Then she said, I hope you don't think this is macabre, but my mother died last year and she was a very big fan of ELP. In her will she asked for the lyrics of Closer To Believing to be put on her gravestone, and I know that she would appreciate it if you would all sign this death certificate for her. And that's the sort of thing that happens, these strange stories that wouldn't happen to you if you'd only been going for a couple of years."