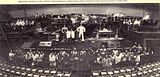 ELP: 72,000 Watts in the Name
As the houselights dimmed in Detroit's Cobo Hall last week, the concertmaster signaled for the oboist's A, and the strings and woodwinds went about the squeaky business of tuning up. Then, like something out of an old Esther Williams spectacular, Conductor Godfrey Salmon rose 14 feet in the air atop a hydraulic podium. Silence reigned for a good second or two before the cries came from the audience: "Rock 'n' roll!" "Get it on!" "It's boogie time!"
Not quite boogie time. The British rock group Emerson, Lake & Palmer had not brought along a full 58-piece symphony orchestra for just another evening with chug-a-chug rock. As Maestro Salmon gave the downbeat, 9,500 fans, many reared on the violent excesses of Alice Cooper and Iggy Pop, got their first sampling of what was in store for them. From 40 huge loudspeaker enclosures suspended from the ceiling came the mighty sounds of "Abbadon's Bolero", a work composer-pianist Keith Emerson had based on the same Spanish rhythm as the Ravel classic. After a few bars, a thick curtain of light, produced by intense lights rimming the stage, dissolved to reveal Keith Emerson, 32, Greg Lake, 29, and Carl Palmer, 27, hard at work on the center stage. There was Keith darting from Hammond organ to Moog synthesizer, and Greg picking away at his bass guitar. Between them sat Carl, confined by his drums, snares, gongs, and tubular bells in a percussion cockpit that resembled nothing so much as a mod four-poster converted into a padded cell for the phantom of the opera. The music built relentlessly, awesomely, powered by 72,000 watts worth of amplification - enough to start a medium-sized radio station. The volume never reached the threshold of pain (130 decibels), but it was, in Salmon's words, "enough to peel an apple at ten feet."
Emerson, Lake & Palmer are best known for their mastery of what is sometimes called classical rock, but what Emerson prefers to describe as "progressive rock with a lot of regard for the past." Their current tour of the U.S. and Canada is the first in 2 ½ years. Understandably, the faithful at Cobo Hall were eager to discover what their heroes were up to these days. ELP, as they are also known, responded by offering a generous sampling from their new double LP album Works, Volume 1. That included nothing less than a full-fledged "Piano Concerto No. 1" by Emerson, which sounded more like Bartok than rock 'n' roll.
The Detroit fans warmed up slowly to ELP's new, sophisticated stylings. Jim Richter, 22, was overheard saying to his date, "You said I'd love these guys. This sounds like something on PBS." That all changed when the group turned to some golden oldies from the years 1970 to 1974. The applause was thunderous for ELP's version of the "Pictures at an Exhibition," a monster hit of 1972. Drummer Palmer took the spotlight as soloist in the churning, pulsating, jazz-oriented "Tank. "The stage suddenly went dark and then orange, red and yellow lights began to consume him from below, like a huge bonfire. The crowd screamed and shouted its approval. At the end of the concert, the aisles near the stage were jammed with girls sitting on their boy friends' shoulders, clapping their hands.
That was more like an Emerson, Lake & Palmer reception. From the start, ELP has known how to get attention: their opening set at the 1970 Isle of Wight festival, the group's first major gig, was announced by the roar of two cannons. But the fireworks that have made ELP rich consist of an innovative, complex kind of rock that seems to carry on the adventure of the Beatles' 1967 precedent-shattering Sgt. Pepper's Lonely Hearts Club Band. Right now ELP's aim is not noise but the successful blending of both rock group and orchestra. Those bands (Nice, Deep Purple, Moody Blues) that have tried similar collaborations have ended up with an overpowered orchestra, primarily because only the rockers were plugged directly into the amplification system. ELP solved the problem by equipping most instruments of the orchestra with a specially designed contact mike, ultimately feeding everything - including their own sounds - into the same mixing console. Total cost of the audio equipment: $750,000.
Keith Emerson had the idea for a plugged-in orchestra while playing some of ELP's older records. "I listened to what I had been doing with all those synthesizers, and realized that I was hearing an orchestra inside my head all along. And so I said, 'Don't kid yourself. If you want to hear it that way, then hear it that way. Be happy.'" The expenses of the tour (the cast and crew number 115 people, the tab for the orchestra alone is $40,000 a week) could eventually cost the stars nearly $4 million. It is too early to tell whether they will get it back, let alone make a profit - or take a bath. But for openers in Detroit, Emerson looked as happy as a kid with a gold-plated toy - and so did L. and P.