People Magazine, August 1, 1977:
(Please click each thumbnail to enlarge)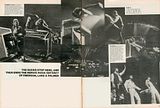 (Photos by Neal Preston/Mirage)
Carl Palmer, the drummer, was sitting with Keith Emerson and Greg Lake at a drab hotel coffee shop just hours before their show. "Last time we played here," he reminisced with childlike wonderment, "it was quite nice. It was on a big field. We were with the Allman Brothers, I remember, and there were 160,000 people." "Carl," Lake interrupted, "that was North Carolina. We're in Charleston, in West Virginia." Palmer smiled and shrugged, "Well, mate. That's the road for ya!"
The humor was part reflex, part gruesome truth. Disorientation was the least of the side effects of the seventh Emerson, Lake & Palmer invasion of America. By the time they reached Charleston, their Dunkirk was already behind them. Like their heroic World War II British forebears they are too young to remember, EL&P had just undergone a retreat - yet one that could only leave them proud.
In May they had launched the biggest and most ambitious (a few captious critics preferred the term "pretentious") rock tour of this or any other year - timed to boost their latest LP, Works, Volume I. Sure, Led Zeppelin, Pink Floyd, Fleetwood Mac, Peter Frampton and the Eagles were also tearing up arenas, speedways and farmlands this summer. But by far the most innovative venture was EL&P's, with its classical-rock sound backed up by no less than a 64-piece symphony orchestra.
It took 500 auditions to winnow out the right 64 virtuosos, and the winners were less than half of the 130-member road company. Also along, and no less pivotal, were master carpenters and electricians, an electronics wizard with a Cambridge degree, a light rigger who apprenticed in a circus as a human cannonball, and a full-time physician (once an Olympic decathlon contender). Every detail - from crating the massive million-dollar sound system, to scouting female fans for backstage invitations, to carrying cash for the stars, to supplying dressing rooms with wine, cheese, crackers, flowers and towels - is run with paramilitary precision. No one is supernumerary or an amateur along for the ride. "You do see some guitarists get electrocuted," observes one technician, "but not in this band." Then, too, there were 10 truckers piloting 45-foot semis with the 150 tons of irreplaceably sophisticated equipment. And that body count didn't include the 28 additional union locals required at each stopover.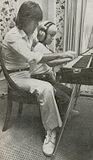 Diddling with the electric piano he ships to every hotel room, Keith Emerson (above) improvises with his son Aaron, 6. "I really dreaded facing my synthesizers on the road again," he admits. The son of a Lancashire electrical engineer, Emerson studied classical piano from 8 to 14 and worked briefly at a bank. In 1967 he played with the British group Nice before he and Lake teamed up and found Palmer in 1970. Ever since the boys tax-exiled themselves from England together in 1976, he's scuba-dived and spearfished at his home in the Bahamas with his Danish wife, Elinor, and their other son, Damon, 1.
The very magnitude of the project seemed defensible, even to the band's two full-time accountants - at first. "We had exhausted our possibilities in the world of electronic and synthesized music three years ago," says Lake. "No one has done more than us. This was the next big challenge, and we felt that even if it was not economically feasible, it could be artistically valid."
The first four weeks of the tour validated Lake on both counts. Each acoustic classical instrument is miked individually, including the $66,000 Stradivarius of one horrified violinist. That was to mix with the heavy-decibel, highly customized drum and keyboard synthesizers plus Lake's harpsichord-like eight-string bass and 12-string custom guitar. EL&P's classical-rock fusion includes works by Prokofiev, Copland and Moussorgsky, and the impact of the brilliantly mixed symphonic flow was both pulverizing and gorgeous. Yet after a month of contrapuntal strains, the dominant instrument in the show became the accountant's pocket calculator. Three huge outdoor engagements worth a potential $2 million gross fell through (one because of a Zeppelin riot, one for lagging sales), and costs were kiting, with overtime for rehearsals and sound checks running into thousands. If the band broke any records, reports one crew member, it was for labor fees -"When was the last time the union head sent flowers to the promoter after a show?" So Lake sadly had to inform the orchestra that, except for three shows at Madison Square Garden, the gig was up - though their salaries, totaling $40,000 a week, would be paid through the tour's end. "They applauded us and cried when I told them," says Lake. "Then Keith, Carl and I rehearsed for two days and went out again as a three-piece."
A complicated, peculiar blend of moods - accomplishment, anticlimax, rock-idol star indulgence and penny-pinching - has characterized the tour since the breakup. "We were an inch away from bankruptcy," fretted Emerson, "just before we dropped the orchestra." "We'd staked everything - our careers, families, our roadies' families, three years of our lives," sighed Lake. Still, the show went on - the dates at the Garden were tumultuously adored, with a half-dozen standing ovations each night.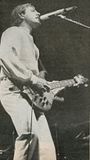 "I live nowhere at the moment," says Greg Lake, the group's guitarist and only vocalist/lyricist. His German wife, Regina, and daughter Natasha, 2, are now in his London home, where he's allowed to visit them 63 days a year. "We rent places as we go," he explains. "I'm missing something by not being around to see Natasha grow up. But I'm not going to pay 83 percent taxes to anybody." Lake, raised in the Dorset county of Poole, copes on tour by "detaching myself from what's happening around me. I don't let myself get too lonely. You have to shut off those feelings." As for the band, "We've gone through that barrier of being tedious with each other. There are no undercurrents."
The Garden siege was barely the tour midpoint, but the grind was already imposing its toll. Lake, 29, who provides the strong and sonorous vocals on Works (destined to be EL&P's seventh platinum album), admits, "It's weird, man, I have no recollection of the inside of my hotel room." He amuses himself by rating towels in hotels ("The best are the brown fluffy ones at Hyatt Regency. That's a pro towel!"). In his room each morning Lake imposes his familiar solo routine: exercising feverishly while playing baroque music on his tape recorder. "I used to be able to 'speed' my way through a tour," he says. "But we're all getting older. It would shatter me now. When you're not healthy and have to cope with life pressures, the body compensates with pills or something." Instead, now Lake's dressing rooms are liberally stocked with raw carrots and fresh pineapples for his ubiquitous juicer. "It helps me with my peripheral vision, stimulates my brain, quickens my reflexes and relaxes me," he claims.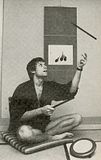 Carl Palmer's $50,000 customized drum kit includes hand-tooled animal designs on the steel drums. He also plays xylophone, glockenspiel, gongs and tubular bells and recently recorded a rare "percussion concerto" with the London Philharmonic. The son of a "song and dance man who also could juggle six plates in his act," Carl at 14 was playing two gigs a night around his native Birmingham. He soon left school to play professionally and E&L plucked him up from his Atomic Rooster band in 1970. On the side, he owns a bar in Tenerife, Canary Islands, where he lives with his girlfriend Maureen. As for his stick twirling (above), the karate-trained Palmer boasts, "They don't pay me for this. It's all extra."
Palmer, 27, the maestro percussionist, has another discipline: karate. A brown belt himself, he takes instruction from a Japanese fourth-degree black belt who's part of the tour entourage. Carl's grunting from a daily two hour workout (including 200 situps) echoes up and down hotel corridors.
Emerson, 32, EL&P's composer-savant, finds the road "just a lot of waiting." So he reads - in planes, limos, coffee shops and airport terminals. This trip he's already plowed through Shogun, both volumes of David Niven memoirs and Jack Higgins' Storm Warning. It was Keith who, after their 1970 performing debut at the Isle of Wight festival, first brought the Moog synthesizer to rock audiences. Though Emerson has mastered the complex technique of lunging for some 30 computerized "preset" buttons that alter the pitch or sound of his Strangelovian modulator (while simultaneously playing with his free hand), he can still "sit back and relax" at his giant Steinway. Indeed, onstage he glides through his Piano Concerto No. 1, which he has recorded with the London Philharmonic, while swigging champagne and chewing gum throughout. Yet for all his virtuosity, Emerson has met the jettisoning of the orchestra with equanimity. "I'd just be really pissed" he says, "if I had to sell my house in the Bahamas."
Yet Lake still maintains that their original vision was "a landmark. Every composer is a Phantom of the Opera. We all want to play with a full orchestra sometime in our lives. We had to make some forward-moving musical point. And we've done that." Even Emerson can't deny the artistic dream of EL&P. "Fans may not fully understand our music, but that's why they come back. They know something is there." JIM JEROME