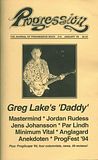 Exclusive interview!
Greg Lake on life with and without Emerson & Palmer: 'Daddy' takes us to school
By JOHN COLLINGE
Progression Editor
In a second-floor conference room at Boston's Hard Rock Cafe, Greg Lake patiently sits with his wife and an entourage from Victory Records as a club employee fumbles with connections between the videocassette machine and television monitor.
The room is crowded. A film crew from the television series America's Most Wanted fills the doorway, capturing the idle chatter within. The group has gathered for a premier screening of "Daddy," the first video single from Emerson, Lake & Palmer's latest (and perhaps last) studio album, In the Hot Seat. If Lake likes what he sees, the video will be submitted to MTV, VH-1, etc.
Moments earlier, Lake had completed a brief solo acoustic performance downstairs and met with fans to promote the Sara Anne Wood Rescue Center, a charitable foundation that aids families of missing children. Wood, a 12-year-old New Yorker, was abducted on her way home from school last year and is presumed murdered, although authorities have yet to locate her body. Lake penned the haunting "Daddy" in her honor after learning of the girl's plight on a segment of America's Most Wanted. Proceeds from sale of the single are donated to the foundation.
After a brief delay, the video is ready to go and a hush fills the room. It's a heart-wrenching performance. Lake sings directly to the camera and strums guitar amidst falling leaves and fading shots of the dead girl's angelic face. When the lights come on, one Victory exec remarks that he doesnt know whether to applaud or cry.
"It was a strange situation," Lake recalls of circumstances that drew him to the charitable endeavor and led him to meet Sara's father, Robert. "Sometimes, one becomes involved in things that fate throws at you. I'm the father of a daughter and I was touched by the story. I heard about it on TV and went right to my music room and started writing.
"I wrote the song originally just to get it out of my system, not intending to record it, because I thought it was such a morbid thing to do," he says. "This is a most humbling experience, which I may need after 25 years in rock 'n' roll.
"Robert Wood is a spiritually enormous person. I've never come across the like in my life - meeting him was breathtaking. You know, Sara is a lucky person in that her death, as tragic as it was, will likely save the lives of a great many children through the awareness it has raised."
A worthy cause, to be sure. Yet although Lake appears sincere about the effort, there is no question that his nationwide campaign for the Wood charity has earned the singer a considerable degree of professional notoriety.
"Daddy" is very much a solo project, from both performance and promotional standpoints. Lake is the only band member in the video. His name alone is associated with the charity campaign.
Cynics might view "Daddy" as a lauching pad for Lake's return to a solo career. In the Hot Seat is not quite the progressive tour de force most diehard fans anticipated after the band's rather rudimentary reunion effort of 1992, Black Moon. In fact, many consider it a Greg Lake solo album, citing the relatively simple arrangements, emphasis on ballads, and a frustrating dearth of pyrotechnics from keyboard god Keith Emerson.
To blatantly suggest that Lake is exploiting the charity for publicity purposes would be unfair and probably inaccurate. Yet considering Emerson's ongoing struggle with a degenerative nerve problem in his arm, and that prospects for an ELP 25th anniversary tour are in doubt, Mr. 'Lucky Man" might be making this Lone Ranger routine a way of life.
Progression: What kind of shape is Keith's arm in these days?
Lake: "It's hard to say, because at some points he'll say it's improving and at other points he says it's not improving, that it's the same as it always was. It's no worse than it was, and I think it's one of those things that if it is going to improve, definitely improves over a long period of time - not a quick fix.
"I mean, they took the nerve from the elbow and moved it around the side of his arm. You know when you touch that nerve what it feels like. So it's a deep uprooting of some very fundamental shit, you know. He can play now, but it's how long he can play and with what intensity. That's the kind of thing he's trying to deal with."
Progression: Can he play pretty much what he played on the most recent tour, for example?
Lake: "I would say he couldn't at the moment, probably."
Progression: So what does this portend for the '95 25th anniversary tour you're hoping to do?
Lake: "I don't know."
Progression: Are you still planning to tour?
Lake: "If he's well enough. If he's well enough we'd like to, because of course it's the 25th anniversary and we'd like to go out and do something. But obviously we wouldn't want to do it unless we could do it properly."
Progression: So it's up in the air at this point?
Lake: "At the moment, it is a bit, yeah."
Progression: Was Keith's arm problem a factor in the recording of In the Hot Seat?
Lake: "Yes. I mean, it was an arduous task at times, because he could use only three fingers on that hand."
Progression: I wondered about that, because it seems, by ELP standards, to be a relatively sedate album. Wouldn't you agree?
Lake: "It depends in what terms you're talking about."
Progression: I mean in terms of the progressive orientation the band is known for - the intricate, aggressive stuff
Lake: "Yeah, probably. Probably you're right."
Progression: What did Keith and Carl (Palmer) have to say about your effort with the Sara Anne Wood foundation and "Daddy"?
Lake: "They were supportive of the song and the concept of it. And they obviously were keen to donate the royalties, because we've all got children, and we all feel the same way about it. The campaign really isn't a campaign. It's just happening, and nobody's being consulted. Stuff's just taking place minute by minute, and we're just doing what we can to raise the money and get as high a profile as we possibly can for the charity.
"There was no preconceived arrangement. We really didn't realize it was going to explode like this, is the truth of the matter. We thought the record would get some attention because of what it was, but we had no idea it would go off with the bang that it has."
Progression: It's interesting. What this makes me think of is Eric Clapton's "Tears in Heaven."
Lake: "That's been mentioned before. It's just something that hits right home to the very foundation of a person's being. We've all been children, a lot of us have children, and I think it's a very deep-rooted concern. Every time you hear of one of these things, it makes you shudder.
"I mean, if someone dies my age I've had a good life, you know what I mean? That's one thing. But children haven't even started. That's a particularly devastating thing. The parents suffer tremendously. There's all this horror, frustration and pain going on.
"That's why the Sara Anne Wood Rescue Center is a good thing, because it goes into homes and tries to help these parents and counsel them. You've got people there who know what they're dealing with."
Progression: Back to the new album - are you happy with it?
Lake: "Some of it. Some of it yes, some of it no, but I think that would be true of any ELP album that I've ever been involved with. I think that's the nature of the group. And I think we wouldn't necessarily agree on what would be the best moment on the album."
Progrcssion: Do you see the band continuing after the 25th anniversary tour, if there is one?
Lake: "I don't have a crystal ball. You really never can say. I mean, I think if there are fans out there who would like to hear the band play, I think we'd play for them. Because ELP is like a soundtrack for people's lives. I get some incredible stories told to me.
Progression: You mean people getting married because of ELP, people naming children after members of the band, etc. ?
Lake: "That would be the sort of ordinary story. But I'll tell you one I haven't shared much. We were in Budapest, Hungary about a year ago, and we're playing 'Pictures At An Exhibition.' I see a guy down front and I see these tears streaming down his face. You don't know what to think, whether he's on drugs or whatever.
"So I didn't pay much attention and we came to leave the show and I see him there by all these people at the door waiting for autographs. I see him at the back, and he's still obviously distressed by it all. So I say to the roadie, 'Go and get him, I want to talk to him and see what the matter is.' He brings the guy over, I put my arm around him and say, 'Listen, man music is not that important, you know what I mean? You shouldn't get that upset over it.
'Then in this sort of pigeon Hungarian-stroke-English, he says, 'You don't understand. Fifteen years ago, the Russians put me in military prison for six months just for owning a copy of Pictures At An Exhibition. I've waited 15 years to see you guys.
"Of course, all the memories from his imprisonment and from the Russian domination had come up. Throughout his whole life, he had never been free, like you and I have been free. He was never free. And at one point they put him in prison for six months - and hurt him in there - just for owning a copy of an ELP record.
"It's when you hear stories like that, that you think, 'I tell you what if he wants to hear 'Pictures At An Exhibition', I think we'd better play it!"
Progression: Let's step furthur back in the past for a moment. What did you do with yourself between the end of Emerson, Lake & Powell and the reunion of Emerson, Lake & Palmer - roughly the period between 1987 and '91 ?
Lake: "Not a lot. I had a recording studio for a while, and I did a period of writing with Geoff Downes, the keyboard player for Asia. I buggered about with technology a lot, which is what I did. I just really got into programming and computerized music, basically."
Progression: Did you consider releasing anything?
Lake: "I did. From time to time the thought occurred to me that I might put out an album, but not really. I think if I'd have been serious about it, I would have done it."
Progression: The ELPowell album, it seems, was terribly underrated. It had some nice tunes on it like 'Learning to Fly' and 'Love Blind.' It struck a nice balance between complex progressive and more basic music. Why didn't ELPowell make another album?
Lake: "Emerson, Lake & Powell was a good band, I think. Cozy's certainly a good drummer. I think, though, that the chemistry of the band wasn't right. It's hard to really be objective about it, because being inside the band you only see it from that perspective.
"1 think had it gone on, it may well have found its feet and got a direction. The trouble with these things that get put together is that it's rather like being the son of a rich and famous father. You've always got something there to live up to. Instead of being able to naturally and organically grow from a beginning and develop, you're so conspicuous from the very inception. You never get a chance to really blossom.
"You're sort of reviewed and viewed the moment the seed's planted. As to why (ELPowell) didn't carry on, really I think that we did it for the wrong reasons. We were offered a lot of money to put ELP back together again, and Carl was in Asia. Keith and I both felt a bit uneasy about it, but at the time we felt 'Well, you know, why not?' But I think in retrospect, it's probably one of those things I wish I hadn't done.
"I mean, not that it was so terrible - nobody has to buy a record or buy a ticket, so it's not something I lose sleep over. But artistically, probably, I think it was something put together because it was there, rather than because there was something artistically compelling about it. There certainly were some good things on the record; we certainly took a lot of care in making it.
"I don't think it had the significance of the music that Emerson, Lake & Palmer had. There's some chemistry in this band that is unusual. It's not that we're such great musicians, but the chemistry of the three of us together produces an unusual result."
Progression: Do you keep in touch with Robert Fripp or any other former King Crimson members?
Lake: "Yes, I do. I spoke to Robert fairly recently. I see them all from time to time."
Progression: What do you think about the King Crimson reunion?
Lake: "Bob's always got something on the go. He puts these things together, but really, it's him with various other players - session players and such. Which is quite OK, really. It's Bob living out his different dreams from time to time. The last time I spoke with Bob, we were talking about reforming the original King Crimson to do a record, or something like that at some point. It'll depend, I suppose, on the timing of it all."
Progression: So it's possible you could work with Crimson again?
Lake: "Yeah, I'd certainly like to do an album at some point, if only for old time's sake. It was a very unusual group."
Progression: How long has it been since you've performed "2lst Century Schizoid Man"?
Lake: "I actually played it in the early '80s when I was working on solo albums and had a band with Gary Moore. Gary liked it, so we played it. I think he liked it because of Bob's guitar figures."
Progression: Would it make any sense to compare and contrast Crimson and ELP,as far as your involvement with the bands?
Lake: "Only in so far as they were both extremely intense. The intensity of the music, I think, is the similarity. And of course the fact that most rock music is a derivation of blues or black music, whereas both King Crimson and ELP were not. They were both European in terms of musical style."
Progression: I understand that you recently quit smoking. Congratulations!
Lake: "Yes, thank you."
Progression: Did you do it to save your voice?
Lake: "I did it for general health, really. I just got fed up with it. You do it and you do it and one day you just get fed up with lightin' them up and carrying them around. I've done it a few times - don't know how long it will last."
Progression: Well, your voice sounds stronger. Is there any connection there, or has it just gotten in shape from all the touring?
Lake: "I don't know. I think it does get into shape. I mean, when we started this time around I hadn't been singing on a nightly basis for years and years, and it kind of knocks you around, you know. But yeah, I feel pretty strong now.
Progression: You're starting to hit some of the upper registers again...
Lake: "Yeah."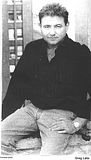 Progression: In the past, you've described yourself first and foremost as a guitar player. Of course, you do some excellent bass and acoustic guitar work with ELP now, both in the studio and the shows. Why don't you play electric guitar in concert anymore?
Lake: "I'm really not a great electric guitar player. I used to be when I was a kid. Fripp and I used to have guitar competitions - he and I were the local hot guitar players. It was when I played bass with King Crimson that I started off bass playing. It sort of went year to year, and I never got back to playing electric guitar.
"The reason I don't play electric guitar in this band is the fact you really need a bass player in that situation. Or, Keith's got to do it. And if he has to take up half his brain doing the bass part, it's kind of a strange situation.
"But we've talked about sequencing some of the bass parts on certain things, especially if they're not really demanding in a musical sort of way, from an interpretation standpoint. That would free me up to play guitar for an interesting sonic change in things. I'd quite like to do that."
Progression: Will your two solo albums ever he released on compact disc?
Lake: "I don't know. But a lot of people ask me about that. I think we're in the process of trying to extract them from Chrysalis, which is the record company that holds them now. I know it's being looked into."
Progression: Are you still in contact with Pete Sinfield?
Lake: "I haven't spoken to Pete for quite some time."
Progression: Do you have any plans to work with him?
Lake: "No, not right now.
Progression: What can you tell us about the concept behind the Manticore label?
Lake: "Well, the Manticore concept started off because we were fed up with our management being mishandled, basically, so we decided we'd take it over ourselves. And we went on with this scheme to the point where we thought we'd form our own record label.
"The principle behind it was we were going to get people whose music we believed in, and have a label that supported that kind of music."
Progression: Was the intent to make it a progressive rock label?
Lake: "Yes, it was. Well, not just progressive, but music we thought was worth turning people onto, that other labels, for whatever reasons, didn't want to support. We felt at that time we could help them achieve their ends. What we didn't bank on was the fact that we were so busy ourselves that we really didn't have time to properly administer a record label, although it was distributed through Atlantic.
"We just felt after a while we didn't have time to do it properly, so we just stopped it."
Progression: PFM was a real find for Manticore.
Lake: "Great group. Really good. We're still friends with them."
Progression: They're not still active, are they?
Lake: "I believe they are, actually."
Progression: "Karn Evil 9" is considered by many diehard ELP fans to be the band's definitive statement. Why hasn't it been given much attention by the band since the reunion?
Lake: "You mean in live performance? I guess in the two hours we've got, you have to prioritize what you do. We try to change things around from time to time. I'm sure it will come in at some point. But we want to play the new things and a variation of the old things that people want to hear. There is only so much you can do."
Progression: You don't have a problem with the piece do you?
Lake: "Oh, no. We used to play it before."
Progression: At the time, what did you think of Keith and Carl's work with Robert Berry in 3?
Lake: "To he honest with you, I never heard it. I never ever heard it."
Progression: You never heard the album?
Lake: "Nope. I never heard the album and I never saw the band live."
Progression: Was it because you didn't care to? Did you intentionally avoid them?
Lake: "No, it just never crossed my path and I never went out of my way to hear it, particularly."
Progression: Is there any solo unreleased material youre sitting on that you might release someday?
Lake: "Not really, not really. Like all people I have a lot of unfinished ideas that for one reason or another never reached completion. But nothing in recorded and completed form."
Progress ion: Any thought about doing another solo album?
Lake: "Yeah, I'm thinking about doing one, but it will depend largely on the amount of touring we'll be doing."
Progress ion: What do you envision for your solo album?
Lake: "A guitar-based record."
Progression: Similar to your previous solo efforts?
Lake: "Not really. They were very diverse. With Gary in the band, we went in all directions. They weren't very focused at all. I think if I did another album now, it would be much more focused."
Progression: Were you unhappy with those albums?
Lake: "No, I wasn't actually. But looking back on them, I see they were all over the place - country songs, metal songs, all kinds of things. They weren't efforts I had given too much thought to."
Progression: It seems that whatever you do, though, you can't avoid making some beautiful ballads. Both those albums have some nice songs on them.
Lake: "As a singer, I like rock ballads. And probably any solo album I make would veer that way.
Progression: Are there any musicians you'd like to work with?
Lake: "Oh, yes, hundreds. There's all kinds of people I think are inspiring."
Progression: The Ride the Tiger collaboration with Geoff Downes was what you were into right before ELP reunited. Can you make any comment on how far you got with that?
Lake: "Not really. Geoff and I wrote several songs which, funny enough, ended up on on both the Black Moon album and Asia's record (Aqua). We thought at one time about putting together a project and putting it out. But it didn't happen - (ELP) took over and Geoff was involved with Asia."
Progression: Do you have a favorite ELP album or song?
Lake: "I couldn't honestly say that I do. Obviously 'Lucky Man' has been very kind to me and to us as a band. Certainly the early albums would be the fondest in my look back - Trilogy, Tarkus, Brain Salad Surgery. After then, I think the band became fatigued, and it got very diverse and into all sorts of things. We really probably should have stopped earlier to do solo things and get that out of the way and get refreshed."
Progression: So in retrospect, you think that maybe the band should have stayed together only with more of a break in the middle period?
Lake: "I think it should have stopped making albums and touring at such an intense level earlier on in its career. Of course, that s something you only realize in retrospect."
Progression: And if that had happened, could you have seen ELP continuing on through the '80s?
Lake: "Yeah, I think that's probably true. The fact we got burned out so badly really made us step back from it and take a long time to feel like playing together again."
Progression: What do you listen to these days?
Lake: "Not a lot. I listen to odd things. I just bought a Jerry Rafferty album which I think is superb. I love Jeff Beck's records. I really don't listen to an awful lot of music. You play every day, and I've heard most of what is out there during my 30 years of what you'd consider classic recordings, and I don't have much time for the new stuff. I think it's all too homogenized and bland and unartistic."
Progression: You had written "Lucky Man," even before ELP...
Lake: "I composed 'Lucky Man' when I was around 12, 13 years old. Strange, eh?"
Progression: I suppose back then you didn't envision the now famous synthesizer solo in that song.
Lake: "No, no, no. It was a very naive song. It just sat in my mind. I didn't even write it down. During the making of the first album we had come to the end and I remember the band looking around wondering if anyone had any more material. We had like 17 minutes on one side and needed another 4 minutes of music. And we only had another day or two left in the studio and that was it.
"Nobody had any ideas, so I said, 'Well look - if nobody's got any ideas, I've got this little folk song I wrote when I was a kid.' I thought it might make for some filler."
Progression: It was an afterthought then?
Lake: "Yeah. So then I played it and there were these looks of gloom. But I said 'Let's give it a try, you never know what might come of it.' So they said OK.
"Carl and I went off and recorded it; it started off as a drum and acoustic guitar song. It sounded pretty dreadful. Then I put bass on it, and it didn't sound so bad. Then Keith put the synth part on it and I overdubbed some voices on it, and by the end of it all it was quite a big recording.
"So when we put it on the album we thought at least it would do to fill that space. Of course, as unlikely as it was, it really bit into radio at that time and became one of those things that stuck.
"Sometimes the simplest, off-the-cuff, spontaneous things are the things that relate easiest to people. The more contrived one becomes in writing, the more difficult it can be to understand.
"That can be good sometimes, because it can mean people can get into things and hear different things further down the line. But certainly when you talk about a song that instantly needs to communicate, then I think a simple bit of inspiration is as good as anything."
Progression: Was anything on Black Moon carried over from the '70s?
Lake: "Only in as far as the band is what it is. We didn't design that album to be an album of the '90s. I mean, it's just us. It was two-thirds written before we actually decided to release a record.
"People say the format of that album is the same, and it probably is because we're the same band. Apples never fall far from the tree. I play acoustic guitar and there's an acoustic guitar song on there, Keith plays Hammond so there's some Hammond on there.
"I think the style is what has been maintained, and the principle of making the music. You see, what we do is make music to play live, then record it. Most people make records, then figure out how to play them live. So we go about it sort of arse backwards. We never try to second-guess public taste. We never try to design material for the radio, and that's been really what has endeared us to people who do follow us. We've sort of made music that people believed in, and that's what they like about it."
Progression: ELP attempted a reunion in January 1987. Why didn't it catch on?
Lake: "I think at that time, if I remember rightly, Keith had an accident on his motorbike. We were intending to go out and do a tour, is what it was. But that got stopped."
Progression: That was right after ELPowell. What was the nature of the accident? Was it to the point where he just couldn't perform because of his injuries?
Lake: "You know, I just don't know. I know we couldn't do it."
Progression: And after he healed, you didn't think about trying again?
Lake: "I can't remember what happened at that point. Maybe I was starting to work with Geoff and put my studio together. But I do remember we had plans to do a German tour."
Progression: So from a band standpoint, it felt OK at that time.
Lake: "We've always felt OK. I mean, people have this image of us that we fell out and had these huge rows. But that was never the case. We just felt at the end of the '70s that we needed to stop. We didn't feel creatively that we could really produce good things anymore. We felt tired, physically, mentally tired.
"In fact, we wanted to stop before Love Beach. We had this contractual commitment with Atlantic.
Progression: I'm probably one of the few people on this planet who actually liked Love Beach. "All I Want Is You, "for example, is a wonderful song, and I'd love to see "Canario" performed live.
Lake: "I think Keith quite likes some of the stuff on that album. There were some nice things. But the fact was that we were coming to the point where we had some nice ideas, but not enough nice ideas. There was not enough energy to see it all through.
"You had a few things to work with, but not enough energy and power to carry it to its full conclusion. It does take an enormous amount to make what I would consider a great album, not just by us, but by anybody. It takes an enormous amount of energy and input, and you just can't do it when you're burned out like that."
Progression: You have always been a big hit in Japan. Are you aware of the great progressive rock scene there?
Lake: "Yes. And there would be one here, too, if not for the media and the record companies being so greedy, really."
Progression: What's the antidote for that?
Lake: "I think the only antidote for it, really, is that people stop buying rubbish - not to continue being passive victims of market research."
Progression: But it's a vicious cycle, because when that's all they're exposed to, that's all they know - especially the young kids.
Lake: "I see some young people at our concerts. It's not so much that they're into ELP, it's just that they're so fascinated by something different. They're going to see a band that's different. And they're really happy, you know? I really do hope that something Iivens things up, because otherwise, I think you're looking, sadly, at the end of an era.
"I know it's not so bad that everything comes and goes and that's OK, I suppose. But certainly, if music was to continue in the way I think it should - and that is for it to be original, and move forward - then there's got to be some new music, and there's got to he some people prepared to take risks and encourage young artists to create the music for their own time.
"All I see is young artists trying to recreate the music of my time, of the '70s. It's a shame. The main point is there's a shortage of original and exciting music, and I think that is more important than anything else.
"It depresses me to see all these metal bands that are the same. You could interchange any of those guitar players and it wouldn't matter. They would look the same, sound the same, no problem."
Progression: It seems to be all image related.
Lake: "It is, and the music is image oriented. I mean, listen to Metallica and Guns and Roses, then listen to Led Zeppelin. They've gone backwards, not forwards. Not only are they not better, they're actually not as good.
"There's no character in the music. In the '70s, you would listen to Hendrix, who would have a definite style. You'd know as soon as he started playing, that was him. I don't hear that today. They've all got the same licks, it's all the same sound, all through the same processors. It's all become like that. I just wonder how long it can exist like that for it to have any meaning at all."
Progression: It's happening at a relatively grassroots level, but there is a resurgence of interest in progressive rock. It's happening.
Lake: "I tell you what, it would take only one band to come out and be great, and all of a sudden the record companies would be going wild. The only problem is then, they'd have to find people who can really play, and all they've done is discourage that over the years by encouraging kids to sit in their bedrooms with computers."
Progression: Greg, thanks for your time.
Lake: "It's been a pleasure, man. Take care."
(From the back cover of the magazine:)
Somewhere, in remote China...
Master: "Do you hear that faint sound calling from over the mountain, my son?"
Grasshopper: "Yes, oh master, it quickens my heart! I feel my blood pulsing through my veins! it's so ... invigorating! But yet, it makes me think as well, as if I were contemplating love and hate, birth and death — all of life's mysteries, in one single moment. Oh master, what is it?!'
Master: "It is that great and wonderous enigma, my son. They call it, progressive rock ...
Grasshopper: "Progressive rock? How do you define it?"
Master: "You kidding? I wouldn't touch that one with a 10-foot bamboo pole. But of one thing, I am most certain, my son."
Grasshopper: "And what is that, oh master?"
Master: "We know it when we hear it!"