WELCOME BACK MY FRIENDS...
EMERSON LAKE & PALMER RETURN WITH THEIR FIRST ALBUM FOR FOURTEEN YEARS. MARK CRAMPTON GETS THE SEAL OF APPROVAL AND DELVES DEEP INTO THE HEART OF 'BLACK MOON'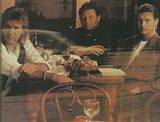 EMERSON LAKE & PALMER, the Seventies 'superband' that was born out of the early infusions of the late '60s Progressive Rock era, formed in 1970, its individual components having run their course in bands such as THE NICE, KING CRIMSON, and ATOMIC ROOSTER. Their eponymous debut was released in the Spring of '70 and set a precedent which evolved and blossomed on albums like 'Tarkus', 'Pictures At An Exhibition', 'Trilogy' and 'Brain Salad Surgery'. ELP reigned supreme and pushed the technology of the day to its limit.
Fronted by Keith Emerson's mindboggling keyboard wizardry and showmanship, Lake's lyrical choir-boyish charm and Carl Palmer's thunderous percussive attack they propelled themselves into the history books, conquering charts and concert halls worldwide. Vocalist/bassist Greg Lake christened it "a Golden Age For British Music".
On the release of 'Works Vols.1 & 2' ELP tirelessly toured the globe with an ever more elaborate stage show complete with orchestra and an enormous state-of-the-art sound system. However, the Punk revolution and an expansive touring schedule took its toll however when in 1978 they released 'Love Beach' which found them exhausted musically. Caught between two stools, the indulgences of the '70s and the commercial constraints of the impending '80s, they split...
Fourteen years down the line, 'Black Moon' their 12th album, sees ELP back in business with a record that delivers a wealth of music very much in the classic ELP mould but sounding fresher and streamlined for the 1990s.
In today's computerised, conveyor belt musical climate they've resisted the obvious trappings going instead for sounds they feel are true to their music.
"We've predominantly tried to use sounds that are more organic," emphasises Greg Lake.
Indeed, that 'organic' quality which Lake cites is none more evident than in Keith Emerson's Hammond Organ, which the keysman feels has always been a predominant factor within their overall wall of sound.
"I never felt that I'd ever achieved the ultimate Hammond sound but now I think I've just about got it. You've got to abuse the instrument a lot to get it to Rock!"
From the industrial, urgency of the title track to the grand finale of Greg Lake's poignant 'Footprints In The Snow' ELP are unmistakably back with one 'cracker' of an album. They have created another masterpiece that is a direct descendent of classic albums such as 'Brain Salad Surgery' and 'Tarkus', although I'd draw more of a comparison to their debut 1970's 'Emerson Lake & Palmer'.
Keith Emerson sees the interim period between the band's split in 1978 and the recording of 'Black Moon' as having been constructive to their reformation.
"We've got the advantage that all of us have had experiences of working outside of ELP and coming back together we can reintroduce each other to the different things we've learnt."
In that interim period, they've done their own things occasionally criss-crossing paths in various bands such as ASIA, EMERSON LAKE & POWELL and '3'. Palmer enjoyed more of the limelight as a member of ASIA while Emerson branched out into writing film scores and Lake produced two solo albums. The current reunion happened purely, it seems, by accident...
"We were approached by Phil Carson, President of Victory Records, about the possibility of doing a couple of tracks for a film score," recalls Emerson. "So we started playing again, it was so great that we decided to make an album."
It seems that they've all reached a point in their careers where they feel comfortable with each others contributions. Lake believes that because of this rekindled chemistry 'Black Moon' stands as the most accomplished record ELP have ever made together.
"I think we all heard something none of us had heard for many years, and that is the real power, the sheer dynamism of ELP. I never did quite understand how this band works, but it does work, its character was built out of the three personalities in it."
Keith Emerson is somewhat more philosophical about things, "It's like having been married for a long time, then had an affair - there's always that sort of feeling that perhaps it was better before."
ELP are very proud of their past and of their old albums, and see 'Black Moon' as a direct descendent and continuation of that legacy. They've embraced new technology with open arms without sacrificing any of the personal touches they're famed for.
"In the '70s technology did not move fast enough. We found ourselves running out of new things to do because the technology wasn't available. That was one of the reasons we moved into using orchestras," reasons Lake.
ELP have now embarked on an extensive tour to promote 'Black Moon', starting in the US and Canada, before coming to Europe in the fall, and for all those ELP fans who've been stuck in their closets awaiting their return the sight of seeing Emerson, Lake & Palmer in the flesh is something which, as Lake recalls, is an event not to be missed.
"ELP were always a live band, the records were always a secondary consideration."
The enthusiasm for playing live again is something that each member of ELP relish the thought of, especially drummer Carl Palmer.
"We can't wait to get back on stage and play these songs live. It'll be the first time in 15 years that we've played live together again, and if it's anything like making the record, it's going to be a very special occasion. It's going to be fun, it's going to be a challenge and I'm going to enjoy playing some of the older stuff in today's environment with today's technology."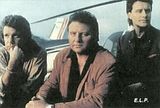 In today's current musical climate of 'fashionability', the conviction of ELP strikes the right chord - still a band able to take risks and unafraid of its own legacy.
"We wouldn't be doing it if there wasn't a call for it, we'd be wasting our time and everybody elses," states Emerson.
ELP's recorded legacy has always been in demand and has been passed down to a new generation of listeners as Carl Palmer points out.
"The old albums still sell, the back catalogue is still remarkably strong in America where classic Rock radio is still playing our stuff it's almost a religion."
As part of that loyal following I personally feel that there's no compromise in this new album. For better or for worse, for richer or poorer no one could ever mistake 'Black Moon' for anything other than ELP. It seems that the last fourteen years wait has proved well worthwhile, it's as if they'd never stopped making albums. Summing up, Keith Emerson reasons that the band's name has a quality stamp of individual merit which appoints itself firmly to what the listener would expect.
"If people have got the money to buy a record they want to buy something that they know they can rely on. ELP is like an establishment, and even if you'd never heard the music but new [sic] the name, I think that's an attraction in itself."
MARK CRAMPTON