Black Moon Risin'
Blazing cannons saluted the launch of ELP back in the super-group Seventies. Now with a new Album, 'Black Moon' in the can, CHRIS WELCH welcomes back the show that never ends.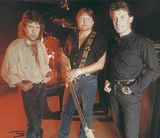 Roaring keyboards, thundering drums, flashing knives, cracking whips, full-blooded vocals and soul-stirring anthems. The sight and sound of Emerson, Lake & Palmer in full cry was entertaining and awe inspiring.
The trio were at the forefront of technology, pioneering the use of synthesisers, and special effects. The music was a sometimes bizarre, anarchic mixture of Aaron Copland, Mussorgsky and Bee Bumble & The Stingers! From 'Pictures At An Exhibition' to 'Nutrocker' they played anything they liked, with astonishing power, and usually at breakneck speed. And they created their own kind of sci-fi Heavy Metal, with such menacing creations as 'Tarkus'. ELP played their debut gig at the Isle Of Wight in 1970, touching off two cannons that signalled the start of an extraordinary ten year career. They roared round the world, with ever more elaborate stage shows, and a succession of hit albums, including 'Tarkus' and Pictures At An Exhibition'. Brilliant pianist and composer, Keith Emerson formed the band in 1969 with ex-King Crimson singer and bassist, Greg Lake. Keith, formerly with The Nice, absorbed all kinds of influences, from Jazz to the classics. Greg, a rich, melodic singer, brought lyrical depth to their instrumental fire power. Completing the unit was Carl Palmer, the fastest drummer on two legs!
An ELP concert at its best was a thrilling experience. They marched to glory alongside Led Zeppelin, Deep Purple and Yes. But success and hard work brought a heavy toll on their nerves. The battle to keep up the pace resulted in tension, and the disappointing 'Love Beach' album in 1978 signalled the end. Keith devoted his time off the road to writing movie scores, then formed the band 3, and even revived ELP briefly, with Cozy Powell. Carl spent the Eighties with Asia, while Greg played with with Gary Moore.
1991 saw the original ELP set to reform. Encouraged by Victory Records boss Phil Carson, they began work on a new album 'Black Moon', produced by Mike Mancino and due for release in May. Keith, Carl and Greg gave Rock World this exclusive insight into their hopes for ELP in the Nineties.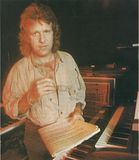 Keith Emerson
How did Keith feel about the reunion?
"It's quite amazing," says Keith. "I feel optimistic about it because we have all our old friends around us. I've always felt this nervousness about working with other people. You don't know how they're gonna react or behave. I've worked with some fine musicians, but when it comes to getting a band together it's a different story. You worry about how the guy will be on the road. I've had some really good working situations, but sadly they didn't come to fruition. Being with ELP, the family is back again. We all know each other's idiosyncrasies, and in the autumn of our years we have become more forgiving, which is a very important quality!
"In the early days it was a very volatile union between Greg, myself and Carl. We didn't know from one moment to the other if anything was gonna blow up, emotionally. And it reflected in our stage performances though that's not a bad thing. Now we work together and a lot of the strain has been taken out of it by having a producer. I didn't think Greg would want to be removed from that area of control. That was one of my worries. But we all agreed, before we went into the studio: 'You play the bass, you write the lyrics, I'll play the keyboards and Carl will play the drums. We'll keep each other informed on a business level. We'll let the producer produce and the manager manage! Then we'll be okay'!
"In the past we took on too much responsibility, and it just wore us down. That was part of the problem. For many years I didn't want the band to come back together. But I found myself comparing whatever I did after ELP to the past. A lot of what I did was excellent, but there is so much more to a band than just the music..."
Keith recognised it was difficult for a non-singing keyboard player to establish a solo career.
"Don't laugh! I sing so bad, deaf people refuse to read my lips...but I often feel, if I had a voice, I might have been able to hold my own band together. But I have been able to utilise my keyboard abilities in other mediums, like writing film scores. Eventually I'll end up being just a composer. I love sitting down and writing."
Keith is pleased with the new album and came armed with sheaves of material, but wanted Greg and Carl to feel happy playing it.
"In the past I have demanded: 'Look you guys, either you play this, or I am not gonna be in this band - na, na, na!' That always caused problems, but...I'm not like that anymore. I haven't fallen in love with the pieces until I'm sure everyone is happy."
Emerson buffs will be delighted to know he's using his old Hammond organ, beefed up with modern technology.
"That's why it came out so sexy on the album. I'm using my old Moog synthesiser, too, as part of my keyboard set up."
Will Keith still be throwing the famous daggers at his organ?
"If I put me glasses on! It's one thing I'd rather not plan on. People have always thought of me as an exhibitionist. But I'm not, I'm pretty quiet actually. Until I get on stage, I don't know what is going to happen. But I feel optimistic about it all.
"It has to work this time, because I'm not going to give it another go."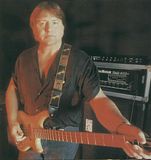 Greg Lake
Greg Lake admits, after some years off the road, it was a challenge to return to the vocal demands of ELP.
"It took some doing. It was a bit of a shock to the system! But I'm very happy with the record. There are some good songs on it, and we know we can play it live, because we've done it in rehearsal. We've got good material and everything is a great improvement on the way we used to work.
"I wrote all the lyrics, and there is quite a variety of songs. It's the same old thing really, but hopefully we have done it better. 'Farewell To Arms' is a nice song, which is restrained.
"When it gets to the chorus you think it's gonna go - but it just stays there simmering. A lot of the album was written during the Gulf crisis. The song 'Black Moon' came when I saw the oil wells burning in Kuwait. Another song, 'Burning Bridges' was written by the producer Mike Mancino who is a great talent."
The reunion?
"It was timely and something we all wanted to do. For all of us ELP was the best thing we'd ever done. Also the climate is right. There has been so much computer-driven music, we felt it's time for some live Rock music. When we started in the Seventies, it was meant to be progressive music, in the true sense of the word. Music was going places, and now it's going nowhere. It's even going backwards! It's not that we were so wonderful. It's just that the band had a certain power I've never felt anywhere else. To feel that energy again is great. Emerson, Lake & Powell did a tour in '86 - but the chemistry wasn't right. We are very happy to be able to play together and we have learned to value each other a lot more. Absence makes the heart grow fonder!"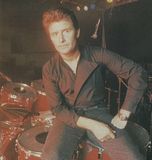 Carl Palmer
How did Carl view the revamped ELP?
"It's obviously very fresh again, because it's been a long time since 1979, when ELP broke up. We did try once before and wanted to go on tour, and play and have some fun. But we had some problems. Keith came off his motor-bike and sprained his wrist, so nothing came of that! It's fresh for me after being in a songs-orientated, formulated rock band like Asia for ten years. We have new technology now, which is really good for this type of music. When we played things like 'Tarkus' on stage, Keith couldn't have the piano going along with the Hammond because there wasn't any MIDI then. We put it on the record but we couldn't reproduce it on stage. So it's a lot healthier now. This is a perfect time for ELP to come back because we've got a lot more access to a lot more gadgetry.
"When we go on tour I'll have a hard disc which stores up to twenty drum programmes and each programme has 16 sounds. At the push of a button I can have a new drum set with all the levels perfect every time. There should be no reason for not hearing me!"
Would ELP come back with special effects on tour?
"I think we should, without making it look cabaret. You want to see Greg on his carpet and Keith sticking the knife in. I'll go round in circles again with my revolving drum kit... I see nothing wrong with that, as long as it looks better. We've got to be up date... maybe I'll go round the other way this time!"