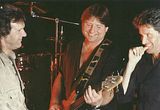 With A Little ELP From Our Friends!
By the gods of Tarkus, in the land of Karn Evil, ruled by the sign of the Black Moon...yes, all right, we'll get on with it...ELP are back! The powerhouse trio who personify progressive rock are enjoying an explosive reunion tour, as CHERYL MOSS reports from the States, with a little help from CHRIS WELCH.
Keith Emerson, Greg Lake and Carl Palmer, are proving on their 1992 world tour that progressive rock is in safe hands.
One of the those lucky enough to witness the triumphant return of ELP was Radio 1/Rock World contest winner, Cheryl Moss, from Enfield, North London. Cheryl was flown to Boston, USA, to see the band play a concert at Great Woods Centre, and meet Keith, Greg and Carl after the show. "It was the first time I had seen them and they were fantastic," said Cheryl.
Cheryl won her prize to visit America and meet ELP when she heard the special Rock World launch contest on Radio 1. At a party after the show, she was introduced to the band. Carl was intrigued by the fact the Cheryl (25), worked for Enfield Council as a re-cycling officer. "I used to live near there myself - what a small world!" Cheryl was amazed, not because they were almost neighbours, but at the incredible energy that Carl in particular put into ELP's show and his spectacular drum solo. "Its not that tiring - it just looks it!" Carl told her. "I've been doing it a long time. Yes I do drop drum sticks occasionally - Chris will tell you that! But I've practised picking them up. Sometimes I get bruised during a show, but it is well paced so that the middle part is easy and it gets hectic towards the end. So I get a rest! I like to keep fit, and I'm doing fencing and that keeps my weight down. I don't drink a lot, because when you drink you sweat a lot and get tired."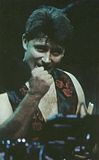 Cheryl asked how the audiences had reacted since they last played together, a decade ago. "It's been pretty amazing. With all the new technology everything sounds better. But it takes longer to set up these days. My drums look acoustic, but they are actually electronic."
Carl explained to Cheryl that the secret of ELP's precision on stage was rehearsal. "We rehearsed for six weeks before we went on tour. Believe it or not, you can't play for more than three hours a day in a row. You have to remember stuff, and we're going 'Oh do you remember that song we played in 1973?' It takes forever to learn it, because you haven't done it in a long while.
Four hours is excruciating for me, so I prefer to make a list and go home and learn it from the record. Then I can walk into the rehearsal and play it."
Carl reported that the band was thoroughly enjoying touring again and looked forward to playing at London's Royal Albert Hall in October. "We've had a great time. We have a lot of fans in the States and it was great to come back and play to them. ELP did return with another drummer whose last initial was 'P' (Cozy Powell). That was while I was in Asia for most of the Eighties. But the original ELP stopped in 1978. Before that ELP worked really well for nine years, so there's no reason why it shouldn't work again now. Music is down to whether you want it to work. We didn't have an argument and break up. That is the truth. So we haven't come back with any grudges about the past. We don't socialise a lot, but we work hard together, and there is a certain chemistry between us on stage.
"You could have three better musicians together and it wouldn't be as good! We all grew up listening to similar types of music, classical and jazz, while Greg likes folk music a lot. Keith and I have a similar jazz record collection, and we all liked The Beatles, because we are all old!"
Keith Emerson, fending off autograph hunters, agreed with Carl that the band's return to the world's rock stage had been a heart warming experience, if not a heart attack inducing one! Only minutes before he had been crashing his famed Hammond organ around the stage and attacking it with daggers, just like he did in The Nice, back in the Sixties.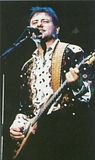 "It's been an amazing reaction," said Keith. He revealed he had been nervous about the whole business of getting back into touring, and for a very alarming reason.
"I was feeling apprehensive because two years ago I broke a finger in my right hand through a silly accident, which I'd rather not talk about. Although it healed, it left the finger weaker, and I had a lot of pain in my right hand. The break developed a lot of excessive calcium to help it heal and I had to go to a clinic for therapy. The incident left a psychological scar and for a while I couldn't play. I was so worried that I actually went to get a job - as a motor-cycle courier. I didn't tell them who I was - I just got on with the job." It would have been tragic indeed if one of the finest keyboard players in rock history had been unable to play in public again. But Keith gradually regained his confidence and faced up to the task.
"I was so relieved when we did our first concert of the tour. It was in Philadelphia and it was really nerve-racking. But it turned out to be a really good gig. I still get a bit nervous on stage. In fact I'm ALWAYS nervous, but not as bad as I used to be in the Seventies, when I used to get horribly nervous before every show. Audiences in the States have given us marvellous support, and you can feel great love and warmth from them, which is really wonderful. There are a lot of our older fans, of course, but a lot of people have never seen us before."
Greg Lake added: "It's been very revealing to see all the young kids listening to ELP. We don't claim to be the cleverest band in the world, but we try and play good music. The nice thing is the new songs are going down well and that really makes me think the band has a real future. We put ourselves to the test every night, and it's a bit like a trial by fire!"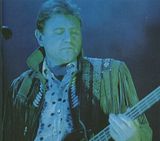 ---
The Moss Report
Winner Cheryl writes about being a rock journo.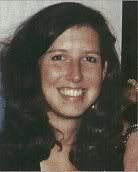 Besides meeting the band I was able to see what it is like to be a rock journalist. Who hasn't wondered what it would be like to be a part of the glamorous world of rock'n'roll? Well, being a rock journalist is definitely NOT the glamorous side. There's long hours of waiting in queues, waiting for lost luggage, waiting for photographers, waiting for tickets, waiting for the interview and waiting in more queues. Basically, there's a lot of waiting.
Now here's the upside. You travel to exciting countries, see the best concerts, meet the rock stars and get a chance to talk to them away from the spotlight. What did I enjoy most? Seeing a fantastic concert, hearing music that was so well performed and well received by the entire audience, and getting the opportunity to meet with Keith, Carl and Greg and realise they are normal people living extraordinary lives. One other thing I will remember is going on a trip to New York, where we visited the Peculiar Pub in Greenwich Village, which has a menu of 250 beers from all over the world. It was there I heard Chris cheerfully ordering "Two beers please" to which a tetchy waiter replied, "Can you be a little more specific?"

Would I like to be a rock journalist? I would have to say it is a career better left to people like Chris Welch, who have the patience to wait, know what questions to ask, and have the ability to live in a state of constant jet lag. It was great fun for a week, but I don't think I could handle it for very long. Thanks to everyone at Rock World and Radio 1 for making this fabulous trip happen!
---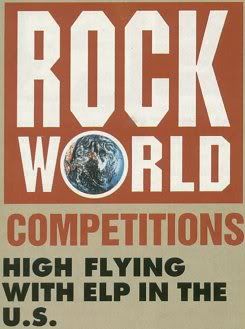 Rock World competition winner CHERYL MOSS had a fabulous time when she visited America to see top British rock band Emerson, Lake & Palmer perform on their sensational come-back tour. Cheryl, who lives in North London and works for Enfield Council, won the chance to visit the States in the Rock World launch competition, in conjunction with Radio 1.
On July 28 she flew to Boston with Rock World executive editor Chris Welch, where she attended an action packed show featuring ELP and Jason Bonham. Later she went backstage to meet the band and enjoy drinks and hospitality with Keith Emerson, Greg Lake & Carl Palmer.
She also had the chance to hear an impromptu duet by Keith and Jason on the Holiday Inn bar piano - until they were turfed off by hotel security! Cheryl later visited New York City for a visit to the famous Blue Note jazz club, to see a performance by soprano sax player George Howard.
"I had a wonderful time, and ELP were fantastic, but I don't think I'd like to be a rock journalist. I couldn't stand the perpetual jetlag!" said Cheryl later.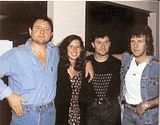 ---