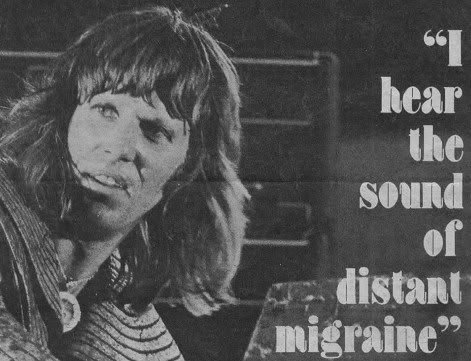 Pete Erskine offers his Biro and says eversonice things about the boys' Wembley performance.
"I HEAR the sound of distant migraine..."
Emerson, the noisy fellow, is giving my cerebral cortex the most dreadful hammering. Yes we know about your empathy with the ivories old boy, but if you'd just like to lower me gently back down on the carpet I'll scurry off and say lots of eversonice things about you and the other two...you know, the little boxer fellow and the big one with hair like spungold...
Palmer's appearance becomes more utilitarian by the day. I think he's been cutting his hair again. This evening he is wearing a loose black and white sparring robe. There is something about him that is quite obsessive. His playing is so remarkably precise and sharp. If you look very closely you can actually see him thinking, really concentrating, like a man defusing a bomb. His style is not one I particularly favour but he is something of a master.
Lake remains larger than life in a Steadman kind of way: I will never rid myself of this image I have of him ploughing down the aisle of a 747, shoulders like an r.s.j., slight tan, shades and some several yards of silver fox fur outer-casing. Amazing. You'd never mistake this man for a market-gardener. Nor would you mistake him for a guitarist. A neat bass player, an emotive singer, yes, but no way a guitarist.
Instrumentally E.L.P. hardly ever put a foot wrong. If anyone turns in the proverbial tight set it's them. However I have to admit I was surprised and pleased to find that they are, after all, fallible. Lake's electric soloing on "Karn Evil 9" (First Impression) really didn't make it. Perhaps he couldn't hear Emerson properly because they seemed to be working in opposition for much of the time. For slightly longer than a split second the timing went amiss.
Emerson's virtuousity is outrageous and sometimes plain crazy. It is exhilarating to hear him kick his way through "Benny The Bouncer" and the more obvious sections of 'Tarkus" and "Take A Pebble" but I never could get within grappling distance of his demented electronics which one appreciates are as much for histrionic effect as anything else. I still find "Toccata" an elusive piece and herein dwells my main criticism...almost everything about E.L.P. is based on overkill in direct opposition to, say, the Average White Band. Yeah that is a ridiculous comparison, but where AWB's drummer Robbie McIntosh will leave carefully devised gaps - gaps into which you fill the rhythm - Palmer will fill them out to the extent of overlaying them several times. And I know that you can't employ the same critical approach for two entirely different sorts of band but here's the point - E.L.P.'s entire concept is so highly developed, so intrinsically complex, that ultimately you become detached from it. All that's left for you to do is watch. Let's face it, you can't even tap your feet...
Not that you can't dig them for it. It's just that in terms of personal preference I feel they overstay their welcome: the observer, in consequence. becomes glutted. As the impact of the spectacle begins to wear off the attention wanders - this being indicated to an extent in audience reaction. As the band walked on the place erupted but the strength of the applause gradually declined, only really picking up with Lake's three acoustic-based songs. "Still...You Turn Me On", "Take A Pebble" and "Lucky Man" and Palmer's drum devices, his solo during which the drum rostrum, as you probably know, revolves with the dragons painted on the backs of the gongs flashing under strobe lights. Most effective, but again it strikes me as indicative that an audience should applaud a device as much, if not more, than its operator and creator.
The show has been lightened and tightened considerably since I saw it late last year. The stage production is quite superlative, in particular the split second co-ordination of the foot lighting around Palmer's rostrum suffusing it with a strange isolated life of its own. The attention to detail is such that before the band appear the entire kit is bathed in a deep red from below with spots of lime green including one trained solely on the clapper of the huge bronze ship's bell. Very witty, very very witty. And there's the white sepulchral arch with the circular screen within its apex upon which related images are projected.
Originally it was only the E.L.P. insignia and towards the end the H.R. Giger "Brain Salad" cover painting...and it's here that there are signs that the band are almost on the point of sending themselves up...I can only imagine that the humour emanates from the inscrutable Emerson who insists on slipping sections of toons like "Willie The Pimp", "Daisy Daisy Give Me Your Answer Do", "Norwegian Wood" and "Norman, Norman Hold The Ladder Steady" into his solos. Subsequently he takes a pull on a bottle of whisky and the screen reveals a graphic "Zapp" which in itself may be slightly weak but does contribute towards balancing out some of the intensity.
An endearing geezer, Emerson. Perhaps that's not the right word. He always appears vaguely brittle and inarticulate but he has this humour. He keeps himself well covered. You know that he's as intense about his playing as Palmer but somehow I prefer his attitude. He just seems more...well...normal...better balanced, if you know what I mean. I also respect his honesty.
But wait. I haven't told you about Alan Freeman. You know he opened the show with a stagey flourish ... 'Welcome back my friends to the show that never ends...ladies and gentlemen ...EMERSON, LAKE AND PALMER..." A pox on those who jeered him. I think he's a gas...and in any case those of you who can be bothered to tune into his programme might be pleasantly surprised.
Even so, Cecil B. would've smiled as the band lunged into "Jerusalem" with its stain [sic] glass slides, Blake images, spaceships, Lockheed Lightnings, Swallows, tin fish and swarms of hornets...and more candlepower consumed in five minutes than in the whole of World War II. "Toccata" followed and a much modified "Tarkus" during which Palmer demonstrated a bitch of a right arm. Lake got to do some of his vocal pieces in the slower almost bluesy section "Manticore" - which has also been stretched out to reasonable effect - and Emerson leapt about machine gunning the audience with his ribbon moog. Like I said, there was a point where the guitar and keyboards seemed to go out of synchronisation.
Next. The aforementioned "Benny The Bouncer" with Fester Bestertester style animation up on the screen and "Take A Pebble" which was beautifully done. "Still You Turn Me On" and "Lucky Man" and then a full reprise of "Take A Pebble" with Emerson's lunatic piano pieces. The guy's so dextrous I wouldn't be surprised to see one of the keys fly off and hit him in the eye. Yeah, well he tore off all this crazed stuff and threw in some boogie and a slice or two of barrelhouse then kicked into this fast George Shearing stuff picked up by Palmer on de brushes and by this time it had all fused together in my subconscious, "Karn Evil" catching me unawares with my finger up my nose and my left hand in the adjacent lady's purse.
Palmer pushes through his solo at times looking much like a performing seal ringing the bell with the cord between his teeth whilst playing the drums at the same time. The thought occurred to me that the ultimate would have witnessed him ironing Lake's trousers too - or perhaps putting a tuck in the Airedale. You know about the computer doing its pieces at the end. They now feature an entirely more elaborate model with rising batswings and everybody thinks it is jolly good. But I have to tell you that I grinned when Lake tossed his maraccas [sic] into the front rows thinking how great it would've been if we reporters could've tossed our biros right back...