Sounds Magazine, July 2, 1977
(Click thumbnails to enlarge)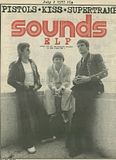 ---
Welcome back my friends to the show that costs $2,000,000 and takes Barbara Charone back to the early days of...
---
E • L • P
(Pictures by Neal Preston)
KEITH EMERSON sits in a Detroit French restaurant wearing traditional black leather trousers and a very large grin. He's telling a reporter from Rolling Stone that champagne is rock 'n' roll mouthwash. To prove the point, Greg Lake proceeds to spit some bubbly on the floor.
Emerson, Lake and Palmer are in exceptionally fine spirits. An hour before they triumphantly walked off the stage of Cobo Hall, cheered on by a tumultuous reception. Detroit was the fifth concert on their first tour in three years and it was crucial. Could the city that bore Alice Cooper, thrilled to Kiss, and hysterically reacted to Ted Nugent, warm to ELP accompanied by their 70-piece orchestra?
With a JBL PA designed by the Montreal 1976 Olympics sound company, an album entitled 'Works Volume One' and a 70-piece orchestra, one could easily expect excessive overkill.
What made me most doubtful was the orchestra. Always dabbling with the classics, would rock 'n' roll totally disappear? Besides, most experiments with rock band and orchestra were embarrassing shambles of misunderstood musical mediums. Van Morrison used a string quartet successfully, the Faces used a small orchestra with mixed results, 'Tommy' became muzakal punctuated by strings.
But ELP have actually done the impossible And it took me four concerts in three cities to finally believe this was true.
For starters, the orchestra are young accomplished musicians who enthusiastically tap feet in time when not playing during the show.
Visually the stage looks incredible, with the orchestra circling above the band in Stanley Kubrick type silver enclosures. They all wear t-shirts that say ELP in bold silver lettering. Conductor Godfrey Salmon towers above them, moving his baton and occasionally shaking ass.
The set is divided into two parts although the band is still experimenting with various running orders and pacing. The orchestra ceremoniously kick things off with 'Bolero' before ELP bound onstage and launch into the grits of the tune. During 'Hoedown', Emerson briefly bumps and grinds with his infamous ribbon controller, but this visual trick is an appetizer. Music is the main course.
Onstage ELP all wear black and white apparel. But their music is technicolour fantasy, given new life and fire by the orchestra. Each individual is given ample spotlight attention in the two hour show.
Carl Palmer is featured first in 'Enemy God' based round a Prokofiev composition. Dressed in Karate-style clothes, Palmer looks like a youthful Bruce Lee on a revolving drum kit with Chinese painted cymbals. Nightly his drum solo earns a standing ovation.
Greg Lake is featured frequently, and impressively. A reworked 'From The Beginning' is sophisticated and elegant as Palmer adds congas and Lake contributes an excellent electric guitar solo. 'Welcome Back My Friends' shows how ELP rock, with Lake flaunting an aggressive vocal. Even better is the newer 'C'est La Vie' which smacks of instant hit single success. On stage Emerson adds some streets-of-Venice accordion. And, there is 'Lucky Man,' done simply on a 12 string electric, sung superbly.
Keith Emerson is taking the biggest chance. The sixth number of the set is his piano concerto, and I'm sure some of the audience are still adjusting to that foreign thing called an orchestra. Onstage the concerto falls easily into place, as the music paints pictures that evoke Disney's animated film 'Fantasia'. Emerson cuts an ironic figure playing delicate music dressed in black leathers.
Nightly I expected shouts of 'BOOGIE' or 'ROCK 'N' ROLL' but not a trace of hostility was present. Unexpectedly, the ELP audience seem willing to follow them into their well documented brave new musical world.
"I almost expect a firework to be thrown," Keith laughs, thinking of the tension during his lengthy concerto. "I know I look like two opposites. Sometimes I get the feeling that the audience is a bit dumbfounded and that's why they don't react overly aggressively."
Greg Lake instantly agreed that Emerson, though treading on thin ice, was getting stronger every day. "It's all a risk," Greg said of the entire show. "I'm sure if someone screamed 'boogie' Keith would probably break into a quick 12 bar to keep them amused, cast a sly glance in their direction and continue. We're not beyond a sense of humour."
When Carl Palmer dubs the band 'cheeky', what he means is that they take chances. And because they're taking chances again, a good degree of integrity and excitement has been put back into the music. I haven't enjoyed ELP live as much since they first exploded seven years ago.
Lake flatly admits that ELP would have broken up without the addition of the orchestra onstage and on record, bringing with them new excitement and a challenge that had been previously missing.
"In the past I've been involved with so much electronic music. Why shouldn't I work with an orchestra?" he demands passionately. "Do you have to be a certain age? Frank Sinatra works with an orchestra and nobody questions it."
"The stunt now is the music," Greg says with a wide, self satisfied smirk. 'There comes a time when you must ask yourself, should the music be allowed to come out like one card trick following another? Artistically, music shouldn't be that processed or controlled. You can't come up with continual unique stunts.
"Already people are asking us what we're gonna do to follow this. I mean fuckin' hell," Lake spits out. "Cut me some slack Jack."
IN REALITY, their next musical endeavour is already being planned. 'Works Volume Two' is due out this fall, a single album stuffed with shorter pieces, more rock oriented, both group and solo. Some of these orchestral concerts will be recorded for a possible live album. And ELP will follow this extravaganza with another extreme - the return of the trio.
"We didn't want to come zipping back with the same old show," Palmer mused. "An orchestra seemed like a natural progression. It was the only way we could reappear after 2 1/2 years. But it's not a permanent musical direction.
"It all works but ELP would work without the orchestra. The orchestra just puts the cream on top of the cake. Actually just the cherry right in the middle.
"Say Keith would have released a solo album," Palmer says hypothetically. "Later perhaps I'd release an album. But what happens is you blow each other out, steal each other's sales. You lose group unity.
"See, the public like unity. If they see 3, 4, 5 guys playing together for X amount of years, they see unity. It's like a family, right? If ya start splitting up it gets disjointed. If you present it like we've done it, there's more unity. Then it's stimulating for the individuals."
And less frustrating. This ELP project gave the band another shot at longevity, preserving their past and preparing their uncharted future.
Keith Emerson provides group contrast to Carl Palmer, but then the crux of ELP has always revolved around contradiction and personality differences. When asked if it was important for Emerson personally to keep the band together, he took time thinking about it before committing himself.
"Yeah it's important," he said without much passion. "I certainly wouldn't form any other band. I wouldn't go through all that shit again." he laughed at the memories. "That's too much of a drag. While we're all thinking along the same directions which we are at the moment, it's certainly worth keeping together."
"Yeah it's important," he said without much passion. "I certainly wouldn't form any other band. I wouldn't go through all that shit again," he laughed at the memories. 'That's too much of a drag. While we're all thinking along the same directions which we are at the moment, it's certainly worth keeping together."
Had the band's new direction not been orchestral, Keith Emerson would have undoubtedly quit the group.
"Sure Greg's right. I'd have definitely done it on my own cause that's what I was into. I didn't want to go back on the road unless there was an orchestra. I wouldn't go with anything less. After three years I didn't want to go back with the same set-up," Emerson says adamantly. "I needed a change, a new challenge.
"It was either strip everything down to the basics like no 13 keyboards but just possibly piano, bass and drums. Go that route or one step further than what we've ever been before. I chose to go one step further. Everybody laughed when I mentioned it. Said you're crazy, it'll never pay. They've been proved right so far," he laughs. "It hasn't paid. But it's working."
Cheap it's not. Palmer says the entire thing works to the tune of $2 million and ELP aren't laughing all the way to the bank. The 70-piece orchestra receive scaled union salaries, equipment is carried by 8 articulated trucks, there's mixers and submixers. Their outdoor show in Chicago to 65,000 people paid for the rest of the week. After one week on the road, ELP broke even.
But like Keith Emerson admits, it's working.
"I'm actually broke," Carl Palmer says. "This is purely an artistic thing. After six years on the road we figured it was time to rethink our musical policy. It's quite an organic thing actually. We had to leave England for artistic reasons which is quite unusual. A lot of groups leave England for financial gain. We left so we'd have money to plow back into the band. We wanted that extra money to put back in the show.
"Still there's only so much money you can plow back in," Carl rationalized seriously.
"After seven years of being together we really don't want to end up broke. And this kind of project can actually do that to you. We want to better music as much as we can. I like to be a pioneer as much as my pocket will let me."
PALMER HAS good reason to be concerned with ELP finances. As he quickly learned absence does not make the heart grow fonder.
"Our record sales haven't been as big as they should be," Palmer said honestly. "We kinda figured when we came back we'd be bigger than when we left. In actual fact the double album price is expensive, ticket prices are quite high and our overheads are astronomical. We've got everything against us.
"None of this is easy for us. There's no way to make money right?" he looks up sheepishly. "And I'm quite an enterprising lad. I know how valuable ELP is musically and economically. When something is that valuable you want to treasure every aspect 'cause ya never know how long it's gonna last."
"It's like this," Greg Lake says with authority. "Everyone criticises ELP. They say the band have made too much fuckin' money. What we do is reinvest it back into ourselves as entertainment. Anyone who had anything to do with the financing thought we were crazy. If one thing goes wrong one day it costs us arms and legs. Our back is against the wall to make it work faultlessly."
"Our heads are on the block. It's not the first time and probably won't be the last. I'm glad. It's great fun. It gives everyone something to promote. It's not just a question of another rock show hitting Pittsburgh. It's a question of presenting a show again, one magic night."
Where Greg Lake exhibits an infectious, cocky self confidence in himself and the band, Keith Emerson is more reserved, modest and humble. Only when prodded will the shy composer display self-assurance.
"Yes, I am being a pioneer," he reluctantly admitted. "There's no sense being modest about it because nobody's done this before on this level. Way back in '68 I did it together with Jon Lord and Deep Purple. We were the first to use an orchestra. A week after playing a festival Jon recorded his concerto for orchestra at the Royal Albert Hall.
"After that I recorded the 'Five Bridges Suite' with the Nice. But technology wasn't what it is today, miking up every individual member of the orchestra. Back in those days it was 8 channel mixers, overhead mikes and a tremendous amount of overspill. The whole thing was a big battle where electronics drowned out orchestra."
Although the balance is acoustically proper, there's no question who is in charge. While the orchestra are an integral part of the show, ELP are most definitely the main attraction.
"We don't make any compromises." Lake said arrogantly. "The orchestra follow the band or get lost. I can promise you if I was a beat in front of them at the beginning, I'd be a beat in front of them at the end. In a way it's pulling more out of us musically. Instead of having a guy play with two hands you've got 70 people. Ya know what I mean?"
CARL PALMER knows just what Greg means. While the orchestra add power and majesty to the ELP sound, timing has to be as perfect as a metronome. The group rehearsed prior to the tour for two months alone, the orchestra rehearsed alone for one week, and for six long days they merged.
"I'm right in the middle," Palmer explained. "They all listen to me. I could do without it to a certain extent but I enjoy the challenge. What's frustrating is that you find string players always play behind the time. Brass players and woodwinds always hit it right on the nut, but your strings always drag. And if ya sit right in the middle like I do, there's an air of confusion. But you have to expect that when there's over 70 people blowing away."
ELP aren't the only ones enjoying this collaboration. The youthful orchestra is having a grand time tasting an unorthodox dose of rock 'n' roll living.
"For the orchestra it's the greatest experience ever," Palmer believes. "They go to Juilliard or Berkely, get a Bachelor's or Master's degree and end up playing the standards for years, ya know Beethoven Brahms, Mussorgsky, and they don't play anything new. This is like a golden handshake for them."
"Anyone who writes music would love to hear it played by an orchestra. It's everyone's dream," Lake believes. "And it hasn't worked yet. The show will develop into something fantastic if we can survive economically. There are lots of reasons for us to tour with orchestra; not just to be smart and say 'we toured with an orchestra'. We need to and we have to try."
"We're there to entertain the kids but in actual fact we're educating them," Palmer says with uninhibited pride. "Obviously seeing an orchestra with a rock group on that level might widen their interests. When we released 'Pictures At An Exhibition', classical record sales of that work picked up, especially in London."
Obviously the band are eager to help rock fans broaden their musical horizons.
"That's a good thing about the show," Lake enthuses. "It's like if you've never been to an opera before. Now I by sheer coincidence happen to have been to an opera. It's a beautiful experience the first time, not being pompous or weird about it. We'll get a lot of that on this tour.
"People who haven't been subjected to an orchestra before will focus on it. We're nailing them I can see it down front. There's a bit of shock but that's ok," Greg laughs. "It's tense. The show has good drama value."
Much of the drama and spectacle normally associated with ELP has been channelled into the music. Initially disappointed, fans are quickly seeing another dimension of the band more impressive than flashy visuals or clever gimmicks. As all of ELP are quick to stress, substance is in music.
"A few people have criticized us, saying what the hell am I doing, taking a back seat. But I'm doing a hell of a lot up there," says Emerson defiantly. "It's only because I'm not going up in the air on the piano and spinning round into the audience or using flamethrowers."
Emerson actually tried to incorporate more visuals but so far this hasn't been possible. He tried using a flame thrower on his ribbon controller opening night in Louisville and almost lost his hand. That was ruled out as too dangerous. Then they had two gigantic cannons built especially for 'Pirates' but these old ships cannons proved unsafe. Still they promise effects will gradually be added to several older numbers like 'Tarkus'.
Keith Emerson is trying to adjust the balance between showman and musician.
"More than anything else visuals stay imprinted on one's mind," Keith says softly in a limousine speeding towards Milwaukee. "This is a big change of image. It's the same as if Townshend stops smashing guitars or things similar to that. I'm more known as a showman. Well, I have been in the past. But I can't see why. When you are a showman it kinda overshadows the other things."
Yet Emerson insists that this was not a motivating factor in his piano concerto surfacing on the album. In fact, he was quite hesitant to place the work on any ELP album.
"I've done work before that involves electronic things with orchestra but this time I decided to write a straight work. I was very dubious about putting it on an ELP album because I thought it might be lost with the rest of the rock 'n' roll stuff. I'm quite relieved it isn't.
"It's being played on classical radio stations," Emerson says with a grin. "Lots of people are regarding it very seriously. The reaction is better than what I would have hoped for. It's not just the concerto that worries me. 'Enemy God' is even more outrageous. There's lots of things that needn't work in the show."
But they do. And what works best are the more commercially orientated songs mostly written and sung by Greg Lake. Since their first 'Lucky Man' top ten hit, ELP have been branded with Lake's sound. They're hoping to change this situation with the group instrumental adaptation of Copeland's 'Fanfare For The Common Man'.
Yet a song from Lake's solo side, 'C'est La Vie' stands excellent chances of capturing a top ten position if released. And if released it will be released as a Greg Lake song, not ELP.
"That's the whole idea of making a solo album," Lake laughs. Lake's songs have always tended to be the 'hits'. And when he performs 'C'est La Vie' and 'Lucky Man' back to back onstage, the reception from the audience is overwhelming. Lake humbly mumbles 'thank you's', while actually exuding total confidence.
"I know what I like," Greg says stubbornly. He proves his point by travelling by coach as he hates to fly. "Any artist knows their taste. We play rock 'n' roll really well. We were at a stage in our career where just to play some rock 'n' roll would have been very enjoyable but not serious enough for us to take on as a band.
"We could quite easily make a rock 'n' roll album at any time and enjoy it and get artistic rewards from it. Real ones. But when we stopped touring three years ago that wasn't a possible alternative. We could now."
If this tour works, I suggest, anything is possible.
"That's right," Greg Lake says with a sly grin. "That's right."
EMERSON, LAKE and Palmer have always had a strange collective group camaraderie. They still have separate dressing rooms, often travel independently to concerts, have personal roadies and private tastes. Yet they seem to respect personality differences in each other and try to positively exploit them. While some groups might be closer friends, ELP have less musical frustrations.
"Socially we lead different lives so when we meet up we've got something different to talk about, fresh ideas," Palmer enthuses. "If we were together on a day to day basis, conversation would become stale and I don't like to see that happen. Now when we meet it's stimulating.
"The band policy is like this: If I was in a band and didn't get on offstage with the guys as well as musically it wouldn't bother me. If when we played together there was something musically wrong then I'd knock it on the head immediately. Musically it's got to work 99%. If it only worked 80% musically then forget it.
"Sure there are evenings that it doesn't work. I'd be a liar to tell you different. But that's cool cause it's the only way we can keep our own identity. When we come back together we're prepared to fight," Palmer says, like a true punk. "I mean we argue like fuck. For us to do an advert is momunental. It's like a company conference. Individuality is still in the band. I think that's fabulous."
The band are not the only ones who 'argue like fuck'. ELP have attracted severe criticisms, often hostile, from the very start of their inception. Yet their new show seems specially designed to prove the critics wrong. The band's sterile, technocrat image has now been replaced by more human emotion with the addition of the orchestra.
And without all the effects and stagey gimmicks, it's not so easy to scream 'PRETENTIOUS'. I mean you can t get more pretentious than having a flying pig like Pink Floyd. And you can't get more self indulgent than Led Zeppelin's overly long drum and moog solos.
"The critics will still find something," Greg Lake said, more amused than upset. "'Roccoco ridiculousness.' It's all healthy shit. Knockin' us proves there's solidity there."
While Keith Emerson takes a fairly platonic attitude to critical reception, Carl Palmer is animated and agitated, trying to right the media wrongs.
"I'm sure people thought we were trying to be pretentious but it doesn't matter," Palmer said stubbornly. "When we came out with all those big lights and things blowing up, we were pretentious. Suddenly all your David Bowie's did the same things only bigger and better but they weren't pretentious. If someone says we're being pretentious I'll say 'yes but we invested our money in the music.'"
If expense allows, ELP would like to bring this latest orchestral extravaganza to Britain. But that all depends on the next couple of months touring America with their transportable but extremely expensive production.
"Tell ya what," Palmer continues, growing increasingly excited. "I been playin' since I was 11 and now I'm 27. I never get nervous. But when I'm in England I actually worry. I don't want any mistakes 'cause I know someone will pick it up and write about it like it was Pearl Harbour, the biggest disaster in history. But I love to play to the British public."
Right now ELP and their portable orchestra, are playing in the heart of the American midwest. Places where few rock groups dare venture. Unexciting locales like Des Moines, Iowa or Madison, Wisconsin. Don't expect any excitement or decadence in Terre Haute, Indiana.
Because of the complicated staging, Greg Lake has a portable TV monitor in front of his mike stand to flash urgent changes of plan. Sometimes the messages say enticing things like 'knock 'em dead' or 'far out'. And there's the occasional song lyric.
"I must confess that I have a slight look at the lyrics now and again," Greg laughs. "But the TV isn't in colour. And I can't turn on Kojak halfway through 'Pictures At An Exhibition'. None of that for me."
Other journeys through the past include 'Knife Edge'. And for encores there is a magnificent rendition of 'Fanfare For The Common Man' that always adds a touch of drama. In Detroit there was a tremendous rush to the front of the stage just when the piece kicks off with that haunting, percussive jolt. While in Chicago Keith Emerson stuck in a refrain from 'Chicago That Wonderful Town' in the middle of his solo.
"Just the other night as I watched Carl disappear down the piano chute I thought to myself just how humorous this band is," Lake laughs. "Which tragedy do you want to know about?"
What I really wanted to know about were all the vices. All the decadence. Real News of the World Stuff. After all, Greg Lake has quite a few video cassettes on his coach. One night after the gig he showed a pretty mediocre porn film with the intriguing title 'The Hungry Hypnotist'.
"Not the 'Hungry Hypnotist' again," Emerson sighed restlessly.
And there were occasional parties in Lake's suite. These affairs were usually the same with plenty of champagne around and even some music. "I feel like some music tonight," Lake said digging through countless cassettes including the Wailers and Bob Dylan. "Fancy a bit of Beethoven?"
But what about all the decadence then?
"Vices to me honey," Greg Lake said laughing, "are things you put metal in and then turn the handle."