The Story of Pop, Part 34 (1974-75)
(This magazine billed itself as: "The First Encyclopedia of Pop in 40 weekly parts")
(Click thumbnails to enlarge photos)
---
THE SUPERSTARS
---
Emerson, Lake & Palmer
In 1966, P. P. Arnold, the American soul singer who had gone over to Britain, was in need of a backing group. She found the Nice, a band riding the crest of the wave of the British R&B revival.
Keith Emerson, on piano and organ, was from Gary Farr and the T-Bones, as was Lee Jackson on bass and vocals. On guitar and vocals was Davey O'List from the Attack, and the drummer was Brian Blinky Davison from the Mark Leeman Five.
P. P. Arnold can hardly have been aware at the time that her back-up musicians would shortly turn out to be one of the most important forces in late '60s British rock music. Signed by Andrew Loog Oldham, one-time manager of the Rolling Stones, the Nice stayed under his wing until the summer of 1968, when Tony Stratton-Smith took over, to be followed a year later by a move from Oldham's bankrupt Immediate label to Stratton-Smith's new Charisma label.
While backing Pat Arnold, the Nice had gained themselves a hard core of fans who followed them around from gig to gig, but it was at the Windsor Jazz Festival in 1967 that the band - still playing with Pat Arnold - were to begin striking out towards the beginnings of a vast audience. With the sense of theatrics that was later to become typical of an Emerson stage performance - both with the Nice, and later ELP - a smoke-bomb was set off outside the tent in which they were playing. The crowd of people who rushed to see what was going on found Pat dancing and singing, and Keith Emerson whipping the air as the guitars and drums pounded out.
As one pop press writer put it: 'The tent was packed within minutes, and the crowd stayed. It was the first time I had seen a group actually in the act of winning its first following in quite such dramatic circumstances.' From then on the audience, and the group, just got larger.
Shortly afterwards, the Nice swung into being a group in their own right - they were no longer to be a back-up outfit - and much of their early success was founded on their devastating live performances, many of which took place on the British college campus circuit that from 1967 onwards was to give so many 'progressive' groups their first following. Musically, the Nice were almost certainly the first band to whom the term 'art rock' could be applied; the Pink Floyd were still at that time playing within the confines of psychedelia, and the Soft Machine were avant-garde rather than 'arty'. Keith Emerson, moreover, was already by then ingeniously adapting the works of various classical composers - the Nice's version of 'Rondo' hardly ever failed to bring the audience to their feet - and slotting them into the same programme as Dylan's 'My Back Pages' or 'She Belongs To Me'.
The Nice were also pioneers of 'mixed media' rock music, recording their self-written suite 'Ars Vita Longa Brevis' in 1968, and being conducted by Joseph Eger with a symphony orchestra at the British National Jazz and Blues Festival in 1969. In the States they even appeared with Zubin Mehta and the Los Angeles Philharmonic Orchestra; and yet there were also tales of Emerson hammering away at Irish pub pianos with Viv Stanshall of the Bonzo Dog Band singing along.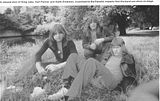 Whether playing with an orchestra, or as a trio (Davey O'List quit the band in the summer of 1968) it was for their liver-than-live performances that the Nice were most renowned, and this was primarily because of Keith Emerson's antics on stage. This is not to detract from the actual sound that the band achieved, driven along by the drumming of Brian Davison and Lee Jackson's bass, the overall effect was deafening to the point that it was only when playing with an orchestra that the Nice did not threaten to tear their audience's ear-drums out. Even then they were sometimes known to drown out a symphony orchestra, and it was not for nothing that Keith Emerson was known as the 'Jimi Hendrix of the organ' - for just as Hendrix would attack his guitar on stage yet emerge with the most amazing music, so could Keith Emerson twist and turn and leap over his organ and the instrument would spit out previously unimagined sounds. Emerson was in fact one of the first British musicians to work with a Moog synthesizer on stage...basically a natural development of both his talents and his stage persona.
Emerson would often, as he tugged and pulled his instrument across the stage, appear genuinely violent. This was especially evident during the Nice's playing of their adaptation of Leonard Bernstein's 'America', when Emerson, for some time, used to fling daggers at an American flag. Indeed, at a London Albert Hall concert that the group played, an American flag was burnt on stage. . .and the trio was banned from playing there ever again.
The energy which the group released in their performances was sadly never fully captured on record. 'The Thoughts Of Emerlist Davjack', the first album by the Nice, was released early in 1968, but was not at the time particularly successful. 'America', the group's second single came out in the summer of that year and, although it never climbed higher than the no. 20 spot, it sold consistently for the rest of that year, and almost as many of the Nice's fans grew to identify their heroes with 'America' as those who identified them with (and often presumed they had written) 'Rondo'.
Dynamite With A Fizzle
The second album by the band, 'Ars Vita Longa Brevis', consolidated their position. But it was not until the release of their third and last album for Immediate that the Nice really began to score in the British album stakes. This record, 'Nice', hit the charts in the late summer of 1969, and neatly summed up the problems inherent within their artistic framework: the ability to deliver a dynamite stage show, but a seemingly total inability to carry this excitement out of the recording studio on vinyl. Side two of the record, for instance, was taken from tapes recorded during a gig at the Fillmore East in New York, and the two tracks, 'Rondo', and Bob Dylan's 'She Belongs To Me' in particular, contrasted with and, in fact, showed up the four songs on the first side of the album which were all studio cuts. After 'Nice', the Nice were to turn out two more albums on the Charisma label, and each of them was at least 50% 'live'. It was unfortunate, however, that Emerson Jackson and Davison had learned the error of their recording ways too late, for both of these records were released after the band had ceased to exist.
'Five Bridges', the first of these post-Nice albums, had as its title track the 'Five Bridges Suite', a commissioned work for the Newcastle Arts Festival, which at least showed how respected the Nice, and Emerson in particular, had become. The other tracks on the album - although there was only one other original, 'One Of Those People' - superbly backed up the 'Suite', and gave ample illustration of why Emerson regarded the album as the best record that the Nice had ever released.
'Elegy', which was not on sale until a year after the three musicians had disbanded, was almost up to the same standard as its predecessor, but somehow lacked its feeling of totality. The excellent but slightly grandiose 'Five Bridges Suite' in particular, was a pointer to the way in which Keith Emerson was developing individually as an artist.
E Meets L Meets P
The split in the Nice had come about as a result of Keith being introduced to Greg Lake, bass guitarist, lead vocalist and writing collaborator with King Crimson. King Crimson were a truly formidable band and startling in their originality, and with their live performances and first album, 'In The Court Of The Crimson King', they had been perhaps the major new British critical and commercial success of 1969. They had left behind the days when experimentation equalled psychedelia and frantic feedback, and had delved instead into surrealism, with a use of spacing and notation previously unknown in rock bands.
Although Robert Fripp, the guitarist, and Peter Sinfield, the lyricist, had contributed most to Crimson in the way of actual composition, the other members - including Lake - had done much to assist in the construction of the songs on the 'Court Of The Crimson King' album. Lake was also blessed with a lilting, ethereal voice and a fair ability on the acoustic guitar.
Emerson and Lake, having decided to form a band, set about looking for the right drummer. He appeared in the shape of Carl Palmer, wno was at the time playing with Vincent Crane, another ex-Crazy World Of Arthur Brown, in a group they had formed called Atomic Rooster. Palmer was an excellent drummer, with a sense of timing almost on a par with that of Mike Giles, the drummer with whom Lake had worked in the rhythm section of King Crimson.
Amid much speculation, Keith Emerson, Greg Lake and Carl Palmer decided on a name. In keeping with the then current vogue for groups to sound more like law firms, they were called. . .Emerson, Lake and Palmer. Later, they were to be generally referred to by their fans as ELP.
---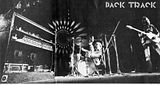 1966: Keith Emerson, Lee Jackson, Davey O'List, Brian Davison come together as the Nice - a backing band for soul singer P. P. Arnold.
1967: Acclaim at Windsor Jazz Festival; the Nice leave P. P. Arnold. November, 'Emerlist Davjack' single released.
1968: 'Thoughts Of Emerlist Davjack' album released early in year. Summer, Davey O'List quits group; Tony Stratton- Smith replaces Andrew Loog Oldham as manager; 'America' single released and reaches no. 20 in the charts. November, 'Ars Vita Longa Brevis' album released.
1969: April, first press reports of King Crimson. Summer, Immediate Records folds. The Nice join Charisma. 'Nice' album released and is the group's first truly successful album. October, 'Five Bridges Suite' recorded 'live' at Fairfield Hall, Croydon.
1970: March, Nice split up; Keith Emerson joins Greg Lake and Carl Palmer; Lee Jackson forms Jackson's Heights; Brian Davison forms Every Which Way. April, 'Five Bridges' album released. August, World debut of Emerson, Lake and Palmer on August 23rd at Plymouth Guild Hall. Isle of Wight Festival appearance one week later. October, First ELP British tour. November, 'Emerson, Lake and Palmer' album released on Island Records.
1971: April, 'Elegy' album released by Nice. May, 'Tarkus' album from ELP November, 'Pictures At An Exhibition' - budget 'live' album - released.
1972: June, 'Trilogy' released. Summer, Scoop almost all top awards in British rock paper poll.
1973: Manticore label formed. Spring Huge much-publicized European tour undertaken. December, 'Brain Salad Surgery' album released; 'Jerusalem' - first ever single released.
1974: 'Ladies And Gentlemen . . .Welcome To The Show That Never Ends[sic]' album released.
Robert Ellis
---
On August 23rd, 1970, Emerson, Lake and Palmer made their world debut in England at Plymouth Guild Hall. In one of Britain's weekly pop papers the reviewer described the music as having 'a feeling of power, of indestructible strength'. The concert had been, in reality, a dress rehearsal for ELP's performance at the Isle of Wight festival the next weekend - a performance that attracted the following serious review from the London Times: "Having previously given us dismembered versions of 'Sabre Dance' and of an extract from 'Nutcracker' at its debut performance, ELP turned its attention to Mussorgsky's 'Pictures At An Exhibition'. The resources of a Moog synthesizer and two cannons were brought to bear upon it in a performance in which visual excitement and special effects sometimes attracted more attention than what he was doing with it musically. . .Emerson puts on a real show in the old vaudeville sense of the word.
"And if, like Townshend's now famous guitar-smashing, Emerson leans rather heavily on the auto-destructive excesses of Dada, it still comes fresh to a young audience that delights in seeing a musician fighting on stage with an electric organ weighing several hundred pounds. He rocks it about to create great agonizing howls of feedback, he attacks it from behind, leaning it backwards towards him and playing it backwards from that position, only to leap lightly over it to the proper side without missing a note in mid-phrase. Then, in a climactic piece of melodrama, he stabs it with not one but two wickedly curved daggers."
After this, the stage was now set for the release of the first ELP album. Bidding by record companies for the group had been frantic - it had at one time been rumoured that they would sign with the Rolling Stones' as yet unlaunched label - but eventually Island Records clinched the deal. In November, 1970, 'Emerson, Lake And Palmer' was released. For those who had never seen the trio play on stage, it was a more than adequate assessment of what they were about. Keith Emerson still rocked the classics, notably Janácek's 'Knife Edge', but there was now a new element of sophistication in his playing - partly, it is fair to suspect, because of the greater financial resources at his disposal. As well as Moogs and organs - he used the Royal Festival Hall organ on one track - he performed delicate piano solos. This was a side of Emerson, however, that had carried over from his days with the Nice, but when it was combined with the thoughtful drumming of Carl Palmer and, more particularly, contrasted with Greg Lake's influences from King Crimson, then ELP had a sure-fire success formula. And with this formula they were destined to become the most successful 'art rock' act in the world.
In May of the following year 'Tarkus', their second album, was put out. This not only followed up the very large success which their first record had had in Britain, but also established the group in America, something that none of their previous groups had managed, although they had all had large cult followings.
A live recording of 'Pictures At An Exhibition' came out in November of that year at a budget price, and in June, 1972, 'Trilogy' was released. Shortly afterwards Emerson, Lake and Palmer swept the British pop press polls, both as a group and individually.
ELP And Friends
At the beginning of 1973, ELP - following in the footsteps of such groups as the Rolling Stones, the Beatles and the Moody Blues - formed their own label, Manticore. Other acts were signed to Manticore including Peter Sinfield, Lake's former lyricist in King Crimson and Premiata Forneria Marconi, an Italian group who seemed to base their sound around that of their label's owners and King Crimson.
In December of that year, ELP's fifth album, 'Brain Salad Surgery' (which had lyrical assistance from Pete Sinfield), was released. By this time the forming of Manticore had almost crystallized the opinion that Emerson, Lake and Palmer had become too great an animal. Criticism had varied over the validity of their music, but there was fairly general worry in the music press over the sheer size, in terms of both time and equipment used, of their tours. True, ELP had stormed the world - even playing dates in Japan - but there was a nagging suspicion that the group had sacrificed music for technology - especially after their European tour in early 1973 had required a custom-built proscenium arch, and a road-crew of some 60 people.
With the success of Emerson, Lake and Palmer, however, other groups of similar musical dispositions have found it perhaps easier to gain international acceptance. Yes, for example, have since become possibly an even greater attraction than ELP, and such bands as Focus and Genesis have had their way paved by the two former groups. King Crimson carried on, even more adventurous though their ninth album in 1974 heralded their demise.
It is perhaps ironic that towards the end of 1973, Lee Jackson, who had had little joy with Jackson's Heights, and Brian Davison, whose own solo project, Every Which Way, also fared badly, should have joined up with another organist to form a band called Refugee . . .a band that was basically a re-birth of the Nice.