MELODY MAKER, March 12, 1977
"DADDY, who were ELP?" Well, son, they were one of the most exciting and powerful new groups of the early Seventies.
There was Keith Emerson, the brilliant keyboard player, Carl Palmer, the fastest-man-on-two-legs on a drum kit, and Greg Lake, he of the bass guitar, the rich resonant vocals and skilled productions.
ELP were born out of the sudden relocation of talents that occurred when a new decade dawned. Keith came hot-foot from the Nice, Greg from King Crimson, and Carl from Atomic Rooster. They exploded on the scene with maniacal violence at the 1970 Isle of Wight festival and went on to conquer America, Europe, Japan and all points east.
They sold albums by the millions and toured incessantly until they disappeared as quickly as they came. After 1974 and their double album, "Welcome Back My Friends To The Show That Never Ends," the show, did in fact, seem to end, and with abrupt finality.
No tours, no records, no interviews. Then, just as their fans seemed ready to desert them in furious droves, after two-and-a-half years ELP returned, with new plans, new energy and new self-confidence.
The battering their confidence took was, in part, the reason for their disappearance, together with a genuine desire to re-think a musical form that had, as Keith Emerson said, "been milked dry."
Last week ELP appeared at a London hotel, suntanned from various holidays around the globe, jet-lagged but happy to talk about the reasons for their lay-off and the new-look ELP with its proposed 70-piece orchestra which will be touring America and then Britain from next May.
The dynamism which had previously driven ELP to bigger concerts and concepts in the old days, was still there, if tempered with maturity. All looked fit, although they hinted that there had been a dark period of excess when the rock life threatened to drag them down. And there was disaster, too, when Emerson's priceless old house in Sussex had burnt down with all his possessions.
All this had combined to stop the band in its tracks, but in the last year they have been hard at work again producing their double album, "Works," with its individual and group sides.
"You'll have to excuse us. We're all getting over the jet-lag," said Greg. "We've all been abroad on holiday. We have houses here but we're restricted to two months a year at home. While we've been away we've been locked in the studios and we've actually done another album already, apart from 'Works.'
"We've been working in Paris and Switzerland. The trouble with Montreaux was that it is a hard environment to create in. It's so grey. There's nothing there. You get sod-all inspiration!"
Carl: "On Sundays they walk about with a mattress strapped to them so if they fall over they can just lie there."
"Oh, I hated that f--- place," said Keith. "Good studio, good equipment, but this place was like Bournemouth, the end of the earth.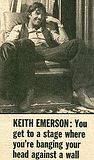 "I thought it was a good place until I went out on a yacht and almost got busted by the lake police. I saw this big barge with a 'P' on the side, and I thought, don't worry, it means 'Palmer.' But no, it was the police. So what do I do! ' Eat it,' says the roadie."
"The thing that kept us going in Montreux was the quality of the studio," said Carl, anxious perhaps not to upset their Swiss hosts. "They were all very nice people there and they made it as easy as possible for us."
Did ELP go through a long period of idleness after their last bout of touring (which was so long ago nobody could remember where or when was the last gig)?
"Well, I was on drugs for a long time," said Keith casually. "The lads were great. They helped me through it and got me over the withdrawal symptoms." Keith looked very serious, then suddenly burst into laughter.
"That's the second time he's said that today," chided Carl Palmer.
Said Keith: "Well, we'd all been working non-stop since we started in 1970, and we'd been working continuously before that.
"It was pretty strenuous all the way through, and I guess it reached a point where we said: 'We've got to this stage, what are we going to do next?' And speaking for myself, I wanted to do something more meaningful.
"I wanted time to think, 'Where do you go from here?' rather than just keep on recording."
"After you have been doing the same show for a period of time, you have to stop, you just have to," interjected Carl.
"We really wanted to make a break in the basic direction we were going in," said Greg. "We had flogged it to death from every standpoint. To make such a drastic change - and you've heard the album, it's totally different - did require a lot of rethinking.
"A lot of research has gone into this album, and one can't just measure it in terms of product. We could have gone on churning out electronic albums, but we have changed the whole meaning of the band. By bringing this album out we have exposed ourselves individually and tried to show what makes up the group. It just took that long to hook it all out.
"Keith had never played with an orchestra in that context before, and it created a lot of problems. Obviously the musicians were cautious and apprehensive about working with rock musicians."
Said Keith: "You get to the stage where you do things like 'Tarkus' and 'Karn Evil 9' and they come out, and records eventually get deleted, and you think, what the f--- is it all about? It's just not lasting. You feel you are banging your head against a brick wall and it's all forgotten.
"Really, in this lay-off, personally I've been concentrating on writing my ideas down so other people can do it; doing something which is more meaningful. Let other people play the music, y'know?
"Therefore, when this next album is released, there will be orchestrations available for anybody to play. To me, that is a lot more satisfying. That is working as a serious composer, rather than just churning it out."
"For me," said Greg, "it was a time to develop a more serious approach to singing ballads and things with an orchestra; it gives you that much more variety.
"I could have sung something like 'C'est La Vie' with ELP but it would not have had the same emotional power and depth it has with an orchestra.
"It's a valid medium for me as a singer. It has worked for all of us, which is another reason why this move towards an orchestra now is right. We have to make that step forwards to a musical maturity."
"I had experimented with electronics," said Keith. "Helped out Moogs and modified their instruments, and worked with every other electronic company developing their synthesizers. I helped Moogs develop their polyphonic synthesizer, advised them on how to set their controls . . . I'd gone through all that thing.
"And yet nothing is so satisfying as getting behind the actual ACOUSTIC instrument. It's all very well to have electronics and try and copy acoustic instruments, but, really, it is not so rewarding.
"So many people use a Polymoog now, and on this future tour I'll be using a Yamaha GXI with a polysynthesizer. But that's gonna have teething troubles and it has showed up on our recording sessions. We've got our road managers working on it right now to stabilise the damn thing so it doesn't go out of tune."
On the tour, how were they going to incorporate pieces from the new album in view of the orchestrations involved?
Carl: "We have a format worked out which involves pieces from all of us and pieces of past material we want to keep in. It'll be quite a long show, but we won't be playing all night."
"No, not quite," said Keith. "I could play the whole of my Piano Concerto, but in all fairness to an ELP audience it's a serious concerto, and I have to look at what ELP's audience expect from ELP.
"It would not be fair for me to ram down their throats heavy, hardcore concerto music all the way. I'll abbreviate it so that the audience will grab the basic overall effect, and it won't be too hard going on people that would wanna listen to Greg's or Carl's music. Obviously, all of us have the ability to do separate concerts, where I would play the concerto in full.
"Carl has written a percussion concerto, for example, but what we are looking for is a total ELP concert, and we have to be very careful to balance it out, so it doesn't become too heavy."
"What we'll do is play excerpts from the three sides of the album," explained Greg, "all of the Emerson, Lake & Palmer sides, and some of the old things, things they'll wanna hear. We're gonna do 'Pictures' with the orchestra, too."
Which orchestra will they work with?
"We are putting our orchestra together," said Keith. "70-piece. All hand­picked. And we're starting in America. We hope to have a small English nucleus of musicians to take with us, and we'll audition for the others over there. It's a massive project, actually."
"Don't even ask about how many road managers," grinned Greg.
"We'll start around the end of May. That's the deadline at the moment. And after that, we come to England and Europe.
"The biggest problem we have is putting an acoustic orchestra with an electronic rock band. "We don't want to sacrifice the amount and intensity of volume that we use, and yet we want to retain the acoustic quality of the orchestra.
"From past experience the orchestra has always been spoilt by the volume of the band, so we had to do a lot of research, which took a lot of time to ensure that that isn't going to happen. Every single member of the orchestra will have his own mike. Technology is incredible these days, and groups in the past were trying to do it too soon."
"I've had experience with orchestras before and I realise what we're up against," said Keith, recalling the old Nice days. "It's like a school outing, taking a big orchestra on tour. It's going to be a helluva job keeping them together."
"A group that didn't know as much about the technical side as us would have a far greater problem," opined Greg.
"Really, it was the realisation how important music is that took us to an acoustic orchestra. We'll be playing some pieces just as a three-piece band, but the orchestra will be there for the duration.''
"Can you imagine 70 people arguing about sharing rooms?" said Carl. "But we will pick people who enjoy what they are doing and have a good temperament."
Who started first on recording the individual sides for the new album?
"I suppose I did," said Keith, "although some of the pieces are three or four years old."
Greg: "We were going to do all solo albums, but the strength of this album is, I think, that we have managed to make it work without splintering off to establish individual identities, because one does not want to compete internally. The whole idea of a group is that you agree on a musical policy."
"We all started out with the idea of doing solo albums," said Keith, "and suddenly found ourselves going in the same direction.
"We thought: 'Hey, hang on a second, we're all going the same way. What is the point?' What was the point of releasing solo albums? It's been done before and we all have our own say anyway, so let's put all our eggs into one basket."
Did they all feel they had got something out of their systems now, and were there satisfied with the individual sides?
"I dunno about having got it out of our systems, entirely," said Keith after a pause to reflect. "But yeah, it's something you have to go through."
"This is how we always played on our albums anyway," said Greg. "There was always a percussion thing, always a ballad. All we've done is opened it up and matured it. Instead of an acoustic track you've got a whole side of ballads. It's more substantial.
"On the ELP albums we were finding it was too piecemeal. There wasn't enough of a contribution individually to satisfy us. This had to be a double album, and because we wanted to do this thing artistically it worked as a format."
Keith: "It gives people a chance to analyse the band and us as individuals. The score for a piano concerto took me a helluva long time, and I can look at that and say it's the most complete thing I've ever done in my life.
"There are absolutely no compromises. I've squeezed every ounce of myself into that thing. And I feel very satisfied with the whole thing. And I wouldn't make any changes.
"I wanted to write a serious work in the true sense of the word. Something that would stand the test of time, be played by other people, and I think I have achieved that. And having done that, I realise my future now lies in writing orchestral works.
"To me, it means far more. I had a lot of help, of course, from John Mayer on the orchestration, who I have worked with before, and he was a tremendous inspiration. I hope to work with him in the future.
"Yeah, scoring it was a bit of a nightmare, and it was very tricky for the orchestra to play. They were really great. I had attempted to record it at Kingsway Hall with a mobile unit and the London Philharmonic, and it didn't work out.
"It was a new work, and they had no idea what it was all about. The acoustics were bad for them, they couldn't hear the piano, and it was a total failure, so I wasted a lot of money.
"Then I did it again at the DeLane Lea Studios where the acoustics were much better, and it came off."
Didn't Keith think a concerto was 19th century music?
"No, it's thoroughly this century music. It starts off with a 12-tone fugue which goes into the actual theme, which appears all the way through. The second movement is more or less baroque in character, and the third movement, broadly speaking, is atonal and pretty relentless in its harmonic structure. That was written when my house burnt down.
"So basically I wanted to get out a lot of anger in that, and I think I've achieved it. It was a pretty traumatic experience . . . I felt so damned... frustrated...and I was really f--- up and could not give a s--- about anything. And I think the music really comes across like that.
"I was drunk for a month - two months afterwards. Greg can tell you that because, luckily for me, he put me up through that period."
Laughed Greg: "I've got a great picture of you in a fireman's helmet . . ."
"It was so depressing, not just from the personal aspect but because that house had so much history.
"And I lost so many things, all my scores, tapes, even the single I had out, 'Honky Tonk Train Blues.' That was in the house, but luckily the master tape survived.
"It happened two years ago, in fact, but the music reflects the anger I felt at that stage. How did it happen? It was some dumb electrical fault, I started writing the concerto when I moved in and it was nice and peaceful, happy, happy! And then Bang! F--- it.
"I don't listen to it now, now, quite honestly, but I achieved what I set out to do. I got a lot of feedback from the other musicians, though. Fantastic.
"For the first time with an orchestra it wasn't a p--- off. The other orchestras I've worked with would be uncooperative. But these guys were really into it. When I finished the last movement, we were all sweating and pounding away.
"We've all realised the same thing working with orchestras. Greg organised a strip show by way of a thank-you for his orchestra!"
How did Greg go about preparing his personal side?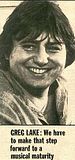 "Well, as Keith's future is as a composer, mine is as a singer. And it was a question of writing songs that would best suit me as a singer, aside from being a singer with ELP. They're just orchestrated acoustic songs. I recorded the acoustic tracks first, and then overdubbed the orchestra. I worked with Pete Sinfield on the lyrics.
"I don't know how heavy-metal fans will react to piano accordions on 'C'est La Vie,' I really don't, but I hope they will listen and realise we have made a serious attempt at something different.
"I hope there is at least something on there they can get into. I tried a conscious attempt at a few styles. I didn't just wanna sing ballads.
"Onstage I'd like to do 'Lend Your Love To Me Tonight,' C'est La Vie' and 'Closer To Believing.' Usually the ideas are mine and Peter comes in halfway through the thing and we join together and finish it off.
"There is a cynicism which I'm not altogether happy with, but it's a truthful message allied to that style of song. They're more serious than cynical, I'd say."
How did Carl approach his side of the album?
"They are all different pieces I wanted to play, a selection of tracks that portray me as a player. I don't have any particular style. I could go into a Max Roach melodic approach or a Billy Cobham jazz-rock approach, but I try to cover a lot of things.
"I've introduced mallet percussion, which has always interested me, and I worked quite closely with James Blades, who was my teacher the Royal Academy - a very English gentleman. And there's an American guitar player I admire, Joe Walsh.
"For me it was something completely different that gave me a chance to experiment as a writer, and on different instruments. That's why there are such vast changes throughout. I had to play all those different things to get out all that was in me.
"The classical influence was without a doubt from being in this set-up, and it was a case then of finding a piece of music I enjoyed and where I could use several instruments, which was where Prokofiev came into it.
"There are a couple of things that aren't very like my normal self, but as a performer I can't play everything with this band. I had to do a certain amount of work to get it together..."
"Ah, you've worked your ass off!" interrupted Keith with a grin.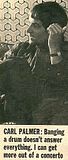 "Yeah," said Carl, "but I had help - from Keith with the Joe Walsh track for example. That started off as a jam and it grew and grew. Then I worked with Harry South on the big band tracks.
"It might make the album sound a little disjointed, but if people look at me as a performer, then they'll see why I've put that music together. I love the 'Bach 2 Part Invention' which I won't be playing onstage. It requires six percussionists to play it.
"The whole concept took a lot of time. I didn't want to get into the bag of having a long drum solo and playing something incredibly fancy. I wanted to express myself as a tuned percussionist and a composer. Obviously the pieces I've written are very simple, but you have to make a start somewhere.
"We did 'Tank' because that was something Keith and I thought would sound much better orchestrated. That appeared on the very first album.
"There is only so much you can prove by being a player of a drum set. You HAVE to branch out. You're kinda stifled. Banging a drum doesn't answer everything, you know.
"But there is a lot more I can get out in a concerto that I've written with Joseph Horowitz. That's finished, recorded and mixed, but it wouldn't work out to have two concertos on one album. Too heavy. That's why I tried to make my side varied."
"Pirates" was the track the band worked most on, right?
"Yeah, that was done in Montreux," said Carl, "apart from a few last-minute overdubs. The 'Fanfare for the Common Man' was recorded with one stereo microphone because we were just getting a soundcheck at the time."
Said Keith: "We were in the studio, blocked out of our skulls. Greg picked up on the idea, and I said, 'What do you keep playing that for?' And very slowly I got used to it.
"He picks up on these ideas that would seem like a throwaway to me, and it took me a couple of months to get used to it. We got a very 'live' dirty R & B sound that was really incredible. And all done with one microphone.
"We hadn't played together for quite a while before that, apart from rehearsals and stuff. 'Fanfare' was thoroughoughly jammed, from top to bottom."
Did they feel rusty on the verge of their American tour?
"No, 'cos we've got the enthusiasm again," said Greg. "We're keen to get back out there, so the rust kinda gets pushed aside. I think you get more rusty when you're flogging yourselves."
"Plus we've got the added challenge of walking into something that is completely new," said Keith. "And this really is a challenge. It's never been done before. People have taken orchestras on the road before, but not like this."
"It's another way of adding longevity to the band and the music," said Carl. "Providing we get the sound quality we want it'll really be the thing of the future."
ELP were famous for their energy as a trio. Would they run the risk of dissipating some of that with the orchestral setting?
"We've generated a lot of energy and we still will," insisted Keith. "I just want to go that one step further, y'know?"
"No, I know what he means," said Carl. "Technology has gone so far now that if we increase speed and power the orchestra will hear this and there will be a definite fusion.
"It won't be like a metronome, that orchestra will be like another keyboard. It won't be a Lawrence Welk set­up. Most of the players will be young. It'll be an experience for them, and definitely one for me.
"The music will be very demanding; it's not easy stuff. We'll play a big New York venue eventually, but we'd like to open somewhere quiet because there will be a period of instability. We'll play one, look at it, and see how it's going."
"That's necessary," said Carl, "because we will eventually record one of the live shows and we'll want to get the right quality."
There are a lot of people waiting to see ELP.
"We're waiting to see them, too," said Greg. "You do miss that communication. There's no feedback when you're working for this long period of time in the studios, you don't get anything coming back to you."
Didn't they feel they might lose their fans if they stayed away too long?
"No, I didn't feel terrifically worried about that," said Keith. "If there WAS a loss of fans, then for me particularly it might be a stimulus, because I'd go out there with that added punch.
"The problem is going to be to get people to accept the new music."
"Yes," said Greg, "will they accept a deeper musical statement from us?"
Any other band that took a two-and-half year break might run into serious trouble.
"Yeah, we're taking a gamble, but we're willing to risk it," said Keith.
When was the last actual gig they had played? Heads shook. Nobody could remember. Hazarded Keith: "I think it was Wembley Empire Pool in 1974. No secret jamming, either. I've become quieter, more introverted, in recent years. I haven't had the chance or been in the right places."
Two of ELP had hit singles a year or so back, Keith with "Honky Tonk Train Blues' and Greg with "I Believe In Father Christmas."
"His did better than mine!" laughed Keith.
"Oh, it was okay, but I don't wanna become a singles artist, although it helps widen the audience for ELP. This was another reason for doing the album this way. It gets to the ears of song lovers, classical people... it'll get us into new musical doorways. How well it will be accepted, you can't tell."
"So pub rock is in, eh?" interrupted Carl.
"I don't think we'll be rejected just because we're working with an orchestra," insisted Greg. "Presley does it, so it must be a cool thing to do! That won't hurt us, but it could hurt us if we go out live and play and it was a shambles, and that's always a downer.
"They'll say: 'They shouldn't have bothered, they were better as a three-piece.' This is why we have gone into it in such depth, to make sure that doesn't happen."
The group will have mixers and sub-mixers on the tour, balancing the orchestra and group separately and then passing the sound on to a master mixer. And each section of the orchestra will have its own monitors.
I persisted in my not too subtle attempts to get ELP to play instead a trio gig at Dingwalls or the Nashville without any fanfares or publicity. But Greg explained they had no interest in such a scheme.
"I had an urge to play the Marquee for a week, but that was about two years ago," admitted Keith. "Gone are those days."
Greg: "It's not practical for one thing, and it's a waste. If you're gonna play then let as many people as possible see you."
" I really wouldn't mind," said Keith, "but whenever you try and jam in a club some dumb geezer gets up on the stage and says: 'And tonight, we have 'ere, jamming on keyboards...' Oh s---, you just back out."