(Click on the thumbnail below to enlarge and read the first paragraph)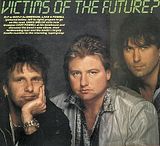 "We're gonna work hard and make the new ELP a success, whatever the critics say about us!"
Those are the fighting words of the P in ELP - their new drummer, tough-talking, hard-hitting Cozy Powell.
It was just two years ago that Extra Kerrang! clamoured for the return of the Seventies' supergroup in an article which charted the history of Emerson Lake & Palmer. Then came the rumours and finally the sensational news: legendary keyboard wizard Keith Emerson had decided to team-up with his old mate bassist and singer Greg Lake to reform the band who created such classic LPs as 'Tarkus' and 'Pictures At An Exhibition' and put on a show that pioneered every aspect of modern concert rock.
But instead of Carl Palmer rejoining the band, originally launched back in 1970, Keith and Greg called on the services of hardcore rocker Cozy. And as Cozy explained in the first interview since the reformation of the group, it wasn't just because his initials fitted the bill!
The trio spent the last year recording their recently-released album, 'Emerson, Lake & Powell' (Polydor), and are now busy rehearsing for their debut American tour.
IT WAS a peaceful, hot Sunday afternoon when I went to visit Cozy, ostensibly resting down at his farmhouse deep in the Berkshire countryside, not far from where Traffic once 'got it all together in the country'. Cozy was his usual cheerful, communicative self, explaining how ELP got together, describing their reaction to savage UK press reviews and mapping out their future plans.
We sat out on the patio chatting, and later Cozy took me on a guided tour.
"Having this place keeps me sane." he chuckled. "I don't farm myself, although the house is literally a farmhouse. I have got horses here in the stables, but no cattle. I come from Cirencester originally which is an agricultural town."
Cozy then took me on a walk across the meadows to a high ridge where we could see the borders of five counties. He revealed that as a boy he could see the house he now owns, never dreaming that one day it would be his.
"Sometimes if I'm feeling energetic I go and help the local farmer get the hay in! It's all a far cry from some of the seedier places in the world of rock 'n' roll that I've played in. It makes a pleasant change to arrive here. It's the only thing that keeps me going.
"When people ask how I still manage to play with the same enthusiasm, I think it's because I've got this place. It's so relaxing. It brings you down to earth. You can't get away with being a superstar down here. Not that I do that anyway, but if I tried they'd just take the mickey. Everyone's on the same footing 'round here."
Cozy doesn't spend too much time in the local pubs either. He potters about on his powerful Yamaha motorbike, which he uses to roar into London for rehearsals, or else burns up the dirt roads in his Corvette, which glistens in a barn when not in use.
"I don't go hobnobbing with Rod Stewart in the night clubs; why go out when you've got a nice peaceful place like this? I'm on the road for eight months of the year and when I come home I want to relax."
Cozy certainly has been busy for the past six years - indeed, ever since he first came to fame with Tony Joe White at the start of the Seventies, when he was hailed as the funkiest young New Star drummer.
Since then he has worked with Jeff Beck, Ritchie Blackmore, David Coverdale, Robert Plant and many more. What happened to him in the months prior to the formation of ELP?
"It's been up and down. Let me see...following the Rainbow era, which was very hard work, I went on to play with Michael Schenker in MSG which was...interesting. Umm. That was a very good band, I thought, it had a lot of potential. There were just loads of problems which I won't dwell on: it all fizzled out and I more or less got asked to leave that band because I was getting fed up with Michael's antics.
"Then came Whitesnake and I had high hopes that would last a lot longer. I still don't know what happened there. I don't think any of the other members knew what happened either. There were daily personnel changes in that band."
When I last saw Cozy with Whitesnake, the flames and the general 'pyro' used during his drum solo had threatened to melt contact lenses in the audience.
"Ah yes, I had loads of 'pyro' then and I've got some more up me sleeve. That barn over there is where I do all my experiments. I've blown half the roof away as it is!
"Now let me see. . .the Whitesnake situation was very hectic and we did a lot of American touring. The last tour finished it off really. The aggravations were brought to a head on that little jaunt. I parted company with them and came onto the musical transfer list again.
"I didn't know whether to take another sabbatical or whether to carry on. Then a phone call came through saying that Keith and Greg wanted someone to come down and help them do an album. They had already tried two or three drummers, apparently. I've known Keith for years anyway, and he said, 'Come on down and have a blow.' I had just got back from Rio and I went down to his house only to find I'd left my sticks at home. I felt a right pratt!"
REHEARSALS BEGAN in February last year with Cozy proving himself the ideal man for the job.
"I went in the snow to Sussex where Keith lives and began working on material. Then Keith said, 'Do you fancy having a bash through "Fanfare For The Common Man"?' We started playing, one thing led to another and the next thing I knew they'd ask me to join!
"It seemed that Keith had done a load of film soundtracks, and Greg had made a couple of solo albums and been on tour with Gary Moore since ELP first split, and they were just going to make an album together called Emerson & Lake. Nothing more sinister than that. When I arrived on the scene they began to think, 'This guy can perform, there's a possibility of getting a band together here'. Then everybody started saying, 'Oh, Cozy has only got it because his last name starts with a 'P.'
"It's just a coincidence that I have the same initials as Carl Palmer, I don't get jobs on the strength of my initials, I get them because of the way I play! They could have booked Carl Perkins for that matter, although he might have had difficulty getting round a drum kit!
"After all the furore [sic] died down, we decided to get on with the work. I didn't want to copy Carl Palmer's style, I wanted to sound like me. You know our styles well enough to know the difference between us. I go in there, bang, do my stuff and let the album speak for itself."
Cozy's drums speak with a different bark from Carl's. Whereas the former is solidly on the beat, with the occasional explosion, Carl - with ELP - created a non-stop accompaniment. Both are equally exciting soloists and it would be fun to see them do battle royal one day.
"At first, Keith was very reluctant to go back to touring again because ELP had been on the road so much in the past. Both Keith and Greg got sick of the road and each other. The band just drifted away in the end. They were forced into making another album by the record company which they didn't want to make (the notorious 'Love Beach' on Atlantic), and none of them liked it. A shame.
"So the feeling was, if they were going to come back they wanted to do it properly. Carl was away with Asia when they started the album, which was originally all they intended to do. Then when I arrived they realised I could do the job onstage as well. It all worked and we get on very well. I really enjoy the music anyway.
"It wasn't the only offer I had at the time. I could have done a number of other things, but obviously when you get the chance to work with musicians of that calibre, you take it. I've been with guitar-based bands for ten years, so it was nice to get into a keyboards trio. I've always wanted to work with a trio ever since I saw Ginger Baker years ago with Cream.
"This is almost too good to be true. There were a lot of problems to overcome before we could set the thing going - business-wise. A lot of people came and went in the organisation. Now we're ready for the first tour, and we're gonna make a second LP straight away and tour again next year. I'm looking forward to it, because I've been off the road for 18 months and if I stay away too long I get withdrawal symptoms.
"The last gig I did was with Whitesnake in Rio (January '85), and I still can't understand why it all fell apart, but that's the way this business goes. There were any number of personal and business problems which weren't resolved."
Cozy readily admits he tends to speak his mind when things aren't going the right way within a band, which can land him in hot water.
"I'm not known for being particularly patient with people who say they're gonna do things and then don't deliver. I give everything when I play and I expect the band to give the same amount of enthusiasm. If they don't - then I'm gone.
"It's the same with every band I've been in, and I've probably not made many friends by doing that. But I figure you get value for money if you get me in a band!"
IN THAT case he should make a good team-mate for Keith Emerson, because that's just the way Keith has performed ever since the earliest days of Gary Farr And The T-Bones, The Nice and ELP.
"That's right. Since I've been with them people have said a lot of things about ELP. And I'll tell you, it has been the most pleasurable working relationship I've ever been in. I've never met two more professional guys. Let's hope we don't fall out over something silly.
"But I don't think there will be any ego trips to worry about. They've both been around too long. I've had to work hard with them, learning a lot of the old stuff. It's not just a three minute 12-bar blues you have to learn."
The band will be playing a good selection of old ELP favourites and Cozy has been busy working out the new drum routines involving his double bass-drums to fit the tunes.
"It's been interesting working out on 'Tarkus'. It's opened up my musical vocabulary. They are clever pieces of music and Keith isn't exactly a three-chord wonder. He comes up with some very clever stuff, and Greg as well. I've had to learn 'Pirates' (from 'Works Volume 1') which runs for 14 minutes."
They are also playing 'Pictures At An Exhibition', which, as Cozy says, is not 'three choruses, verse and fade out'. He thinks he probably couldn't have coped with it all 20 years ago. "To play this stuff you need a lot of experience and confidence. It's not beginners music, that's for sure."
To get him through rehearsals, Cozy has notes about each tune pinned up in front of his kit. 'Pirates' runs to three foolscap pages!
"It's been a real challenge and it's brought me out from being a backing drummer, which I was in MSG and Whitesnake. I can express myself now and play a solo as well! So I've been practising hard and I've even stopped drinking, which a lot of people can't believe."
Indeed, as we sat on the sunny patio outside the farmhouse, with only the birds and the bees making the slightest sound to break the silence of the deep countryside, we sipped glasses of iced Perrier water, feeling virtuous and healthy.
"I am determined to make this successful," vowed Cozy. "I'm going to give it my best shot because the band is worthy of a good crack."
If Keith and Greg had got tired of touring what made them want to come back?
"I dunno," mused Cozy. "It wasn't for financial reasons. Enough time had elapsed - eight years, I think - for them to try again. Keith has kept very fit, doing marathon work, and Greg had tried having his own band but didn't like the worry. He preferred being part of a band. I've tried solo stuff myself, so I know the feeling.
"Keith had tried writing with other people but it didn't work too well; he and Greg just found they brought out the best in each other. All they need is an idiot like me to come along and ruin it! But I've seen a whole new enthusiasm from them. If the original three had tried to do it again it might not have been the same. Old wounds would have re-opened. All that sort of thing."
Had Keith and Greg considered asking Carl back?
"I don't know. I can't say. But they did have a couple of drummers working with them before I came along, one of whose name ends in 'P'!"
Could this have been ace sessionman Simon Phillips, I mused. Of course it was, but Simon hadn't turned out to be the right man for the job. I thought on this as Cozy was called away for a long phone call with ELP's manager, who was probably checking up on what sort of questions I was asking. Such is the paranoia in rock music these days, engendered by the combination of a hostile weekly music press and the sensation-seeking daily papers. It all makes the job of the earnest seeker after truth that much harder.
For example, originally Keith and Greg were going to take part in a joint interview, but they then decided not to speak to anybody after a wave of sarcastic comments broke about their ears on the release of the album. Said Cozy: "They thought that all the slagging off had ended in the Seventies and that they'd be allowed to get on with it in peace. Instead, the knives were out and being plunged in with a vengeance. They thought, 'Oh no, not again!'"
WE TALKED about the album, and Cozy was pleased I liked the jazz track 'Step Aside', where he drums with great finesse, and the powerful arrangement of 'Mars, The Bringer Of War'. "I'm doing 'Mars. . .' as a featured number. Funnily enough, I did that to a backing tape with Whitesnake, so when I brought it along Keith said he'd like to play it himself. He learnt it in a few minutes. Makes you sick doesn't it! Why use a tape when Keith can play it?
"I'll be doing that onstage with all the usual Powell idiocy - that's where the 'pyro' comes in. More and more over the top. I don't know whether I'll survive this drum solo. If you read that half of Texas has been wiped out, you'll know the 'pyro' went wrong! It gets more dangerous every year. We put out a warning over the PA for anybody with a dangerous heart condition."
Have Keith and Greg been warned about this?
"Oh, I don't think they'll worry. Not after watching Keith chucking his organ around the studio the other day. The daggers have been sharpened and the old Hammond has been glued back together.
"I remember Keith doing it in the old days and watching him now...well, he's fitter these days than he was then! It's absolutely great to watch. Nobody is doing anything like that anymore. Pete Townshend has stopped smashing his guitar and to see Keith in full flight, with two daggers in his teeth and a Hammond organ two feet up in the air... you gotta see it to believe it!"
Cozy emphasises that ELP are not entirely living on past glories. As well as playing old classics like 'Rondo' the band will also be featuring new material and utilising new technology.
"We're doing a good cross-section of stuff, and now we can make it sound even more exciting because of the technology available. Keith has got a load of computer stuff and it's quite amazing the sound that three people can make these days. It's fantastic. And the special effects we've got have never been seen before anywhere in the world. Things have been built for this tour that will be unique.
"A lot of people have said, 'Well, why do it again?' The reason is simple: because it's a NEW band. I've brought in a load of ideas and Keith and Greg have been all fired up again. We're gonna put on a show that's gotta be seen to be believed. ELP were always noted for being outrageous and that's gonna be the policy now. ELP certainly pioneered a lot of the things we now take for granted, like having their own stage-lighting and sound with them on tour, not to mention the use of synthesisers and explosive special effects. It's all causing wild excitement amongst ELP fans, but as Cozy says: "As soon as the band came back it was greeted with total press derision in this country and absolute uproar everywhere else. America has gone potty about it. The album - as we speak - is 28 in the Billboard charts within four weeks, and every major magazine is interested in us. And yet over here ELP is a dirty word. I just don't know why. None of the reviews (except in Kerrang!) talked about the music, they just criticised the individuals. We weren't sulking, we just thought, 'What is the point of talking to anybody?'
"This is why there have been no interviews in this country - apart from with you. I stopped reading the weeklies a long time ago. They're all full of politics and I prefer to read about music. I've never heard of any of the bands they talk about anyway. Kerrang!, however, has always supported me and Greg and Keith. We don't EXPECT good reviews, we just want fair reviews not general negativity."
When will ELP be playing in England?
"I honestly don't know. It depends if anybody wants to see us!' Cozy laughed.
At the moment the band are most concerned about playing at Madison Square Garden in New York, where they can be sure of a warm welcome, and after that heading out on a world tour.
"Obviously, we do want to play in England, and we're going to film it anyway. We'll do a European tour next year as well, but we only go where we're wanted! The press here put the mockers on things for us at home."
COZY TOOK me for a stroll around the house and its environs. Inside, oak beams threatened to crack one's skull, while in the old barn across the yard there was a games room complete with a massive billiards table and a music room with Cozy's old touring kit on standby for practise sessions. Cozy forbade me to touch the drums and we had a game of snooker instead.
"A lot of the older bands are doing well," said Cozy, neatly potting a black. "Like GTR, The Moody Blues and Jethro Tull. You see, in America they give you a chance. Doesn't matter what you look like or how old you are. If you can play, you're in. Over here if you're not in vogue - you're OUT! Nothing to do with music, it's what you look like and how many people you can be seen ligging with. That's all they base credibility on over here which is terribly sad. It doesn't encourage anybody to play music. It's just how daft you can be and how many headlines you can score in a week.
"I suppose it's always been like that in pop music, but never quite as bad as it is now. Apparently, the guy in Sigue Sigue Sputnik had never played drums before he went to the audition. What's that all about? I suppose there is a place for everybody, but it makes me laugh - a bit. When we put our album together we thought it would be quite well received over here. Nah. Nothing. Nobody even plays the bloody thing, but in America it gets major airplay."
At least Cozy had the satisfaction of hitting back at the media by trouncing me at snooker. We went back into the house for tea and videos, including one of Cozy breaking a world drumming record on BBC's 'The Recordbreakers' show; he hit 400 drums a beat each in under two minutes.
"I got into the 'Guinness Book Of Records' for that," said Cozy proudly.
He's a real showman and just the man for ELP. Unless they all go mad, the re-vamped band should have a productive and enjoyable time ahead.
"We're bringing ELP into the Eighties. It's looking good!"