Ladies of the Lake File Cabinet
Vintage Guitar, Unknown date (1993?)
GREG LAKE
"Welcome Back, My Friends" - Part II
By Willie G. Moseley
Last month, Vintage Guitar conversed with British bassist/vocalist Greg Lake about his earliest musical experiences, including his stints with King Crimson and the first incarnation of Emerson, Lake and Palmer. This month, Lake discusses his later musical ventures, along with his current and future projects.
VG: You put out a solo album around 1980, if I remember correctly. How did it differ from your previous efforts in a band format?
GL: It was kind of like being the "son of a rich and famous father". Coming out of a band like ELP, I was in some ways musically disoriented; I felt like I had something to live up to in some ways. I think I was probing new directions for my music in a simple way. I did things like a country song, and I got into stuff that was virtually heavy metal; I began working with Gary Moore, who is a fantastic player. It was pretty much of an "experimental" album, and I went back to playing guitar on it; I was using a Fender Stratocaster. (NOTE: Lake actually put out two solo albums in the Eighties).
VG: In 1983 you had a very brief association with Asia. Was it just for that MTV "Asia in Asia" broadcast from the Budokan in Tokyo?
GL: That was all there was to it. They had had a falling out with Johnny Wetton, who's a very good singer and player in his own right; oddly enough, he comes from the same part of the world as Bobby, Andy and I. He also had the King Crimson experience; Johnny and I have been close friends for many, many years.
Carl Palmer called me up and said: "Could you do me a favor?" I thought he wanted to borrow a guitar or something! (laughs) He told me about the MTV broadcast from Tokyo with the whole thing set up and booked, and could I do it, since they'd fallen out with Johnny. At first I didn't want to, since Johnny is a friend of mine, but I called him up and he told me to do it. I did the show, and we discussed the possibility of making an album, but they wanted to go in a "pop" direction, which I couldn't do; it never went any further than that.
VG: You played a Steinberger on that broadcast
GL: I liked the Steinberger because it was different; it was modern and accurate. The only problem was its balance; there was nothing to stabilize the right arm. I didn't stay with it.
VG: The next time you were heard from, it was another ELP variant, only this time it was Emerson, Lake and Powell; Cozy Powell had been a drummer for the Jeff Beck Group and had a hit single in the early Seventies called 'dance with the Devil". The token re-worked classical piece was "Mars, the Bringer of War" from a suite called "The Planets" by Holst. In my opinion, ELP has shown a penchant for playing classical pieces with a lot of "Oooomph" to them, for lack of a better term. Russian works, for example, and "Mars, the Bringer of War" is like an inexorable march. Did any incarnation of ELP ever consider doing some "lighter" classical works along the lines of "Water Music" for example?
GL: Few classical pieces translate well on rock instruments in a three-piece band. I think how a piece sounds rhythmically and melodiously are the two issues. "Pictures at an Exhibition" fits into the category of a symphonic piece that can be played by three people; it's got a very definitive melody. Other classical pieces we've recorded are of the same type.
VG: "Louder" classical works aside, has ELP made an effort to record classical works that were "concepts" such as "Pictures at an Exhibition", or parts of concepts such as "Mars, the Bringer of War", which was a movement from "The Planets", because such music might appeal more easily to rock fans?
GL: (chuckles) We don't go actively looking for classical things to do; we don't try to put a token classical piece on each ELP album. But if you were to come into one of our rehearsals, many times you'll hear Keith playing something from the classics to warm up or for his own amusement. sometimes we'll join in, and we'll discover something that "clicks", so we'll use it. "Fanfare for the Common Man" was something that happened like that.
VG: And I believe I read that Copland got to hear it before he died.
GL: Yes, he did. I think what he liked about it was that it was presented in a way that he never envisioned, and I think the free form stuff at the end amused him; he probably never expected someone to express his composition like that! I played the Alembic eight-string bass we discussed earlier on "Fanfare".
VG: On the "Touch and Go" video you were playing a white Spector NS-2.
GL: Those were nice instruments but I didn't play them too long.
VG: The next time I saw Keith Emerson, he had re-united with Carl Palmer in a band called the 3, but you weren't around; there was another bass player. It had to seem a bit like musical chairs, but ultimately the original ELP line-up got going again.
GL: (chuckles) It was like musical chairs. I don't know much about that other band that Keith and Carl had; I never heard the album and I never saw the band perform. A friend of ours named Phil Carson, who was the head of Atlantic Records in Europe, came to us a couple of years ago and proposed that we do a film score, which we'd never done ---
VG: (interrupting): And that's a bit of a surprise. I'd have thought that ELP would have been involved with making music for films at some point during its history as a band.
GL: True, but that never happened. We decided to give Phil's idea a go, but after we'd been in the rehearsal room for four or five weeks, what we'd written was the substance of an album instead of a soundtrack. When Phil heard, he said we should put out an album, which we did; the idea of a film score got shelved. That led to a tour, of course, and it's gone on from there.
VG: When I first heard about ELP re-uniting and the new Black Moon album, I saw a performance clip-type video on ABC's "In Concert"; the band was doing "Fanfare for the Common Man", and you were playing what appeared to be an orange Fender P-Bass.
GL: (chuckles) Actually, that was a borrowed instrument. All of my equipment was being shipped over from England, and somebody borrowed, or maybe rented, that Precision. It was quite a nice bass.
VG: I'll resist the temptation to refer to Prokofiev's "Romeo and Juliet" as the token classical piece that appears on Black Moon.
GL: (laughs) Thank you! It did work out quite well, I think.
VG: What about the tour results after Black Moon was released?
GL: Understand that the original lineup of ELP hadn't been out in ten years, and we had no idea what the reception would be. What we decided to do was concentrate on somewhat smaller venues, like theatres; we didn't go for stadiums; we were conservative. The tour was quite successful since we approached it in that manner; the concert market has been quite unpredictable, and at a time when tours were being pulled off the road, we were adding dates. We ended up adding a second leg, and played 140 cities total. I'd rather play to a full theatre than to a half-empty arena, and I think that playing arenas is contingent on having current album success. We made the right decision.
VG: And now comes Return of the Manticore. How does it differ from the other ELP anthologies I've seen?
GL: It's a unique retrospective of the band. There are some previously unheard recordings and some new recordings as well. I've always wanted to do a studio version of "Pictures", and we recorded that in Dolby Surround-Sound. "Pictures at an Exhibition" is an ideal piece of music for that kind of technology. We also recorded one track each from bands we were in prior to ELP. We did "Hang On To A Dream" from the Nice, which Keith was in, "Fire" from Carl's association with the Crazy World of Arthur Brown, and there was an abbreviated version of "21st Century Schizoid Man" for me. Those were fun to do, and there's lot of other great stuff on there as well.
VG: What instruments are you playing those days?
GL: I've been through a lot of brands, most of which have been very good guitars and basses. Currently I play Tune basses from Japan; they're beautiful basses. The woods are fabulous, the electronics are fabulous. They've really come up with a unique instrument; it has an unusual shape but it conforms to what is needed in a bass guitar; the balance, tone and stability are there. It's hard to come up with something new, but Tune has done it.
VG: Do you collect instruments?
GL: I try not to, but I'm forever seeking out high quality new instruments, and I still have some of my older instruments. Recently I bought a small Collings guitar; the craftsmanship on it is exquisite.
VG: Are you planning on touring to support Return of the Manticore?
GL: Well, yes and no. We're going to be doing a quick world tour not to do concerts, but to do playbacks of "Pictures" in SurroundSound; the Dolby people are involved with this project; we'll do interviews as well.
We're currently working on a new album which is due to be released in the late Spring of 1994; after that there's another world tour.
VG: I've got to ask if you've got another classical piece on the upcoming album.
GL: We've got a lot of things that we're experimenting with, but I wouldn't want to predict how the album will turn out. I do, however, think that it will be an unusual record for ELP. We're looking forward to 1994; it should be quite exciting.
The live ELP album recorded at the Royal Albert Hall during the Black Moon tour is indicative of how potent ELP's sound still is. Songs such as "Knife Edge", "Lucky Man" and excerpts from "Tarkus" are as strong as ever, and newer material such as "Paper Blood" stands on its owns. For all their years of experience, Emerson, Lake and Palmer is still a talented and innovative trio, and Greg Lake's bass playing and singing still ranks among the world's best. That he can also give an eloquent interview is a bonus!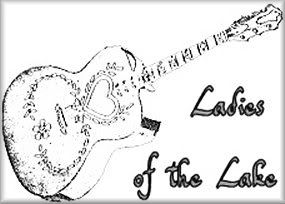 ©2007 Ladies of the Lake