This page is dedicated to those who keep the flame burning – ELP/GL Tribute Bands. We will also list upcoming GL/ELP events here when possible.
Jump to: Announcements ||| Events ||| The Calendar ||| Notice ||| Featured Bands

Announcements
Noddy's Puncture (profiled below) announce 2015 tour dates. Please see www.noddyspuncture.co.uk for more details. Dates also appear on our Events Calendar (left side of every page).
Submit Tribute Band Schedules
Do you have an ELP or Greg Lake tribute band? We can post your schedule of appearances on our Events Calendar (see below). We can also feature your band biography, website link, and photos on this page below the calendar link. Please include complete information and place "For LotL Calendar" in the subject line.

Submit band schedules & bios

(View band bios and pics for submitted events below)

Back to top

Submit Greg Lake/ELP events
Do you know of a Greg Lake appearance, such as a radio or TV interview? Here's the place to let us all know. Send it to us, including as much info as possible, and use "For LotL Calendar" as the subject line.
The Calendar
Would you like to attend a tribute concert but don't know where they're being held? Heard that Greg would be interviewed on TV but can't remember the date and time? Just click on the "Events Calendar" on the left side of every page.


Back to top

Notice
Please note that there is no guarantee that your event will be included, but we will do our best to get all submitted events posted within three working days. Please allow plenty of time between your submission and the event so that it can be viewed by the greatest number of people to "spread the word."

We encourage you to call ahead and check schedules before planning to attend an event, and by using this calendar you agree that we accept no liabilities for any incorrect information, cancellations, or non-appearances.

Please feel free to link to this page via e-mail or website!
Mauro Aimetti Prog Project
"The band is a powerful trio recreating the famous aggressive wall of sound of the 70's years and capturing the magic atmosphere of ELP music, featuring: Fabio Mancini on Hammond and keys (a graduated pianist of the conservatory in piano and organ. He has already recorded the famous suite of the ELP "Tarkus" with the band Lorien), Mauro Aimetti on Bass, 6 & 12 string acoustic guitars, vocals (Steve Washington, Giulio Capiozzo "AREA", Bernardo Lanzetti & Walter Calloni "PFM" etc.) and Oscar Abelli on drums, assorted percussion and gongs (Massimo Urbani, Larry Nocella, Keith Ferguson, Tolo Marton [USA Tour])."
The band's setlist includes King Crimson and ELP, and they have toured around the world. Check their website for details of a web streaming event to be held on Italian radio on Monday, March 19, 2007:
---
Utterflux
"Playing the best of space-rock and progressive music from the 60's, 70's and originals."
Utterflux include King Crimson and ELP in their setlist – check their webpage for details: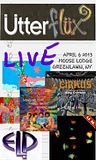 ---
BrainSalad – a Tribute to ELP
BrainSalad are an ELP revival band based in North West England. They play classic ELP tracks, and some less obvious ones from the golden early 70's period. Their very talented guitarist plays "Lucky Man," "Still…You Turn Me On," and the full acoustic section from "Pictures at an Exhibition" in their set.
Please click below for details and upcoming gigs:
2 Comments so far: